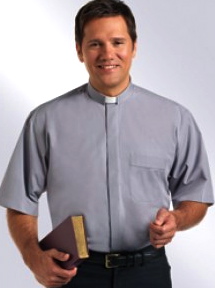 Bishop Dennis Sullivan, in consultation with the Presbyteral Council and Deacon Council, has instituted a change in the Diocese of Camden's practice concerning clerical attire for permanent deacons.

Effective Aug. 1, clerical attire consisting of a grey clergy shirt with white collar may now be worn by the 136 permanent deacons in the diocese as they conduct their ministerial duties, which include liturgical functions in parishes; hospital, nursing home, and prison apostolates; home visitations; presiding at wake services and funeral rites, giving an invocation or addressing a secular group as a representative of the parish or the Diocese of Camden. Permanent deacons that have faculties in the Diocese of Camden are permitted to wear clerical attire when the pastoral situation suggests that the permanent deacon be clearly identified as Catholic clergy.

As ordained ministers sharing the sacrament of holy orders, permanent deacons are clerics or official ministers of the church along with bishops and priests. The permanent diaconate was restored in the Roman Catholic Church as one of the major changes of the Second Vatican Council in the 1960s.

The Diocese of Camden ordained its first class of permanent deacons in 1976. Since then, deacons have emerged in church leadership to take increasing responsibilities. 

The United States Conference of Catholic Bishops chose not to establish a nationwide law regarding the attire of deacons. Instead the USCCB chose to allow diocesan bishops to determine the best practice for his own diocese. Many dioceses have opted to give greater visibility to the diaconate by permitting their deacons to wear clerical attire while functioning in their ministry.