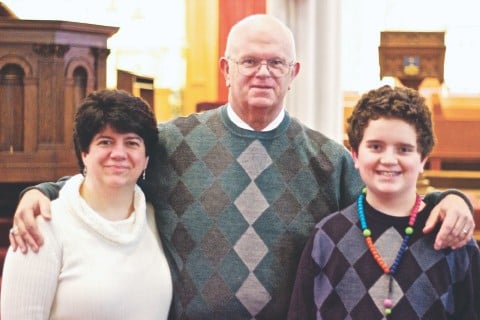 Here's a story I suspect will resonate with many, from The Lowell Sun:
A couple of years ago, Richard Lee of Billerica, a retired University of Massachusetts police officer, wasn't enjoying his then-recent retirement. In fact, since a son died shortly after a premature birth 15 years before, his outlook on life wasn't great.

One day, while sitting on his deck, feeling unsettled, he decided to do what many suggested he do: Give it to God.

"I looked up, said OK, God, I give it to you," he said. After that defining moment, Lee, who was baptized Episcopalian, started to attend Mass at St. Theresa Church in Billerica with his wife and son, both Catholics.

One Sunday, a homily by the pastor, the Rev. Shawn Allen, led Lee into a conversation with Allen and Deacon Phil DiBello about the RCIA program — Rite of Christian Initiation for Adults wanting to convert to the Roman Catholic Church. Later, Lee entered the program and became a full member of the Church on Easter 2013.

"I can't say enough for the program," said Lee, who feels an inner peace today that he had not felt in a long time. "It's not for everyone, but it was great for me."

Many local Catholic churches are beginning programs this fall for anyone who wants to convert or at least consider the option. The successful completion of this year's programs lead to full membership in the Catholic Church at the 2015 Easter Vigil on April 4, the evening before Easter Sunday.

Witnessing candidates like Lee become baptized, receive First Holy Communion and be confirmed into the Catholic faith is one of the highlights of the vigil, which celebrates the resurrection of Christ. For RCIA members of varied ages and faith backgrounds, it is the culmination of several months of prayer, reflection, study, discussion, discernment and faith formation.

Kerri Davey, 38, was confirmed and received First Holy Communion at St. Margaret in Lowell at this year's Easter Vigil. Davey was baptized as a Catholic but never received First Holy Communion or attended religious education. She "felt something was lacking for a long time," which drew her to the program.

She described her initiation to the sacraments at the vigil as "a very proud moment," and now misses her Tuesday night classes. As a full member of the church today, "there's such a sense of community, going to Mass. It's a wonderful group and a positive experience," she said.

Like all who go through the program, Davey and Lee began as "inquirers." Following weekly classes, selection of sponsors, and various rites that lead up to the vigil, those who complete the entire program become "neophytes" — or full members of the church.

DiBello, the deacon for the Billerica collaborative of St. Mary, St. Andrew and St. Theresa parishes, said the church is "blessed to extend the welcome to them, regardless of their former faith experience."
There's much more. Read it all.