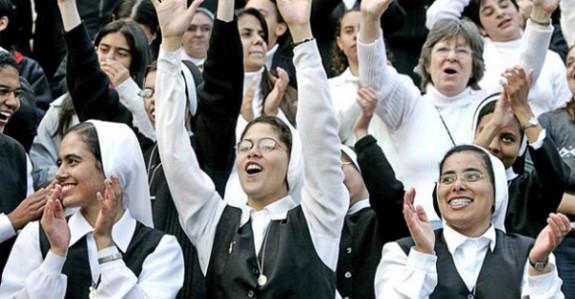 Elizabeth Scalia—now writing and editing with Bishop Robert Barron's team over at Word on Fire—offers this gorgeous tribute to the great unsung heroines of the Church, the religious sisters, to close National Catholic Sisters Week. 
Check this out:
Largely unregulated by governments, and often funded with the pennies and spare dollars of those they served, Catholic religious women addressed every social need they saw and were extraordinarily efficacious. As handmaids to the sons and daughters of their King, they enriched, enhanced, ennobled the lives of the people around them. Many lives and families they saved, outright.

It was never easy work; their poverty was real, and so was the opposition many of these women faced from local populations—and yes, sometimes even from local pastors—resistant to their work (or to their faith). As the saying goes, nevertheless, they persisted. 

Some will read this and mourn that so many great religious communities have died out and others are fading, or that women facing unprecedented career opportunities are not considering religious life. But times change, and—with governments largely attending to social needs—ministerial needs change too. The prosperous West has become as much mission territory as any place ever was. The need for people to meet Christ and discover their inherent value in him—greater than their possessions, or their titles, or their gadgetry—has perhaps never been more urgent.

The West has become a mission territory full of captives to the world and all its distractions and empty promises—full of people who need to be made free. God has not stopped calling people to religious life, but the world has certainly become noisier—so much so that our emerging generations, unfamiliar with silence and so lacking in catechesis that they do not know what they do not know, are shrugging off the very idea of faith. They are glad to refer to themselves not as nuns, but as nones—as in "Religion? We have none!"

The truth is, if we want more nuns, more sisters, it is up to the people of God to create them by doing precisely what these great women did: seeing the need and humbly bringing Christ into all the places bereft of him.
Read it all. Please. You'll be glad you did. And may find yourself wanting to go out and hug a nun.