The actor posted this image on Instagram several days ago, attending his daughter's First Communion at Beverly Hills' famous Good Shepherd Catholic Church.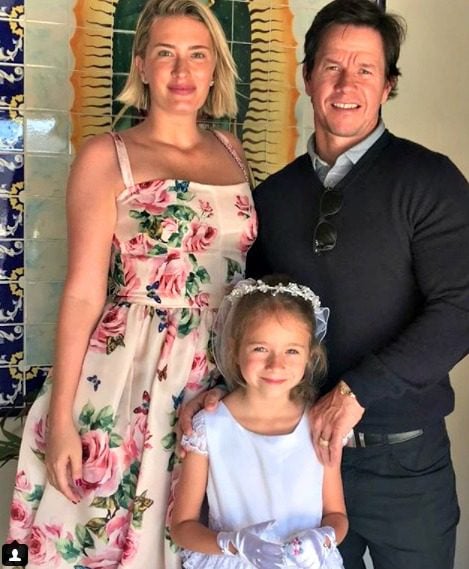 Family man Mark Wahlberg and his wife Rhea Wahlberg celebrated their youngest child Grace Margaret Wahlberg's first communion on Saturday. The Christian rite of passage was held at the Church of Good Shepherd in Beverly Hills, Calif. The church is also where the couple was wed.

The father of four, who is devoutly Catholic, posted a photo of his 8-year-old, who was outfitted in a traditional white dress, and his wife since 2009. Rhea sported a new short blonde hairstyle and a floral dress. Mark selected a black sweater and pants for the ceremony.

Along with the image of the trio, the Deepwater Horizon actor wrote, "My baby's communion day. @byrheawahlberg."
About the church (via Wikipedia):
Over the years, this small house of worship has been the local parish church for most of the Catholic movie stars who live in Beverly Hills, from Rudolph Valentino to Bing Crosby (who both attended Sunday Mass here). It has seen numerous celebrity weddings and funerals. Celebrity weddings have included Elizabeth Taylor and Conrad "Nicky" Hilton, Loretta Young and Tom Lewis, Mark Wahlberg and Rhea Durham, and Carmen Miranda and David Sebastian. Celebrity funerals have included Rudolph Valentino (1926), Carmen Miranda (1955), Gary Cooper (1961), William Frawley (1966), Pier Angeli (1971), Jack Haley (1979), Alfred Hitchcock (1980), Vincente Minnelli (1986), Rita Hayworth (1987), Danny Thomas (1991), Eva Gabor (1995), Mary Frann (1998), Frank Sinatra (1998), Don Adams (2005), Merv Griffin (2007) and Zsa Zsa Gabor (2016).

A Rosary was said at the church for the singer and actress Rosemary Clooney. In attendance were George Clooney, Kathryn Crosby, Frank Sinatra, Jr., Brian Wilson, Natalie Cole, Diahann Carroll, and Rose Marie. Her actual funeral service was held at St. Patrick's, in her hometown of Maysville, Kentucky. Actor Gary Cooper had converted to Roman Catholicism at this parish a few years before his death. His funeral service was held at the church on the same day as the 13th Primetime Emmy Awards.

It was the location for the funeral scene in the film A Star Is Born (1954), which starred Judy Garland and James Mason.