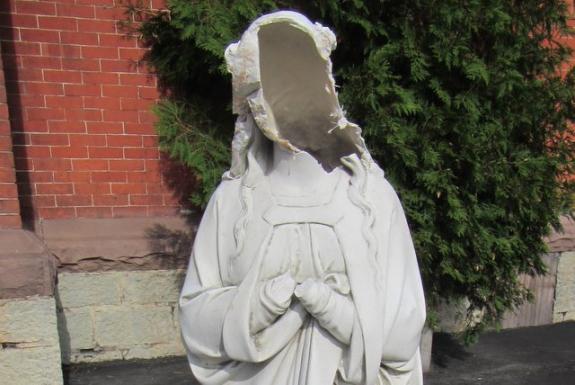 From The Buffalo News: 
Someone smashed a statue of Mary outside an East Side Catholic church on Tuesday, and left an anti-Catholic note beside the pieces of the statue, according to a Buffalo police report.

"This building will be destroyed," the handwritten note began. "Stop worshiping Mary. Worship God. Catholics are a man-made religion."

The Rev. Michael H. Burzynski, parish administrator at St. John Kanty, read the entire seven-sentence note over the phone during an interview with a Buffalo News reporter.

"I think it's neurotic," Burzynski said of the note. "It's a misinterpretation of religion."

A 911 call to police at about 11 p.m. Tuesday reported the damage to the statue at the church on Broadway.
Pray for the parish, and for the person who did this.
UPDATE: An arrest has been made and a suspect charged with a hate crime. Read more.