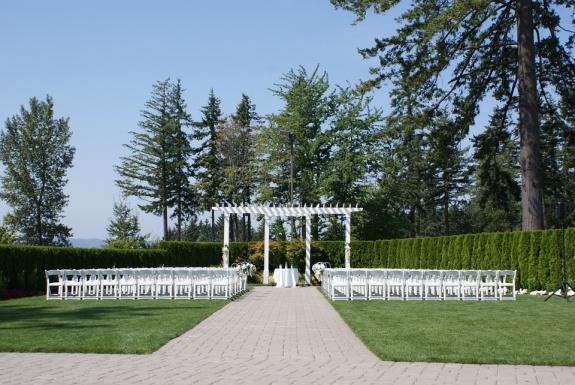 Archbishop William E. Lori promulgated in February a revised policy regarding the place of weddings in the Archdiocese of Baltimore. The policy now allows weddings at locations other than a parish church.

The priest or deacon celebrating the marriage must apply to the chancery for permission to use another location at least six months in advance.

Diane Barr, chancellor of the Archdiocese of Baltimore, said the new policy comes as a result of conversations, especially with young people, who want to be married in the church but also wish to have the wedding at a special location.

"The archbishop has been emphatic about reaching out to young people," Barr said. "There is more openness to considering other options."

The preferred location for a wedding of a Catholic is still either the bride's or the groom's home parish church. The engaged couple must complete the proper Catholic preparation for marriage, as required by the church, according to a Frequently Asked Questions about the policy.

Catholic brides or grooms who live in the archdiocese are eligible to receive permission to marry at a location other than his/her parish church. One of the most common requests is for use of a chapel at a school. Alumni, current employees and others with a connection to the location can be married at an approved Catholic high school, college, university or other Catholic site.

A special process will allow such locations to be recognized as a wedding site and is designed to make sure that "the local parish and the Catholic location (high schools, colleges, etc.) work well together in serving the wedding couple in an evangelizing way," the FAQ said.

Weddings can also be held at an appropriate outdoor location, as long as there is a back-up indoor location in case of inclement weather.

Some venues are not suitable for marriages, the policy states, including on a boat or in any place where alcohol is served as a matter of course such as casinos, bars, night clubs or the like.
UPDATE: One of the few other places where Catholics are permitted to have a wedding outside of a church is Helena, Montana. Two years ago, when that diocese announced it, John Hall (a Montanan) offered this perspective: 
The complaint that the Church is "lowering its standards" or "accommodating" people who are weak in their faith misses one really basic truth about the Gospel, namely that the Incarnation itself and, by extension, all the sacraments, are accommodations to human weakness. God is by nature inaccessible to us. Human beings are not by nature – and especially not with a sinful and fallen nature – capable of reaching God.

Thus St. Paul urges the Philippians to complete his joy by "being of the same mind, having the same love, being in full accord and of one mind" and doing nothing "from selfishness or conceit," but in humility counting others "better than yourselves."

"Have this mind among yourselves," he exhorts, and then says why: "which was in Christ Jesus, who, though he was in the form of God, did not count equality with God a thing to be grasped, but emptied himself, taking the form of a slave, being born in the likeness of men" (cf Philippians 2:1-11).

If God taking the form of a slave is not "lowering your standards," then I don't know what is. In order to extend the effects of his Incarnation to the generations after his Ascension, the Lord established the seven sacraments so that we can continue to receive his saving graces and perfect our nature in order to be with Him. The very fact that the sacraments use physical signs to impart grace is an accommodation to the weakness of our nature.
And here's one more take, from The Atlantic in 2014:
Meanwhile, fewer Americans are getting married generally. From 2000 to 2011, the number of marriages in the United States fell from 2.3 million to 2.1 million, or roughly 0.82 percent of the population getting married each year to roughly 0.68 percent.

But while that's a factor in declining Catholic marriage rates, the deeper cause is the changing relationship between people and traditional institutions, Gray says. "It's not just churches, but all kinds of institutions have experienced detachments from the 'brick and mortar,'" he said. By "brick and mortar,"  Gray means in-person religious communities: people physically coming together in churches to worship together. In general, Americans are becoming less affiliated with traditional religious institutions, not just the Catholic Church: From 2007 to 2012, the percentage of the religiously unaffiliated grew from 15 percent to 20 percent, according to the Pew Research Center.

…The trend away church weddings might be an indication of how young people tend to see their religious institutions. As Gray said, it's entirely possible that today's young non-church-goers might return to the pews in a few years, just as their hippy parents did before them. But it's also possible that beach weddings are an early sign of a generational shift among religious Americans, with more and more people finding meaning beyond the walls and words of a church.
Why are couples choosing to get married outside of the Church? For one thing, there might be a lack of awareness about the specific doctrinal importance the Church places on marriage. "More people are choosing to get married in country clubs and at the beach," said [CARA pollster Mark] Gray. "A lot of people are unaware of the importance of marriage and the place it has in Church sacramental life …Younger Catholics are probably not going to have a deep awareness about the sacrament of marriage, even if they self-identify as Catholic and [have] religious beliefs."