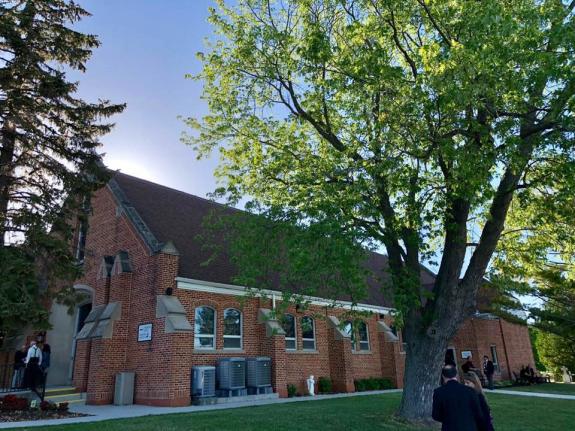 Yesterday, the Catholic Media Conference, unfolding this week in Green Bay, Wisconsin, sponsored a mini-pilgrimage to nearby Champion, about a 20 minute drive from our hotel, to visit the Shrine of Our Lady of Good Help—the only approved Marian apparition site in the U.S.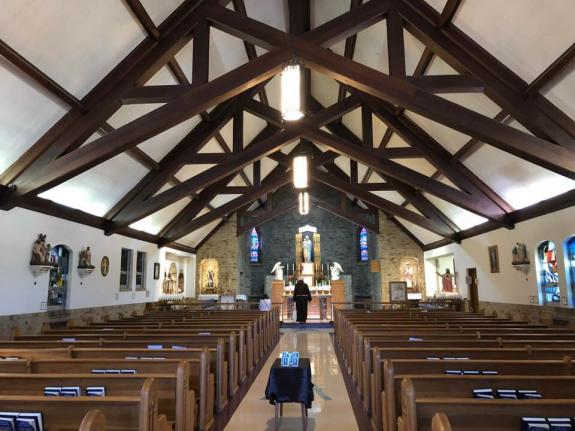 The church stands over the site where the apparition reportedly took place.
The story, from a 2010 report in The Compass: 
Adele Joseph Brise's story began when she arrived from Belgium with her parents, Lambert and Marie Catherine Brise, two sisters and a brother in 1855. They bought a farm at Red River, near the border of Brown and Kewaunee counties.

Adele had her first of three apparitions while carrying grain to a mill near Dyckesville on Oct. 9, 1859. On the following Sunday, while walking to Mass in Bay Settlement, the Blessed Mother appeared again. During the third vision, while returning home from church, Adele said Mary identified herself as "the Queen of Heaven" and told her, "Gather the children in this wild country and teach them what they should know for salvation. Teach them their catechism, how to sign themselves with the sign of the cross and how to approach the sacraments. That is what I wish you to do. Go and I will help you."

So the 28-year-old gathered the children and taught them about the faith. She would travel to farms, sometimes 50 miles away, to teach them. While Adele was never a vowed religious, she gathered a lay community around her, known as the Sisters of Good Help. Adele, called Sr. Adele, became their leader.

It wasn't until 1867 or 1868 that the first school was built on the chapel site. St. Mary's Academy, a boarding school, had 95 students enrolled by the 1871-72 school year. Sr. Adele supported the school by relying on God and the generosity of those she met. She sometimes went begging for what she needed.

…Sr. Adele was well known for her faith. When the Peshtigo fire of Oct. 8, 1871, threatened the area, people brought their families and farm animals to the grounds of the chapel.

During the night, the faithful, led by Sr. Adele, carried a statue of Mary around the perimeter of the grounds in prayer. By the morning, a downpour doused the flames. Outside the perimeter of the chapel grounds, everything was burned; yet the inside of the five-acre perimeter remained unscathed. To this day, many consider the event a miracle and the procession around the grounds has been repeated every year on Oct. 8.

Fr. Doerfler said he feels that the popularity of the annual October events is a realization that "we have a real tendency today to think technology will be our salvation. And while technology can help us with many, many things, it cannot save us. And it cannot answer the questions of the deepest longings of the human heart."
You can read more here. 
The apparitions were formally approved by the Bishop of Green Bay on December 8, 2010. (His proclamation announcing it is here.)
The site is modest— this isn't Lourdes or Fatima—and the church relatively humble. But it was a great privilege to be there and take part in a special Mass Wednesday afternoon, celebrated by Bishop Robert F. Mourneau, retired auxiliary bishop for Green Bay.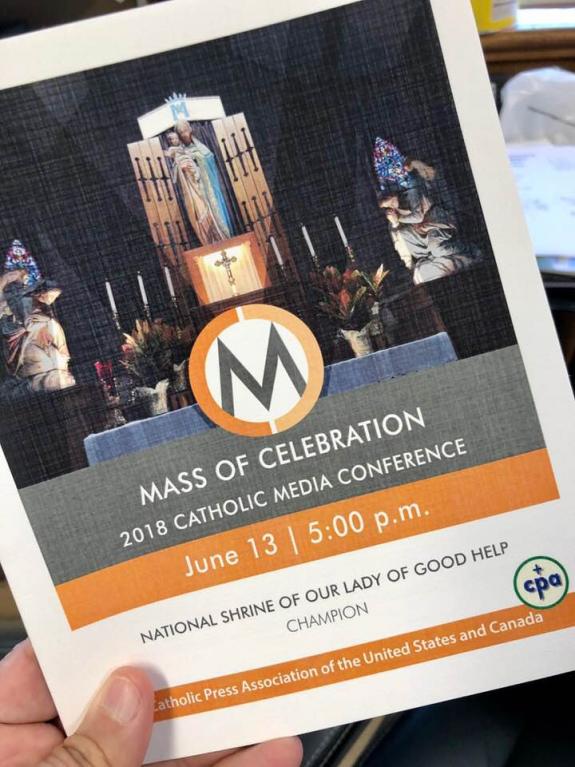 I had a little diaconal "first:" for the first time, I proclaimed the Gospel at the site of an approved Marian apparition. My collaborator and deacon partner was Conrad Kieltyka, a deacon from the Diocese of Green Bay.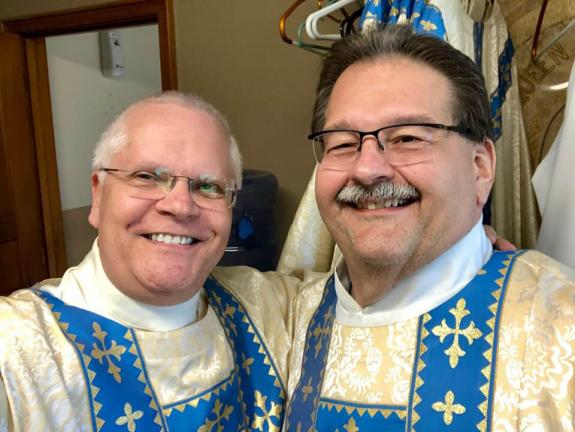 Mary has been a persistent presence in my life; my parents, after losing three unborn children, prayed a Miraculous Medal Novena before I was born. With more than a little help from the Blessed Mother, I somehow made it into the world. Over the course of my life, Mary has never been far away. I was married at church named for Mary, ordained at a basilica named for her, and now serve as deacon at a parish dedicated to the Queen of Martyrs in a diocese where the Immaculate Conception is our patroness. Mary and I go way back.
Reflecting on that journey as I stepped up to the ambo Wednesday, I couldn't help but remember Peter's words at the Transfiguration:  "It is good that we are here."  I felt I was on holy ground.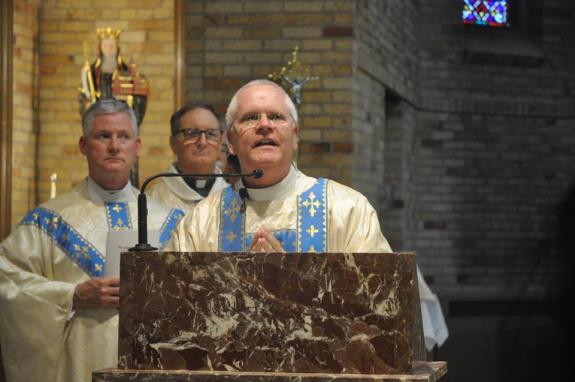 The basement of the church contains a modest oratory.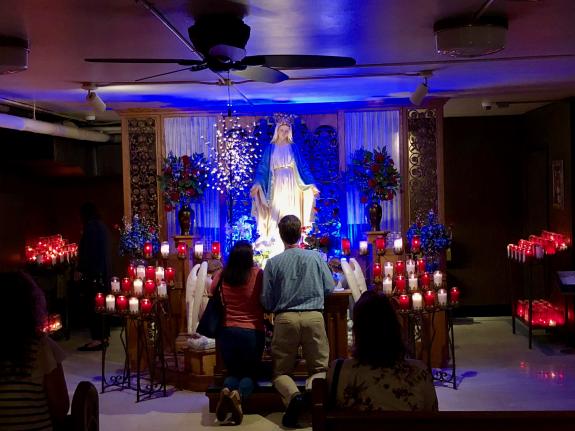 It also includes something exceptional: a collection of crutches left by people who have been healed, crediting their cures to Our Lady of Good Help — the title by which Mary is known at Champion.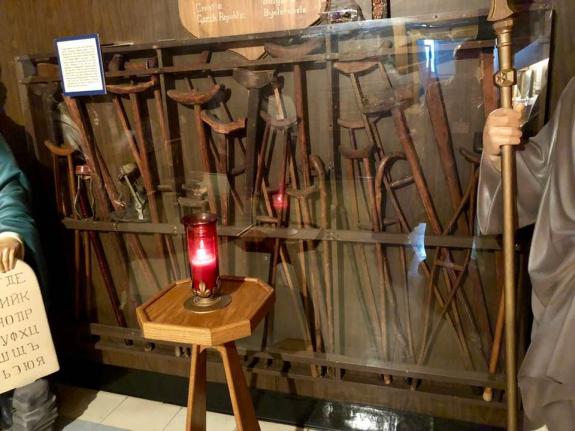 Sister Adele died in 1896, and is buried in a surprisingly humble grave just outside the church. You could almost not notice it. But this, too, is in keeping with the sense of humility and simplicity that is an intrinsic part of this unique Catholic shrine.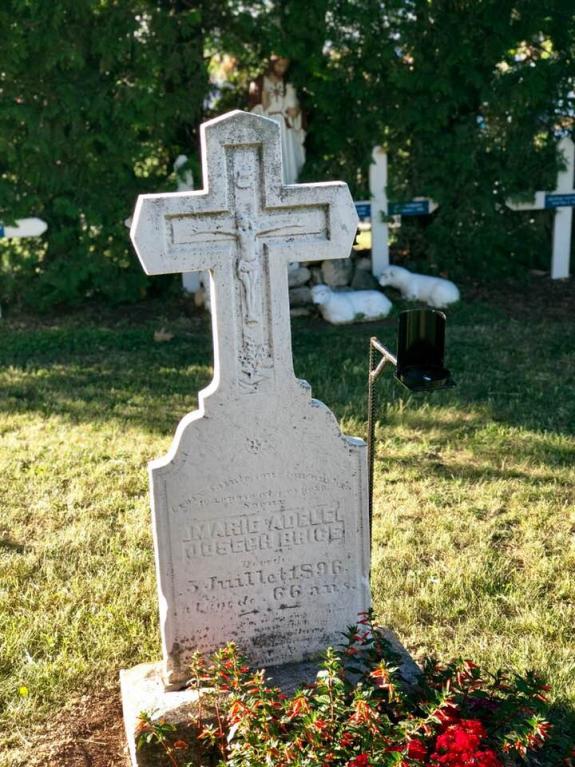 This shrine isn't grand. It isn't majestic. It sits as a simple country church at the end of a long, plain road, surrounded by fields and farms and wooden sheds selling vegetables grown by local farmers. Statues dot the grounds, and there's a bucolic path behind the church where faithful can walk and pray the rosary. That, and a parking lot and small welcome center, are about it.
Oh, and of course: there is also a small gift shop that will provide you with tee shirts, medals, bumper stickers, holy cards and DVDs to take back home. I scooped up several of these holy cards, with an image of Our Lady of Good Help painted by Tracy L. Christianson: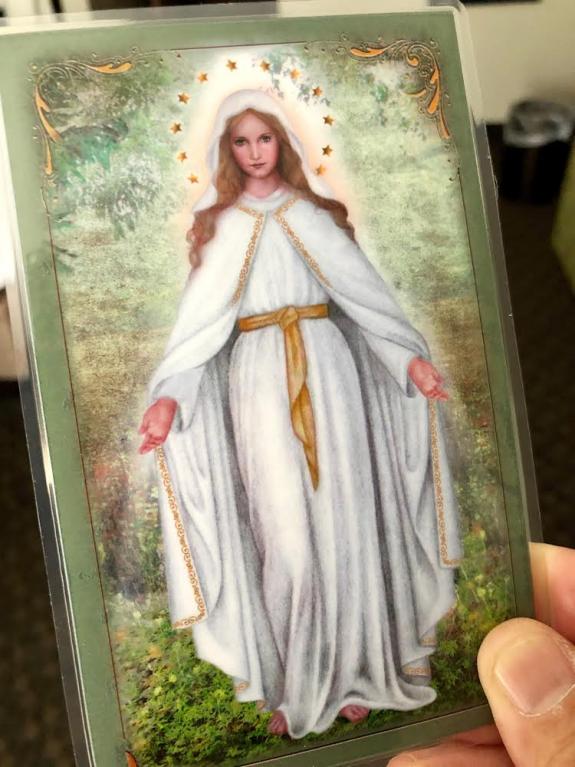 On a perfect, cloudless late spring evening, as we climbed back into the bus to return to Green Bay, and we rolled past fields budding and cows grazing, I told someone, "You know what? You can understand why Mary would want to come here. It's a great place to get away from it all."
I think you'll agree. If you're anywhere nearby, check it out. You won't regret it.
Visit the shrine website for more.