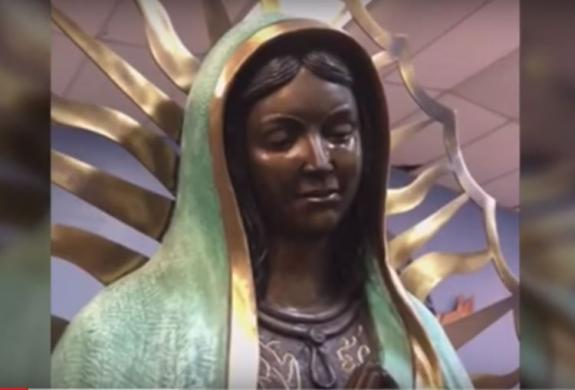 Here's a powerful reflection on mystery, miracles and McCarrick — tied to the story of a statue of Mary weeping oil, from Elizabeth Scalia. She concludes:
If Our Lady is weeping an oil so powerfully associated with the priesthood and the sacraments, it touches on the whole ecclesiology of the Church. Thus, it should be considered in light of the beyond-troubling headlines concerning powerful "princes" of the Church"—the men who use that oil, in persona Christi, to claim us for Christ, and seal us in faith, to heal our broken bodies and our frightened, sorrowful souls, and to ordain others into the priesthood which facilitates our Eucharistic Church.

If the tears of chrism remain a mystery, perhaps we may take it as a sign from the Mother of the Church that the Men of the Chrism need, yes, our prayers, but also something more: our help and our vigilance in facing a very difficult time of examination and needful, very likely painful correction.

What shall we do with that sign? Well, for one thing, we must be willing to investigate the long pattern of abuse, influence, and cover-up that involves Cardinal Theodore E. McCarrick (and his enablers) as carefully and thoroughly as we investigate miracles at Lourdes and tears of the Madonna. We must be as unrelenting in discovering proofs, seeking evidences, and distrusting "easy" answers about the men who run the Church as we are over each miraculous claim we study.

We must do this for the very same reason we are so careful about our miracles: for the credibility and protection of the Church itself, and in service to Christ, who is Truth.

There must be a thorough investigation and it must be overseen by ordinary parish priests, deacons, religious, and members of the laity—we who have a part in the priesthood (and thus a responsibility for and to the Church) by virtue of our baptisms.

Let us understand the moment, then, and together call for accountability: a public investigation of those who ignored accusations against McCarrick or others, no matter where it leads. The whole story—however much it will discomfit and hurt us—needs to be revealed.
There's much more. Read it all.