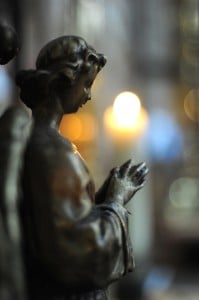 My friend and brother deacon from the Diocese of Brooklyn, Dr. Phil Franco, posted this reflection on Facebook Thursday. He himself is a survivor of clergy sex abuse, and has spoken about it at healing Masses and in interviews. I repost his thoughts here with his kind permission.
+
The disgusting news of the past few weeks has certainly cost me some sleep. It has cost others a lot more than that.
I have received a tremendous amount of calls and texts from people checking in or asking opinions, I have even been interviewed a few times. This is just my opinion, but the long-term damage done to the Church by the filth and silence of some will not soon be corrected. It will take years or even generations, as well as massive and drastic reform along the lines of councils, penance and purging, to truly restore Christ's Church to a place of respect and authority. For the first time in my life, I find myself in agreement when I have seen and heard people speaking of losing their trust in those who pastor the Church on earth.
I have literally found myself nauseous reading articles on the topic, as well as the pathetic PR attempts by those prelates who apparently still do not or will not get it. You're not a CEO. You do not have a career. You are a shepherd And you have failed your sheep miserably. If Christ and the Apostles worried about their reputations, they never would not have died as they did. If most Bishops keep up their current approaches, they will live to ripe old ages with full stomachs and fancy living quarters, but dead souls. (and no guarantee of post mortem living quarters) Successful CEOs and slick politicians are not guaranteed salvation. It is absolutely necessary to reject the white washed tomb approach that has brought us to this point and to carry the cross like a real apostle.
Lay people must speak up loud and clear, walking the road of reform with their clergy.
This will not be easy.
1) Every single cleric in the United States preaching this Sunday at Mass should directly address this issue. No excuses. I don't care if youre only saying the family Mass, the Vietnamese Mass or a Quinceanera.
2) Are you, as a deacon priest or bishop, a pastoral leader or a cog in the corporate wheel? Speak the truth loud and clear.
3) Pray publicly and privately for victims and for the many good priests who will not completely recover from all this.
4) Actively seek reform. Very actively.
5) No matter who you are: Do not be afraid.