Traditional notions of where Jesus was born are probably wrong, according to scholars:
Jesus wasn't born in a stable, and, curiously, the New Testament hardly even hints that this might have been the case.
Author Ian Paul goes on to explain where this idea of a stable probably originated, and then deconstructs some other popular ideas:
In the first place, it would be unthinkable that Joseph, returning to his place of ancestral origins, would not have been received by family members, even if they were not close relatives. Kenneth Bailey, who is renowned for his studies of first-century Palestinian culture, comments:

Even if he has never been there before he can appear suddenly at the home of a distant cousin, recite his genealogy, and he is among friends. Joseph had only to say, "I am Joseph, son of Jacob, son of Matthan, son of Eleazar, the son of Eliud," and the immediate response must have been, "You are welcome. What can we do for you?" If Joseph did have some member of the extended family resident in the village, he was honor-bound to seek them out. Furthermore, if he did not have family or friends in the village, as a member of the famous house of David, for the "sake of David," he would still be welcomed into almost any village home.

Moreover, the actual design of Palestinian homes (even to the present day) makes sense of the whole story. As Bailey explores in his Jesus Through Middle-Eastern Eyes, most families would live in a single-room house, with a lower compartment for animals to be brought in at night, and either a room at the back for visitors, or space on the roof. The family living area would usually have hollows in the ground, filled with straw, in the living area, where the animals would feed.
It probably looked something like this: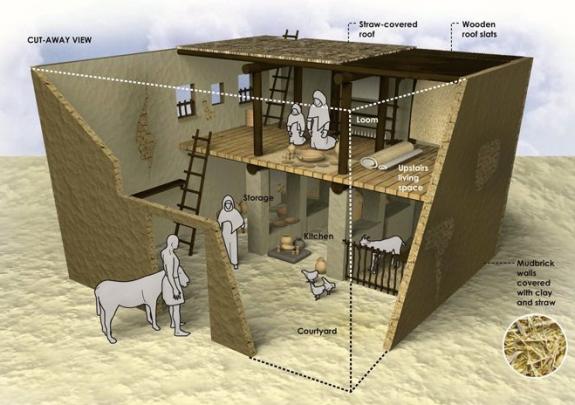 As for the notion of "no room in the inn":
The idea that they were in a stable, away from others, alone and outcast, is grammatically and culturally implausible. In fact, it is hard to be alone at all in such contexts. Bailey amusingly cites an early researcher:

Anyone who has lodged with Palestinian peasants knows that notwithstanding their hospitality the lack of privacy is unspeakably painful. One cannot have a room to oneself, and one is never alone by day or by night. I myself often fled into the open country simply in order to be able to think.

In the Christmas story, Jesus is not sad and lonely, some distance away in the stable, needing our sympathy. He is in the midst of the family, and all the visiting relations, right in the thick of it and demanding our attention. This should fundamentally change our approach to enacting and preaching on the nativity.
There's much more there to make us rethink our ideas of Christ's birth. I'm not completely sold on the thesis, but it's a challenging and though-provoking read. Read it all.