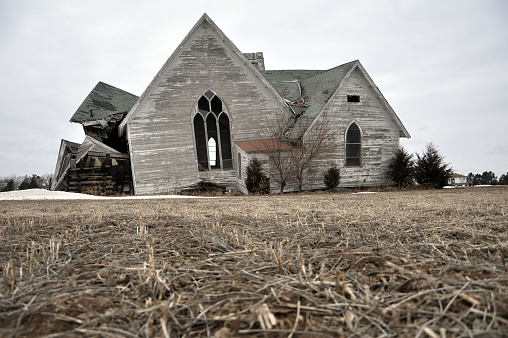 Via CNN:
American Catholics' faith in the church and clergy has fallen sharply in the last year, according to a new Gallup survey, as the church struggles to regain credibility amid a damning sexual abuse scandal.

In 2017, nearly half of Catholics in the US (49%) told pollsters they had a "high" or "very high" opinion of the honesty and ethical standards of clergy members. In December of 2018, at the end of the church's "year from hell," that number had dropped to 31%.

…All Americans' trust in clergy — Catholic and otherwise — has been falling since 2012, Gallup says. Overall, though, Protestants are more likely to have positive views of the clergy and their church. Nearly half (48%) have "high" or "very high" views of clergy members' honesty and ethical standards, and nearly an identical number profess faith in "the church/organized religion" in general.

Despite the decline in trust of their church and its clergy, American Catholics' percentage of the population has been holding steady at about 22%, Gallup found, while identification with Protestant traditions has "dropped precipitously" in the last decade.

Much of the church's stability can be traced to Latino immigration, Gallup says. Three in 10 American Catholics are now Latino, who make up 15% of the American population at large.
From Gallup: 
The latest drop in Catholics' positive views of the clergy's ethics, from 49% to 31%, is the second double-digit drop since 2004. Both declines were clearly associated with scandals in the Catholic Church even though the question about clergy does not specify a denomination.

Between 2004 and 2014, a majority of Catholics rated the clergy's ethics highly, but opinions fell sharply between 2014 and 2015. That 13-point drop from 57% to 44% followed the release of a study by the Catholic Church that found more than 4,000 priests had faced sexual abuse accusations in the prior 50 years.

Although Protestants' ratings of the clergy have dropped since 2004, the decline has not been as sharp, and the latest 48% positive rating of the clergy is much higher than Catholics'. Still, it is the first reading that falls below the majority level among Protestants.

Catholics' confidence in the church/organized religion, as measured by Gallup's annual Confidence in Institutions poll in June, was in decline even before the latest sexual abuse allegations in Pennsylvania came to light. Catholics' confidence dropped from 52% in June 2017 to 44% in June 2018.

Another bellwether for the possible future of the U.S. Catholic Church is the continued decline in church attendance. Weekly church attendance has declined among all Americans, including U.S. Catholics, in the past decade. Yet, it has remained relatively steady among Protestants.

A previous Gallup analysis showed that between 2014 and 2017, an average 39% of Catholics reported attending church in the last week. That was down from an average of 45% between 2005 and 2008 and from 75% in 1955. The same data showed that for the first time, in the 2014 to 2017 period, no age group reported majority-level weekly Mass attendance. In 2018, an average of 36% of Catholics reported attending church in the past seven days.
And there is this conclusion:
Despite the turmoil, the percentage of Americans who self-identify as Catholic has been stable and a slim majority of Catholics still consider religion to be very important in their lives. That only one-third of Catholics who consider religion very important to them rate the clergy's ethical standards highly seems to show that they are able to separate the institution from their own personal faith.