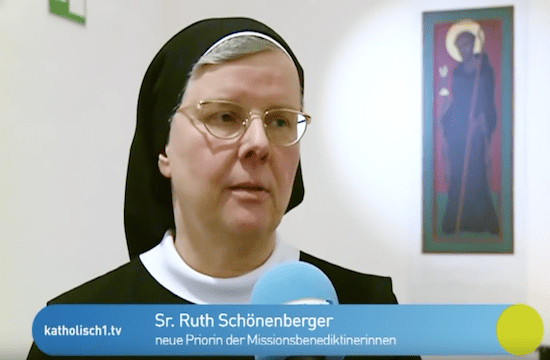 You have to wonder what's in the water.
A few days ago, this news popped up:
The Catholic Church in Germany is at a point where serious debate — including on priestly celibacy and the role of women — and openness to doing things in a new way must be encouraged, said the president of the German bishops' conference.

"Shakeups demand special proceedings," Cardinal Reinhard Marx, conference president, said March 14 at the end of the bishops' spring meeting in Lingen.

The sexual abuse scandal and demands for reform have changed the German church, the cardinal said.

He said debates on celibacy require further study.

"We treasure celibacy as an expression of religious commitment to God. How far it must adhere to the witness of priests in our church, we will find out," he said.

Marx also said Catholic sexual morality is in need of development. "We perceive that we are often not versed in questions regarding modern sexual behavior," he said.
Now, there's this: 
The leader of one of Germany's most important female religious communities has called into question the Catholic Church's exclusion of women from the ordained priesthood.

"It is surely only natural for women to be priests and I cannot understand the reasons given as to why not," said Sister Ruth Schönenberger, head of the Benedictine Priory of Tutzing, the Bavarian motherhouse of a worldwide missionary order.

"I am surprised that the presence of Christ has been reduced to the male sex," she said in a recent interview with katholisch.de, the official website of the German Catholic Church.

"Here in Tutzing, we, too, have excellently qualified women theologians. The only thing they lack is ordination – nothing else," said 68-year-old Schönenberger, prioress of Tutzing since 2015.

Schönenberger, who is responsible for the 70 members at the Tutzing priory and those at two other Benedictine convents, said the criteria for priesthood should not be based on one's gender.

"Our present image/concept of the priesthood urgently needs to be fundamentally revised and I am genuinely surprised that priests themselves don't protest more against present developments since they involve them," said the prioress, noting that men and women should be treated as equals.

…I"f we, as a group of women religious, want to celebrate the Eucharist together, we have to arrange for a man to come and celebrate it, every single day. He stands at the altar and leads the celebration. We are not allowed to," the Tutzing prioress said.

"We intend to look for forms (of celebrating the Eucharist) which suit us and develop new ones," she added.