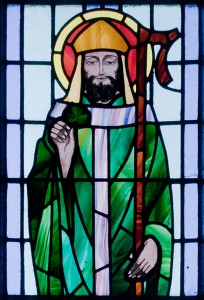 A big h/t to Fr. Michael Rennier at Aleteia who offered this alternative to "The Benedict Option" yesterday, in honor of St. Patrick:
The Benedict Option might mean different things to different people, but the reason it's so important is that it inspires families who want to maintain a specific set of values to not give up.

There are other "options" we can build into our lives. For instance, Dr. Carrie Gress wrote about the Marian Option, which rests on the idea that civilization is renewed and society thrives best when the Blessed Mother is venerated and imitated.

But since today is St. Patrick's Day, I thought it might be interesting to propose a Patrick Option. By that, I don't mean that wearing green, clubbing snakes, and over-indulging in Guinness will save the world. The life of Patrick is far more inspiring than your local St. Paddy's Parade would lead you to believe.
Patrick's story isn't very well known, but the short version is that he lived in the 5th century, was kidnapped by Irish slave traders, escaped back home to Britain, and then felt a desire to go back to Ireland as a Christian missionary. To say that he was successful in his mission is an understatement — today Ireland, Catholicism, and St. Patrick are synonymous — and the key to his success was in his ability to interact with the non-Christian native culture. It seems to me that many Christians are beginning to feel like aliens in a strange land, that we are inhabiting an increasingly non-Christian culture. So perhaps the Patrick Option is the medicine we need for modern times. How do we not only survive but thrive in the particular cultural moment in which we find ourselves?
Check out his guidelines, which include "remaining faithful to … identity and beliefs" while still being a part of a foreign culture and "never writing anyone off."