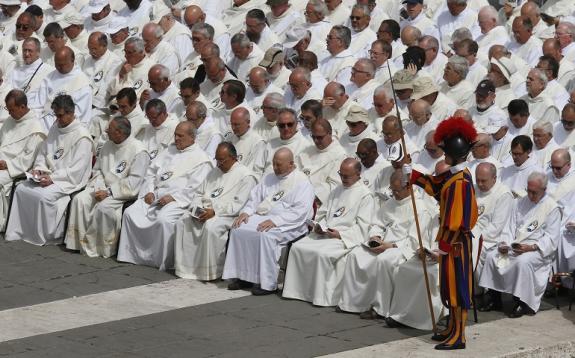 Yes, indeed.
I received an email today from my Salesian priest friend Mike Mendl, eager to share some recent statistics about his order:
As of 12/31/18, the Salesians are present in 132 countries (depending on how you count "countries").  There are 14,614 confreres (128 bishops, 14,056 professed, and 430 novices), of whom 1,392 are coadjutor brothers and 28 permanent deacons.  The Society is divided into 90 provinces that include 1,802 canonically erected works or houses and 113 other presences.
Turns out, they aren't the only ones. From the Dominicans' website, DomLife.org: 
Each Friar, brother or priest, has heard a call to his choice of dedication. A brother is not a potential priest but one called to be a brother. Many follow the preaching path, some are ordained permanent deacons, but they don't hear a call to priesthood. Some hear the call to quieter apostolates of hospitality and solace for those who seek it, others to very active apostolates.
The Dominican priest (and Facebook friend of mine) Dismas Sayre noted such deacons in his order are rare: 
It is possible, canonically.

It has happened — we had a brother, who served as a permanent deacon. The biggest reason is that he was out in the missions, and the diaconate served as a way to do more.

But my understanding is that this is not really smiled upon by the Order. We really are an order more of priests and brothers, and have served as such, since the beginning. There is no real need for a permanent deacon in the way we function or have traditionally functioned, and I cannot think of a permanent deacon in our older history, except for maybe the rare "was not approved for further ordination."

Now, of course, one could be ordained a permanent deacon and join the Order via the Third Order/Dominican Laity. We have those. But that name we use now "Dominican Laity" seems to by its ideal exclude deacons. It's not a comfortable fit, is what I guess I'm saying.

Think of it this way as well — the deacon, permanent deacon, has traditionally been seen as the arms and ears of the local bishop. They would be his agents for charity, and assist at Mass.
The idea of deacons serving in a Third Order is not that uncommon; the first deacon I ever met — and the man who played a singular role in my own vocation — was a Lay Cistercian from Great Britain.
Deacon Bill Ditewig, meantime, tells me the phenomenon of permanent deacons in religious orders is more common in Europe than in the United States.