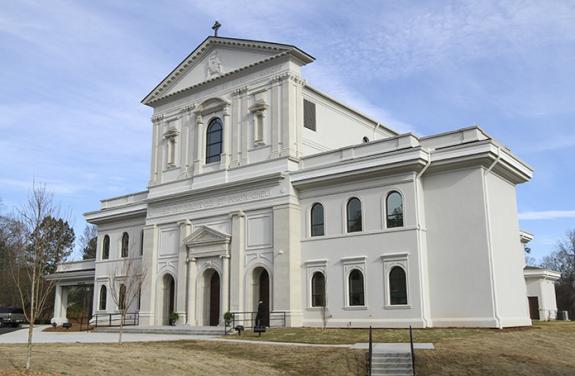 Wow.
I first posted on this remarkable undertaking over a decade ago, when my blog was still at Beliefnet:
St. Gerard's was where her grandparents and parents were married, where she was baptized and wore the white dress, shoes and veil of First Communion. Years later, she can still hear the three great bells, still see the ceiling fresco of Mary crowned Queen of Heaven.

Sharon Wilbur took those memories of St. Gerard's Roman Catholic Church with her when she moved decades ago to suburban Atlanta, where such a church exists only in pictures. Now, two years after it closed, her old church could be following her south.

Instead of building a neoclassical church, Wilbur's growing parish wants to buy classical-style St. Gerard's, take it apart and ship it 900 miles from Buffalo's depopulated east side to Norcross, Ga., for reassembly at Mary Our Queen parish. The parish has the endorsement of the Catholic archdiocese of Atlanta, the diocese of Buffalo and St. Gerard's former parishioners. All it needs is an additional $10 million.

Transplanting an 800-seat, century-old basilica would be an exceptional solution to an increasingly common problem: what to do about the growing inventory of closed churches across the Northeast and Midwest.
While they didn't exactly take apart the church and reconstruct it in Georgia, they did the next best thing. Incredibly, the long journey has finally been completed:
In 2008, Father Francis "Butch" Mazur closed and locked the doors of St. Gerard Church in Buffalo, New York, where he served as pastor.

The parishioners who had gathered for the final Mass stood outside the shuttered doors in the streets of downtown Buffalo, staring at the church that, for many of them, had been their home for decades.

"They didn't want to move," Father Mazur said. "Everyone just stood there blocking the streets."

For more than 100 years, St. Gerard had been a symbol of faith in downtown Buffalo. But as parishioners began moving to the suburbs, there were too few members to sustain the parish.

This spring, artifacts from this parish church have a new home at Mary Our Queen Church in Peachtree Corners, dedicated March 17. The parish had been using temporary space for years, which will now be a parish hall and commercial kitchen.

The day before the dedication, Father Mazur lovingly ran his hand along the gold of the baptismal font which he'd used to celebrate baptisms for nearly a decade. The priest can recite the history of the 100 years of St. Gerard Church as easily as his own family history. And now, despite more than 900 miles between them, St. Gerard has given new life to Mary Our Queen Church.

During the church's dedication, parishioners craned their heads toward the high, sky-blue ceiling flanked by stained-glass windows that once belonged to St. Gerard.

Archbishop Wilton D. Gregory, as Atlanta's archbishop (prior to the April 4 announcement of his appointment to the Washington Archdiocese), celebrated the Mass of dedication for Mary Our Queen, joined by its pastor, Father Darragh Griffith and former pastor, Father David Dye, along with Father Mazur and several priests of the Atlanta Archdiocese.

In his homily, the archbishop said that though a new church building is cause for celebration, it is important to remember that those inside the church are called to be God's first temple. He also thanked those from St. Gerard who gave the church a piece of its history and came to see "how Atlanta will care for the treasures that they have decided to share with us."
And check out additional pictures and details at the parish's website. 
And if you check out the original story at The Georgia Bulletin, you'll see pictures showing the striking similarities between the Buffalo church and the new one.
There is still more work to be done, so if you'd like to make a donation, visit this page to learn how you can help.  Ad multos annos!