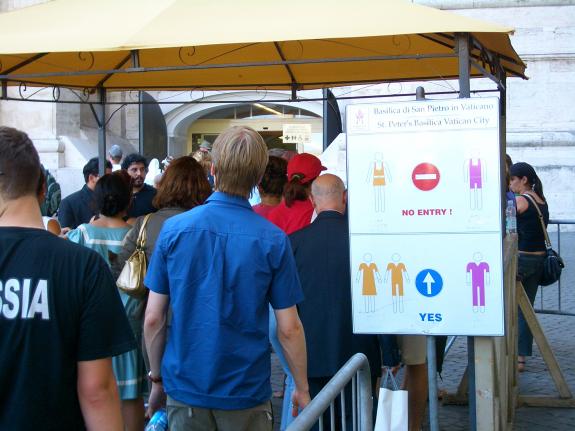 The heated debate about bare shoulders during Mass reminded me of this post from a few years ago, which got a lot of attention:
Remember when people actually used to get dressed up to go to church?

When people actually showed up early for mass?

When the pew wasn't the preferred site for a family picnic?

When did all this change?

I must have missed the memo. Somewhere along the way, we went from neckties to tank tops, and from fasting to fast food. And it's getting worse. I recently had to tell a couple that no, they could not have their Chihuahua in a tuxedo as part of their wedding party. An auxiliary bishop in Indianapolis recently complained about people who tweet during funerals.

Casual Catholics, it seems, have taken "casual" to a new level.

A few years ago, I posted something about this phenomenon in my parish bulletin. I reprint it below:

***

Herewith, some bulletin announcements I'd like to see:

BRITNEY SPEARS CONCERT CANCELLED! Unfortunately, our efforts to get pop sensation Britney Spears to perform a benefit fundraiser for the parish have proven unsuccessful. Her calendar is full. Therefore, those who have been arriving at Mass every Sunday dressed for a Britney Spears concert should know that they don't have to do that anymore. Modest church-going attire will do nicely. We will notify you if the situation changes.

FAULTY ALARM CLOCKS POSE DANGER! An exclusive parish investigation has uncovered a new danger facing our parishioners: people who enter the church 15 minutes after Mass has started, and attempt to find a seat by climbing over the rope strung across the aisle. This can result in falls or – in some cases – embarrassing displays of underwear. Experts recommend that all Catholics check their alarm clocks every night to make sure they are working, so that they can arrive at Mass on time.

CELL PHONES CAUSE HEAD INJURIES! New research indicates that people who bring cell phones to church are more likely to suffer serious head trauma, usually caused by the priest throwing the lectionary at them. Such people are also more likely to be wounded by hurled umbrellas and rolled up missals. We care about our parishioners. As a public service, then, we are advising all to leave cell phones at home or, failing that, to flick the switch to "vibrate." Medical experts say it will lead to a longer, healthier life. There is also anecdotal evidence that such precautions will keep your neighbors in the pews from digging their nails into your hand during the "sign of peace."

MUNCHIES AT MASS? Rampant rumors persist that the parish is planning to institute a mid-Mass picnic every Sunday. This has led some parishioners to arrive at church with water bottles, yogurt, animal crackers, sandwiches and the occasional box of candy. Rest assured: the only food we will be serving will be of the spiritual kind, at the usual time, at the usual place – by the altar rail during communion. Don't worry about bringing anything else. We have all you'll need right here. Just BYOS. Bring Your Own Soul.
That caught the attention of Terry Mattingly over at Get Religion, who contacted me and asked about interviewing my pastor at the time, Msgr. Joe Funaro. He was happy to chat with him:
It's easy to determine what is going on in his parish and elsewhere, said 74-year-old Monsignor Joseph Funaro. Decades ago, worshippers would dress up to go to church and then would return home to change into more casual clothing before heading to picnics, baseball games, the local pool or away to the coast.

Today, the sprawl of suburban life and omnipresent traffic jams — especially close to Labor Day and beach-friendly weekends — have tempted Catholics to abandon the old church-first schedule. The clothes symbolize larger changes.

"We have reached the point that just about anything goes," said Funaro. "We keep making appeals to our people, but it doesn't seem that anyone is paying much attention. … Some of the ladies, well, you just have to wonder if they looked in a mirror before coming to church."

The key, he said, is not that formal attire has evolved into casual attire. That change took place several decades ago for most Baby Boomer adults and their children. Now, more and more Catholics have moved past casual clothing and have started wearing clothing that is distracting, at best, or is often aggressively immodest.

As a priest, Funaro said that he now worries that some of his parishioners are not really focusing on the Mass at all. Instead, they are stopping by the church while on their way to other activities they consider more important than Mass.

"I often ask people this question: 'Would you dress like that if you were going to meet the queen of England?' Of course, they always say, 'No, of course not.' Then I remind them that they are coming to Mass in order to meet someone more special than the queen. They are coming to meet their King."
And so it goes.