This just makes me want to weep.
Dr. Paul Rimmer took his son to Evensong yesterday at King's College at Cambridge. This morning, he posted this letter on Facebook, which reads in part:
Dear Reverend Dr Stephen Cherry,

I would like to apologize for bringing my autistic son to Evensong at your chapel. I am a resident of Cambridge and a member of the university, and my family and I have attended services at the chapel from time to time. I have always been inspired by the beauty of the building, the worshipful attitude of the service, and the hospitality you have extended to the wider community, as stated in your most recent welcome letter which expressed your "hope that, whenever and however you share in the life of the Chapel, you will be inspired, encouraged and refreshed." I am proud to worship within a communion that is "asking the question, how can we enable disabled people to be at the heart of our communities, explore their vocation and realise their gifts?" (https://www.churchofengland.org/…/church-resources/welcomin…).

I chose to attend Evensong on Trinity Sunday, also Father's Day, with my two sons, one of whom is autistic. Tristan is nine years old, and is a clever and joyful child, who loves church buildings, services, and choral music. He is also non-verbal, and expresses his excitement by calling out and laughing. His expressions are often loud and uncontainable. It is part of who he is, so there is no realistic way for him to be quiet. Many autistic people are like Tristan in this way. Right before the Kyrie, one of the ushers informed me that you had instructed him to remove us. Tristan's expressions were apparently interfering with the enjoyment of some of the other visitors, which was very inconsiderate on our part, because tourists come from all over the world to hear the Evensong. The usher seemed embarrassed but insistent as he asked us to leave, though I'm not sure if it was because of my son's vocalisations, or because of the nature of the directive you had given him.

As a Christian, I believe that worship is primarily intended to glorify God, and may have misinterpreted your Evensong as an actual worship service, at which my son's expressions must surely be pleasing to God, the experience of other worshipers being secondary. Our removal makes more sense if Kings College's Evensong were simply a concert held in a building that used to be a chapel. Then my son's expressions would frustrate the purpose of the event, which is primarily performative; lessening the satisfaction of certain tourists around the world who attend, but not those kinds of people you deem to be too distracting. If this is so, I apologize.

Might I suggest that you place a sign at the front of the chapel, clearly identifying which categories of people are welcome and which are not? I can only imagine how terrible it would be if autistic people, others with disabilities, those with mental illnesses, and people with dementia, were all equally welcome to attend Evensong, how this would get in the way of the choir's performance, how it would distract the choristers, and how upsetting seeing these sorts of people at the chapel would be for the tourists who have come such a long way.
Read on or click on the letter below: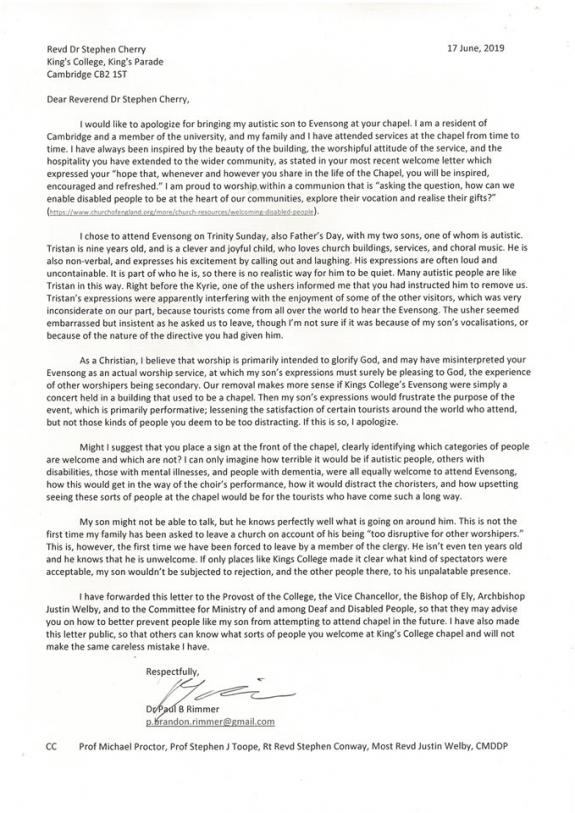 UPDATE: This afternoon, Dr. Rimmer posted the following on Facebook (h/t to an alert reader who pointed me to this):
Stephen Cherry replies here:

https://www.facebook.com/permalink.php…

He apologizes and clarifies that he did not give any directive to have my son removed. I believe him, and this part of my account may have been a misunderstanding between myself and the usher in the heat of the moment.

Stephen has asked to meet with me, and I'm hopeful that, with his help, this whole thing can be resolved, and the chances of this happening again at King's College chapel reduced.

-Paul

Text of Revd Dr. Cherry's Reply:

——

Dear Paul Rimmer,

I was devastated to read the letter that you posted on Facebook this morning. Every week we welcome thousands of people to services in King's Chapel and we do our best to meet all their various needs and expectations. Sometimes we fail and I realise that we especially failed you and Tristan on Sunday afternoon. I apologise for that most sincerely.

Since hearing of your experience I have looked into what happened and now more fully appreciate that that there is more that we can do to support and help the staff who are responsible for the welcome that we give those who come to share our services with us. This is one of the reasons that I have written to you asking if you might be prepared to meet with me. I'm sure that your insights and connections could help us do better in the future. I should perhaps say for the record that I did not, in fact, give any instruction to the effect that your son should be asked to leave the Chapel on Sunday. Nonetheless as Dean I do take responsibility for the whole life of the Chapel and in that regard I express my unreserved apology and intention that we will do better in the future.

Yours sincerely,

Stephen Cherry
Dean of Chapel,
King's College, Cambridge.
There you go. Case closed.