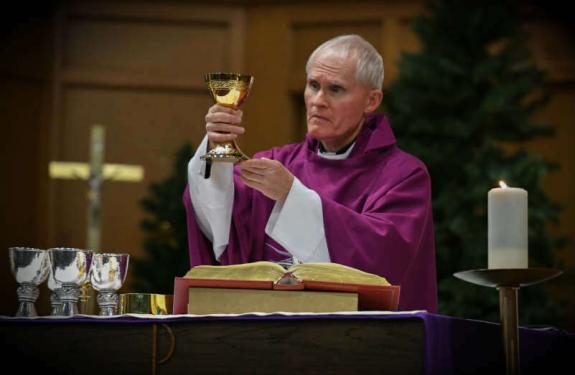 Some good news for the Diocese of Wheeling-Charleston, via The Catholic Review:
Pope Francis named Bishop Mark E. Brennan as bishop of the Diocese of Wheeling-Charleston, which encompasses the state of West Virginia. The July 23 announcement was publicized in Washington, D.C., by Archbishop Christophe Pierre, apostolic nuncio to the United States.

Bishop Brennan, 72, had been a priest of the Archdiocese of Washington until his appointment in December 2016 as an auxiliary bishop of Baltimore. He was ordained a bishop Jan. 19, 2017, at the Cathedral of Mary Our Queen in Baltimore.

He will become the ninth bishop of the diocese, which had been the Diocese of Wheeling from its founding in 1850 until 1962, when it became the Diocese of Wheeling-Charleston.

Baltimore Archbishop William E. Lori, who has been apostolic administrator of the Diocese of Wheeling-Charleston since September 2018, praised the appointment.

"I offer my deepest gratitude to our Holy Father, Pope Francis, on the naming of Bishop Mark Brennan as the new bishop of the Diocese of Wheeling-Charleston," Archbishop Lori said. "The Archdiocese of Baltimore has been blessed these past two years by his service as auxiliary bishop. During that time, I have witnessed his pastoral love for the people of God, who have accepted and embraced him for his kindness, humility and joyful witness to the faith.

"These gifts and so many others will bring healing and hope to the church in West Virginia, which deserves a shepherd who bears so many of the qualities possessed by Bishop Brennan. While we are saddened to lose him here in the Archdiocese of Baltimore, we extend our gratitude and prayers to him in his new role," the archbishop said.

Bishop Brennan said, "I am deeply honored to be appointed the new bishop of the Wheeling-Charleston Diocese and am grateful to the Holy Father, Pope Francis, for his confidence in me to now lead the Catholic faithful here in West Virginia in a spirit of true Christian service."

Related: Bishop Brennan prepares to address issues in West Virginia

He noted that his parents, now deceased, retired to the state, so "I am no stranger and, in fact, a great admirer of the beauty of its landscape and people.

"Even as we work toward bringing about true healing and renewal here in this local Church – work begun so well by Archbishop William Lori – I am full of hope and confidence for what we can accomplish together," he said.

Bishop Brennan said he was "very, very surprised" upon hearing the news from Archbishop Pierre that he had been selected for the post.

He said, "My reaction was: I grew up thinking lightning never struck twice in the same place." But for him it did. "Once was an old dog like me being made a bishop. But it happened again. Bishop of a diocese? Who can believe it?"

He said he asked the nuncio if he was sure that he was the choice, and the archbishop confirmed it.

Bishop Brennan talked with Archbishop Lori at length after receiving the news and the archbishop noted that priests and bishops have to put personal preferences behind the needs of the church, and the diocese needs someone who can go there soon. "It's been dragging on a long time. … The archbishop is willing that I go.

"I've accepted it," Bishop Brennan said. "I'm going and I'll try to go with a good spirit and do the best I can."
Bishop Brennan hails originally from the Archdiocese of Washington, where I remember him as the pastor of St. Martin of Tours in Gaithersburg. My wife and I used to see him regularly celebrating Mass when we visited Maryland during the holidays; we were both struck by his gentleness, simplicity and generosity of spirit. He was much beloved by the people in the parish. I have no doubt he will be a good shepherd to the wounded flock in West Virginia, and do much to help them heal.