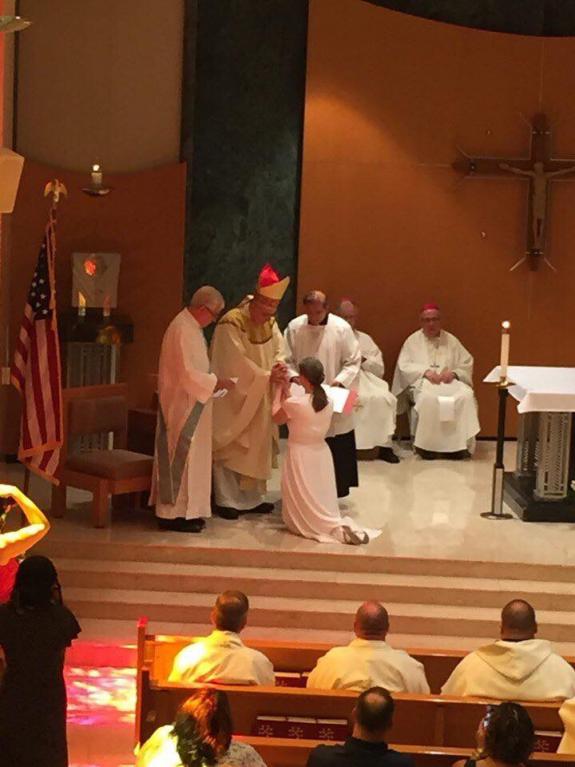 This popped up in my email — h/t Elizabeth Scalia! — and it's pretty great: 
Debbie was consecrated as a virgin living in the world in Brooklyn, NY by her bishop on Saturday! What a beautiful witness of consecrated life in the world! Thank you for your YES!
Evidently, this happened on July 13. Does anyone know any more?
UPDATE: Well, yes, the woman in the picture knows a lot more. Deborah Sucich dropped me a line to share some more details and pictures:
I am 43 years old and live in Staten Island, NY (St. Charles Parish).  I work as a full-time Campus Minister and religion teacher at St. Saviour High School in Brooklyn, NY.  I coordinate the Goretti Group New York Chapter (for 6 years)  – the Goretti Group started in San Diego 16 years ago to help spread the message of purity and untwist the lies of our culture.  

www.thegorettigroup.org

 (New York Chapter tab)

We have our 2nd annual fundraiser, the 2019 Race for the Chaste,  coming up on August 17th to help raise awareness and spread the message of authentic love and chastity to help transform the culture. 

https://www.facebook.com/events/385049145681971/

This ministry is my passion and I hope my consecration witnesses to our motto to "Experience and spread the joy of purity!"

My model for purity is the Blessed Mother.  Every reading and hymn I chose was to honor her and the consecration I made to her over 15 years ago.