"Do I regret not being married? Well, I might miss it, but celibacy I find to be extraordinarily rewarding and liberating."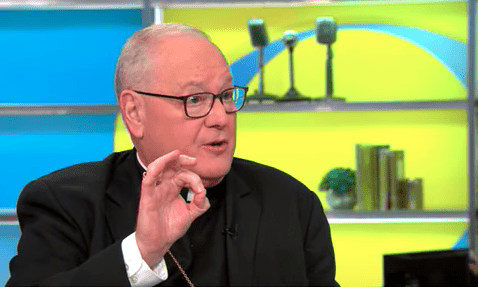 The subject came up during an interview on CBS This Morning, while discussing the Amazon Synod:
Appearing on "CBS This Morning," Cardinal Dolan said, "I'm glad they talked about it. We act like it's a big secret, but heck, my barber asks me why priests can't get married."

"Would you like there to be a Mrs. Dolan?" asked co-host Gayle King.

"What are you doing tonight?" Dolan replied. "Look, I would love to be married and have kids. But you know what? Pope Paul VI said you shouldn't be a celibate if you don't want to be married and have kids. Celibates are different than bachelors; celibates want to be a father and want to be a spouse, and they transfer it to their allegiance to the church, which is their family.

"So, a desire to be a father and a husband is a healthy, normal, beautiful thing. And I've got it. But do I regret not being married? Well, I might miss it, but right now, celibacy I find to be extraordinarily rewarding and liberating."

Dolan, who has just written a new book, "Who Do You Say I Am?: Daily Reflections on the Bible, the Saints, and the Answer That Is Christ" (Crown), was asked about a decline in the percentage of Americans who consider themselves religious.

Co-host Tony Dokoupil asked, "I think indisputably one of the reasons why is people look at these sex abuse scandals that the Catholic Church has been plunged into, and they wonder – and I say this as somebody who has three generations of Catholics in New York, stopped with my generation– I ask you as a journalist, but also as somebody with that lineage, how could this have happened, and why the Catholic Church and not Islam or Judaism or evangelical Christianity? Why did this engulf your religion in particular?"

"Sometimes we wonder that ourselves," Cardinal Dolan replied, "because as a matter of fact, it has engulfed all faiths, all levels of society and culture. It's a cultural societal problem. It's laser-beamed on us because, rightly, people expect more of the church. And when the church falls and commits this kind of nauseating sin, it's going to bring more attention to it, and it should. Not only have we in the past committed these sins, we're hypocritical because we're the ones that have preached against it. And it just upsets people that the very ones that are preaching against it have been guilty of it."
And watch the interview below.