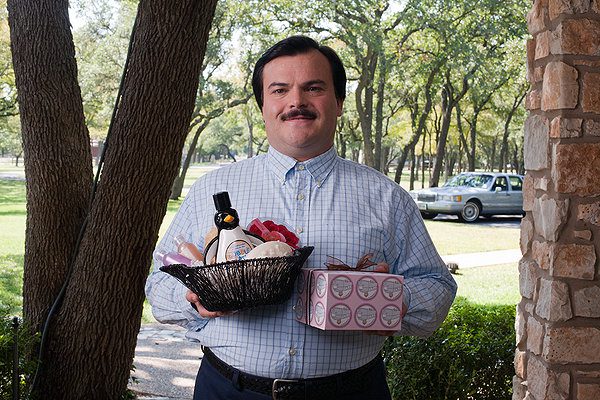 My favorite film of the summer just arrived on DVD.   Bernie is a kick; an eccentric, captivating, and thoroughly original comedy.   Jack Black gives his most complete and sympathetic performance yet as Bernie Tiede, an officious mortician who gets a little too close to a rich Texas widow.  Bernie is "an artist in the embalming room," but his taste for the high life of Marjorie Nugent becomes quite costly.   Based on a 1996 true crime and trial, Bernie gets inside the small community of Carthage, Texas in ways that few films dare.  It presents people with such complexity and empathy that it renews my faith in film.
Austin-based filmmaker Richard Linklater returns to his indie roots to craft downhome story.   Linklater and Black are reunited after their creative and commercial triumph in School of Rock (2003).   Bernie unfurls at a leisurely Southern pace befitting the humidity that surrounds Tiede's growing predicament.  Bernie is beloved by the DLOL's—the Dear Little Old Ladies–who declare he "had the ability to make the world seem kind."    He offers comfort to the bereaved and even sings Gospel songs during services at the funeral home.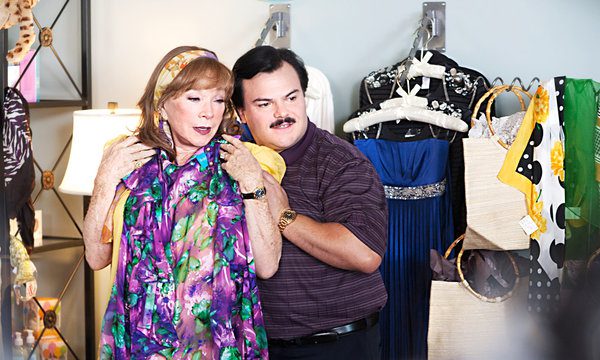 The richest widow in town, Marjorie Nugent (played with prickly panache by Shirley MacLaine) seizes upon Bernie's graciousness.   He gives up his duties at the funeral home to become her personal valet.   They travel and eat at only the finest resorts around the world.   But as Marjorie's demands upon Bernie rise, he feels increasingly trapped.   Their relationship is described as "sweetness versus evil." Does Bernie snap from her badgering, falling into temporary insanity?   His motives are put on trial.
The hat of district attorney, Danny Buck, fits Matthew McConaughey.   He clearly relishes the role of grandstanding tough guy, constantly campaigning for reelection.   His challenge:  finding unbiased jurors.   But how rarely is the accused so beloved (and the victim so unsympathetic) that a trial must be staged outside of their hometown?   Bernie was so generous with Marjorie's wealth that he had won friends all across Carthage by buying Little League uniforms and funding a new prayer wing for the church.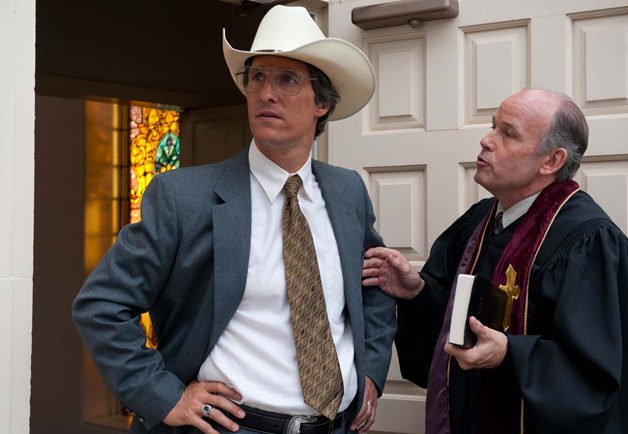 The delicious interviews with local residents tie the tale together.   The comments from those who knew the real Bernie are hilarious and revealing.    They wonder if, "She was more evil than he was nice."   Another declares, "People would have shot her for $5."  Their unwavering support for Bernie puts the audience in an ambiguous space.   While the Christian community in Carthage seemingly recognizes Bernie's implied homosexual tendencies, they choose to focus on his acts of charity instead.   And when it comes to his shooting of Mrs. Nugent, they choose to forgive (or consider it utterly justifiable).    Does that make Carthage wondrous, monstrous or a bit of both?
While Bernie contains plenty of memorable quips, it also contains surprising meditations on the nature of justice and the possibilities of grace.   Who should be judged?  Who should be forgiven?   Bernie reveals how selective our prejudices can be.  And that makes it one of the most refreshing and original films of 2012, a humanizing tonic amidst a summer of aimless explosions.   Relying almost solely on word of mouth, Bernie has found a niche audience.   While sophisticated, big city filmgoers may wonder why the plot moves so slowly, Southerners will recognize the quirks that characterize so many of our small towns.   Bernie is an authentic slice of America, loaded with the love and contradictions that vex all of us.