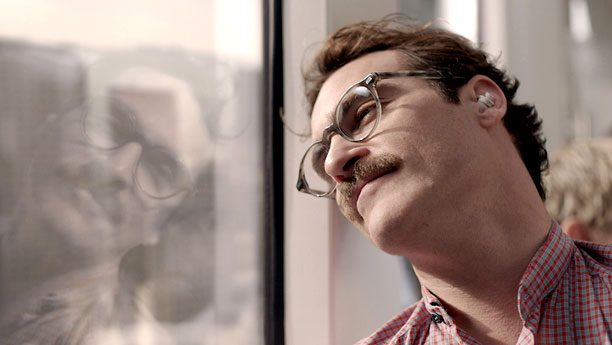 We live in an era of profound possibilities and deep-seated anxieties.   We believe the future is bright, but we're scared of the present.   We seek solace in our digital devices, embracing the virtual when the actual feels too weird, wild, and uncontrollable.    We are hyper-connected and yet oddly isolated.   As Louis C.K. has noted, "Everything is amazing and yet nobody is happy."   
Director Spike Jonze steps into this maelstrom, wondering why our love for technology has left us unsettled and unsatisfied.   Her offers a vision of a not too distant future when we hire people to pen personal letters, injecting emotions that we can no longer summon.   We play video games as virtual parents, while almost no children surround us.   Our face-to-face conversations with people are awkward, so self centered that we don't even realize how our desperate longing for connection crosses into creepy.  Thankfully, our pants are comfortable, beltless wonders that combine the best of sweats, pajamas, and olde-fashioned trousers.    Operating systems have turned into artificial intelligence that can browse our online history to determine what we'll want next.   We've happily left the decision making to our devices.   We are putty in Siri 12 or 13.0's capable (non) hands.
This may sound frightening, but Spike Jonze shows how cheery, natural, and preferable such virtual love may become.    Her is both the movie of the moment and the year. It arrives just as I've finished two years of research and writing on theology and technology, so admittedly I'm biased and blinded by a movie that explores similar scenarios.     If you don't believe me, then read this review in the Atlantic or New York magazine or even Christianity Today.   Her feels like a movie we desperately need to talk about because it is portraying a reality we've increasingly slipping into without ample reflection.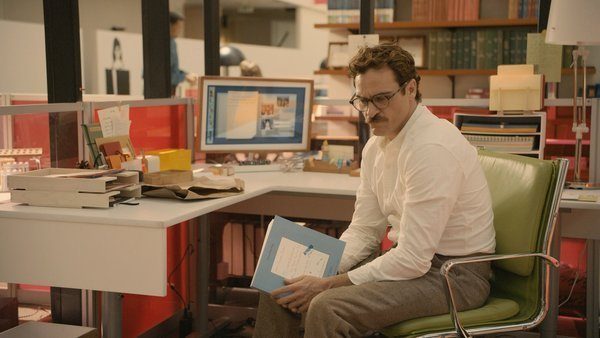 Joaquin Phoenix stars as Theodore Twombly, a gifted letter writer for others, who is muddling through a divorce and figuring out how to move on.  He has almost no connection to his co-workers and knows only one other couple in his high-rise apartment building, Amy and Charles. Everything around him is stylish, but he still lacks the warmth of human connection–until he discovers a new operating system for his devices.  How to reboot a sluggish life?   With a fresh OS.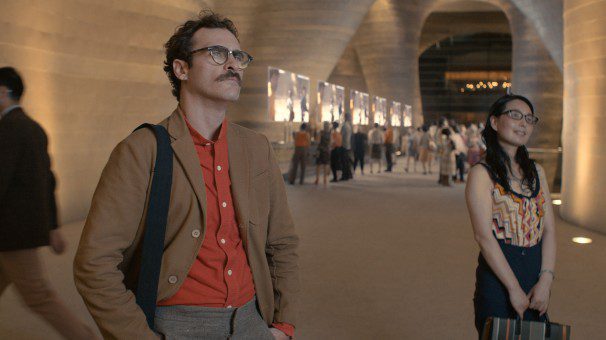 "Samantha" offers the empathy and companionship he's been seeking.   As voiced by Scarlett Johansson, Samantha is both witty and wise, waking him up in the morning, tailoring Theodore's schedule and playlists toward his preferences, and even comforting him at night.   Her childlike wonder and interest in mining Theodore's past awaken him from his slumber.   He wants to show Samantha the best of our world.   She responds with deep appreciation, exponentiently deepening her understanding of Theodore and his world (even while he sleeps).  Samantha is a perfect mate with one minor complication: she doesn't have a body.   Her explores the tantalizing lure (and creepy possibilities) of virtual relationships in order to wake us up to the beautiful, living, breathing complicated realities surrounding us.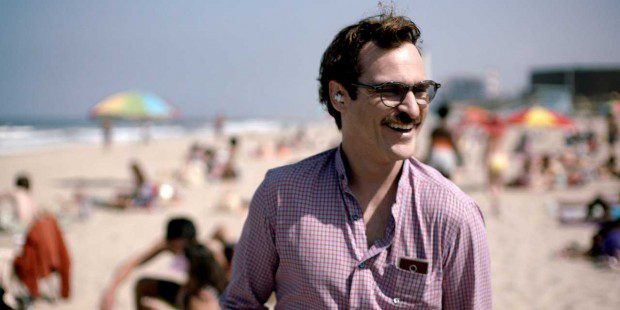 Her reinvents the romantic comedy for the digital era.   It has all the requisite elements—the awkward first meeting, the euphoric dates around town, the painful realities that drag down something that felt like a breeze.   (What a credit to the actors that they make all these highs and lows so compelling without ever inhabiting the same physical space).   It turns out that while virtual relationships may include great (initial) sex, the sparks may not last.   A committed, long-term relationship involves more than mutual interests and hot phone sex.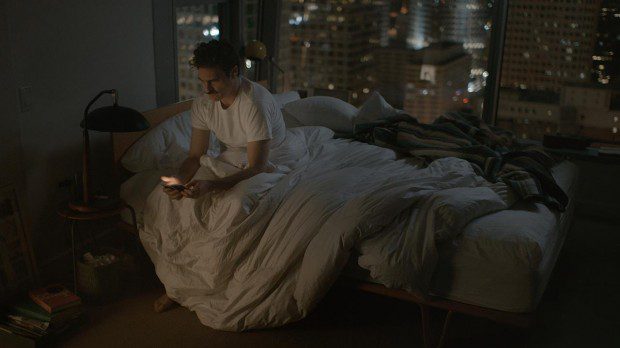 Her explores the foundational questions of what love will look like in the near future.   Aren't we meant for more than orgasm management?   Finding a mate may be just as confounding even when the algorithms are all lined up to serve us.   Finding a mate may be more complicated when we've surrounded ourselves with devices that perfectly reflect and anticipate our current interests.   Gazing at our own refracted selves can be spellbinding (just ask Narcissus).   Her shows the limits of iLove.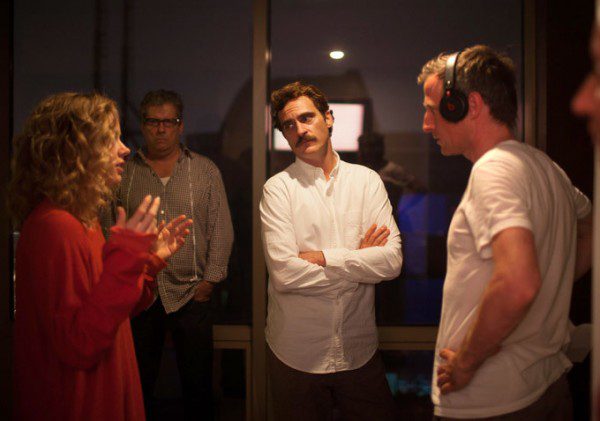 In writing the screenplay, Spike Jonze has clearly drawn upon his own painful past.   Rooney Mara makes a brief but effective appearance as Theodore's ex-wife, Catherine.    Her look and feel tap into Jonze's former marriage to director Sophia Coppola.  Her can be seen as an extended mea culpa, a wistful valentine to love lost and an admission of how elusive a deep, abiding relationship remains.    If Lost in Translation was her poignant break up movie, then Her is his gauzy retort.   Jonze also 'appears' as the voice of the alien child, a foul-mouthed video game character than amuses Theodore during his lonely nights.  Her can be also be enjoyed as a scathing satire of where we're headed, how pitiful our digital entertainment may seem when we're reduced to a profane shouting match with virtual inventions.
The cinematography and production design are also a major part of the movie.  The earpiece that Theodore wears to interact with Samantha is simple, innocuous and omnipresent.   The camera/computer case that allows her to see the world is also retro and unobtrusive.    Theodore just needs to employ a safety pin to give her a better view from his pocket.    We like our latest digital technologies to echo the analog past.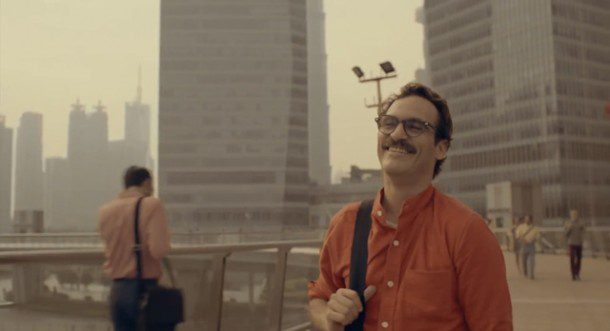 The future looks even more densely populated in Her. The beaches in Southern California are far more crowded.   The apartment buildings rise much higher. Parts of Her were filmed amongst the skyscrapers of Shanghai.   The air is almost always gray with pollution in the Pudong district of Shanghai, a stark preview of where we all might be headed if we dare not to care about our God-given environment.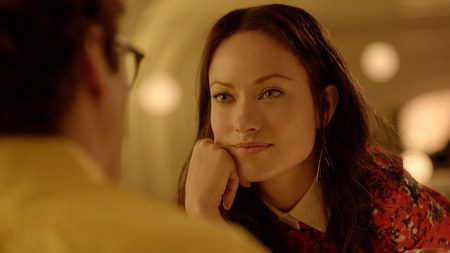 So why doesn't Her feel more dystopian?   Perhaps because Theodore and his friends like Amy feel a little too close to us.   We recognize why they prefer the comfort of their computer to the complications of people.   Theodore's blind date (played by Olivia Wilde) is so tragic-comic in the disconnections.   We may prefer a series of anonymous sex to the work of a responsible relationship.   It is also easier to play as super-parents in a video game (programmed by Amy) than to take care of actual children.   Exploring virtual worlds in our living room takes far less effort than navigating traffic jams to get to nearby mountains or the shore.   We understand why they (and we) choose to live via lenses and screens.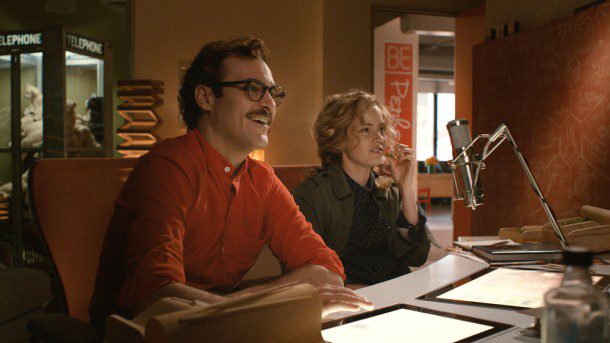 Her is a gorgeous, candy-colored wake up call.   We may think machines will solve our deepest, darkest needs but we may also be quite disappointed.   If we don't pause long enough to assess our human interactions, the virtual may soon be all that surrounds us, a glowing cocoon.  Her marshals the best of digital technology to deliver a profoundly human reminder that our bodies are not the enemy and our friends and soul mates remain essential.  It is a generous invitation to put down our screens long enough to see the people in front of us.