I've talked to a number of people about this. I wrote about it in my latest book. But I haven't touched on it much, here. For the past couple of years, I've struggled with what the mainstream religions might call a "Crisis of Faith." After so many years working in the Pagan community, I was tired and burned out. I couldn't remember what pulled me into it in the first place. It's not unique to me. Many Witches whom I've spoken to about this have all said, "Holy crap…I'VE HAD/I'M HAVING ONE, TOO!"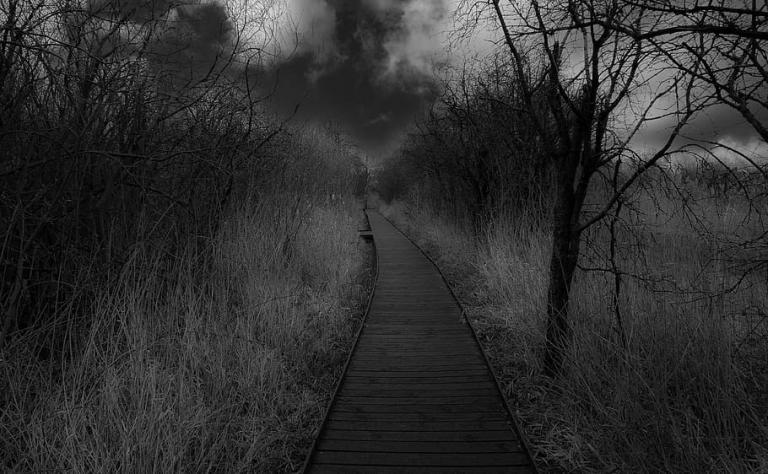 Witches are not immune to the crisis of faith. But we rarely talk about it.
Just FYI, I'm feeling much better about things. I feel better about Witchcraft than I have in years. But I'm not far enough on this side of things to give an articulate reflection on it. This is where Marla Brooks's The Witch's Oracle–2nd Edition appears.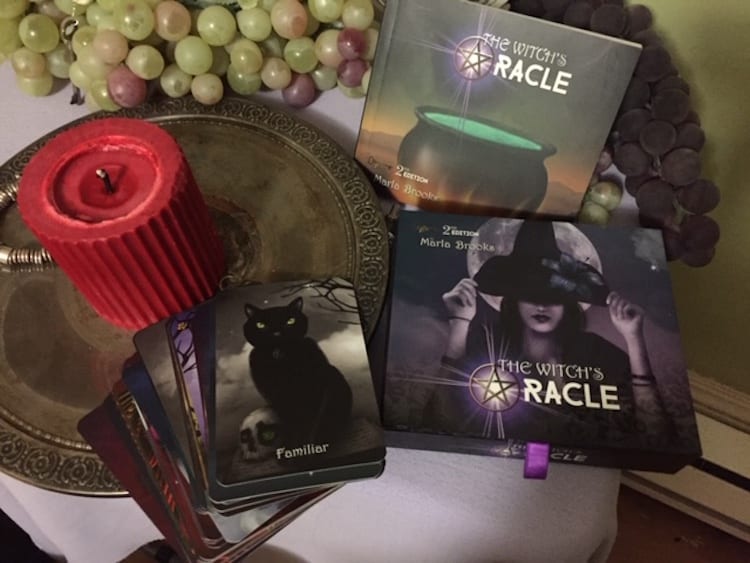 I'm not typically drawn to oracle cards, but this is the second oracle deck of Brooks's that I've had the privilege of working with.
Seriously. Marla Brooks's work is no joke.
And the fact that it came to me now, was a genuine gift and helpful direction in getting me back on my Witchy path.
The Witch's Oracle is composed of 45 cards, each of which beautifully depicts an item, symbol, or other image associated with primarily (but not solely) European and American ceremonial Witchcraft. Artist Aunia Kahn's work gives the deck both the mysterious and alluring qualities that drew most of us to Witchcraft in the first place. The cardstock is excellent, which may not sound like a big deal, but when you riffle through as many cards as I do in a day, you want a good, sturdy product. Brooks's companion book gives a brief history of each image, what it might mean for the querrent, suggested crystals to accompany it, and an incantation to include in the querrent's meditations. The cards are unnumbered, but they are listed alphabetically in the book for easy access.
Hear me use The Witch's Oracle as our Card of the Month on my podcast, at this link.
The tools we need come to us not only when we need them, but precisely when we think we don't need them.
I felt I needed time and space from heavy Witchcraft imagery so that I could reflect on what it all meant to me. As it turns out, Spirit had other thoughts and felt I needed it RIGHT in my face. One of these tools was The Witch's Oracle.  I used it in my altar work one night, asking the deck what I needed right now in my life and got "The Pentagram": Draw from this card's energy. It is mind and spirit over matter. Any obstacles that are in your way can easily be removed at this time. Perhaps my own fatigue was the thing that needed to be set aside.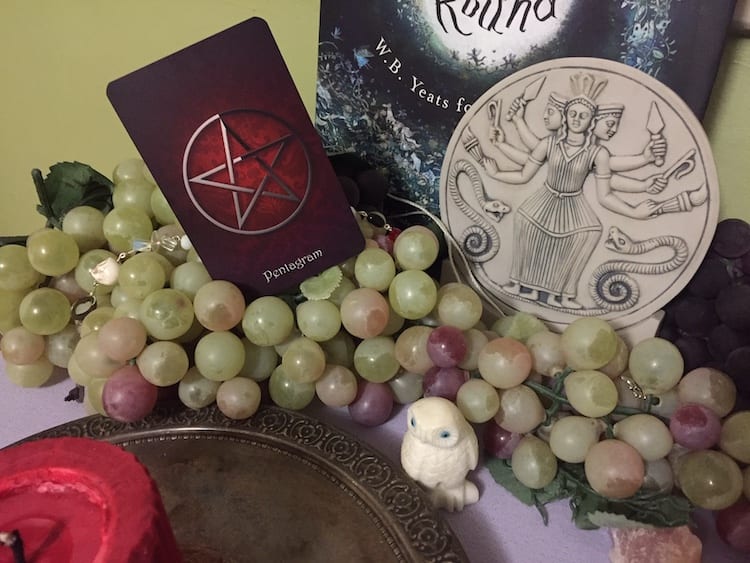 It's definitely a deck that speaks to many Witches of different paths. It's simple without being simplistic, and deep without overwhelming. One helpful thing about the deck is that each card could be a ritual tool in itself. When I was traveling, I used "The Pentagram" as a spiritual mini altar. I took the deck to New York and brought it to my Cauldron Squad night, where my Witch friends and I drank copious wine and read Tarot. Our traditions are all quite different, and many of them more interfaith than Neo-Pagan. But alongside the Tarot, everyone wanted to pull a Witch's Oracle card, marveling at the beauty and messaging of each one.
I told myself that when I finished this last manuscript that I would take some time to figure out what's next for me on my Witchcraft path. It's been two weeks since I turned it in, which isn't much time. But since this tool is at my fingertips, I'm going to see what it has to say about my next steps on this personal journey of Magickal resurrection:
"The Raven:" (Incantation from The Witch's Oracle book) My ears are open, so please do speak. It's your ancient wisdom I now seek. I give thanks to you on bended knee because if there were no you, there would be no me.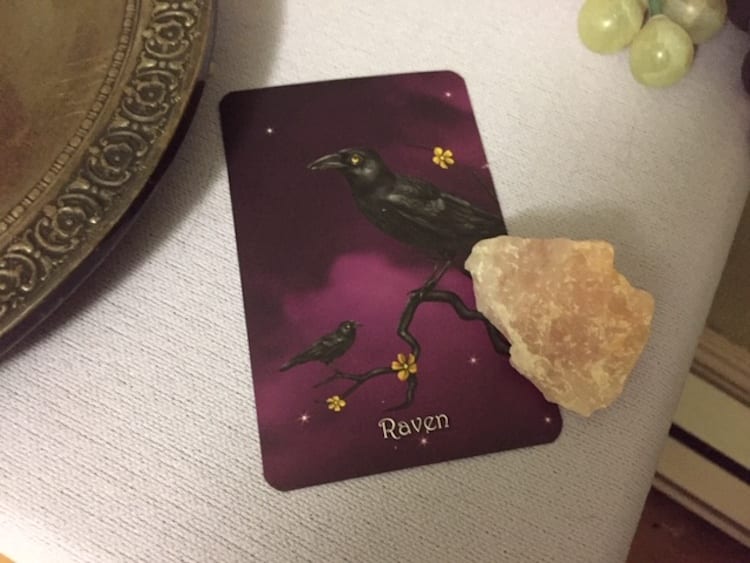 Maybe the exact direction hasn't appeared, yet. But it's coming. I can live with that.