If you haven't heard, history is in the making with the premier of Crazy Rich Asians. This movie boasting an all Asian cast opens in theaters on August 15, 2018. The last time for such a feature was 25 years ago when Joy Luck Club was produced. CRA is based on an international best seller of the same name by author, Kevin Kwan. Actress Constance Wu plays Rachel Chu, an Asian American woman and co-star of the movie. Chu dates this wealthy, Chinese Singaporean man, Nick Young, played by Henry Golding. Chu unexpectedly gets thrust into the mind-boggling, affluent world of Asians. These interesting characters are mainly of Chinese descent but carrying on soap opera lives in Singapore, Malaysia, Hong Kong China, Europe, and America on private jets. Talk about the gap between rich and poor!
Directed by John Chu, Crazy Rich Asians is worthy of mention on several levels.
For one, just like the positive portrayal of African Americans in Marvel's Black Panther movie brought AA prestige, hope, and a sense of cinema justice, CRA sets out to lift the image and morale of Asian Americans. AAPIs (include Pacific Islanders) currently make up 6% of the American population but is the fastest growing ethnic group in this country. However, on screen, we rarely see authentic stories produced by or starring AAPIs. Hollywood and television are diversifying, but for many Asian Americans watching, the progress can pick up a little speed. Please.
Secondly, CRA tells a fictional, yet true to life story of a much misunderstood people group. In doing so, it sets out to de-mystify the "model minority" myths. For example, are AAPIs just two dimensional characters like we are commonly portrayed? Are we just good at math and science, strange or exotic, and generally non-emotional?
And no matter how American we self identify, I've heard that we all look alike to nonAsians. Full disclosure, I am both Chinese and Vietnamese American. But even I sometimes can't distinguish one from the other without looking at the surnames. Nevertheless, to add insult to injury, at one point or another, we've all gotten the "ching chong" greeting by children and strangers alike, as if we are all bilingual or all speak the same mother language. Case in point, many Americans of Korean ancestry who were adopted as babies by white Americans and raised in primarily white neighborhoods only know American English.
Furthermore, while there are similarities in terms of family values and virtues promoted in Eastern cultures, there are significant cultural differences between Americans of Japanese vs Korean descent, or Filipino vs Cambodian heritage. The truth is that in America, even though we are all lumped as AAPI, not every olive skinned person immediately feels "at home" with every other Asian looking person.
Thirdly, AAPIs are in a prime position to bring racial reconciliation and understanding to America. That's because our unique nation, made up of immigrants throughout the centuries, is a cosmopolitan reflection of our multicultural world. And AAPIs are often caught in the middle of this deep divide between black and white. Interestingly, many of my Latino friends say they feel the same way.
On the one hand, we've been accused of being ungrateful Kumbaya sellouts if we side with black Americans to fight for racial equality and representation. On the other hand, we've been depicted as being too "white-washed" to the point of minimizing our own ethnic culture, and even inter-marrying with white Americans in record numbers. In fact, AAPIs have the highest interracial marriage rate of all the racial/ethnic groups in this country. But that should not be surprising considering that we are only 6% surrounded by a sea of non-Asian Americans.
Another interesting tidbit is that Asian female-white male coupling is the most prevalent of all non-hispanic interracial marriages in America. Some folks point out the fetishising of AAPI women, or "yellow fever", as being a factor while others explain this as AAPI women having a "white-savior complex". Ahem.
Now, being an Asian American woman who is married to a Caucasian American man from the white Christian Church that sponsored her and her family to immigrate to America, I may be the last person to objectively critique any stereotypes or generalizations. But perhaps at a later time, I will discuss more openly regarding the gory details behind the "meeting" of East and West, which exists for me on many levels, including marriage. And yes, it's a God story still occurring, not a fetish/savior complex that bystanders might assume it to be.
Having my eyes opened to Christian faith for more than twenty-five years, I can share that there is always more than what meets the eye or what the mainstream narratives allow us to hear.
And that is what CRA tries to do–add color and depth to the diverse Asian American diaspora. I also heard that the movie speaks to the difference between Asian Asian and Asian American.
In my book, East Meets West: Parenting from the Best of Both Worlds, I mention a pecking order among the Asians. If we are honest with outsiders, we'll admit that oftentimes the more affluent, lighter skinned Asian societies assume dominance and prestige over the poorer, darker skinned Asian nationalities. Do we call this interracial racism or ethnocentrism? Socioeconomic discrimination and prejudice are a real thing in the Eastern cultures, not just in western civilizations. That's why I'm not focusing on "white supremacy" as the only or most harmful evil facing my fellow Americans.
Then there are the generational differences between being 1st and 2nd generation, and also between Asian born and raised parent vs Asian American child. In a previous blog, I make the distinction between Asian with a foreign accent vs "I was born here, English is my primary language even though I look like the perpetual foreigner to you" Asian American.
Simply put, I look forward to seeing how this movie covers everything. I hope that CRA brings real life stories that Americans of various demographics can relate with. After all, despite being an all Asian cast, I've read that the talented actors and actresses also come from a range of nationalities and racial/ethnic makeup (for example, Henry Golding is half Malaysian, half British).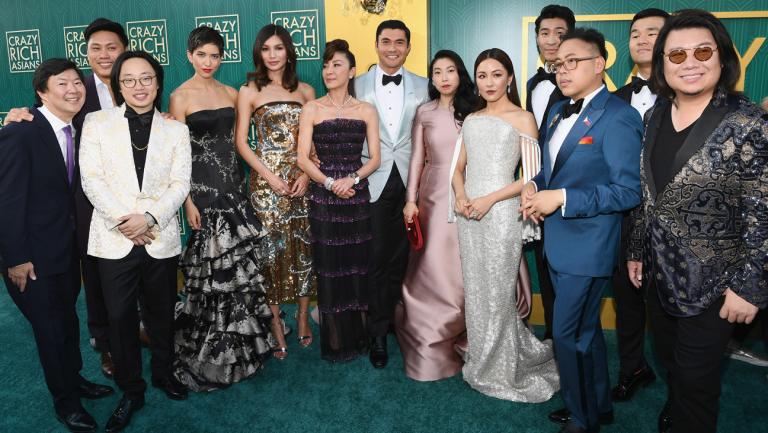 I hope to see an authentic drama unfold displaying our human tendencies for prejudice, envy, fear, jealousy, misunderstandings, hate, love, courage, and inner strength.
What about you? Won't you join us to check it out, too? Then let's process here and share your reviews.