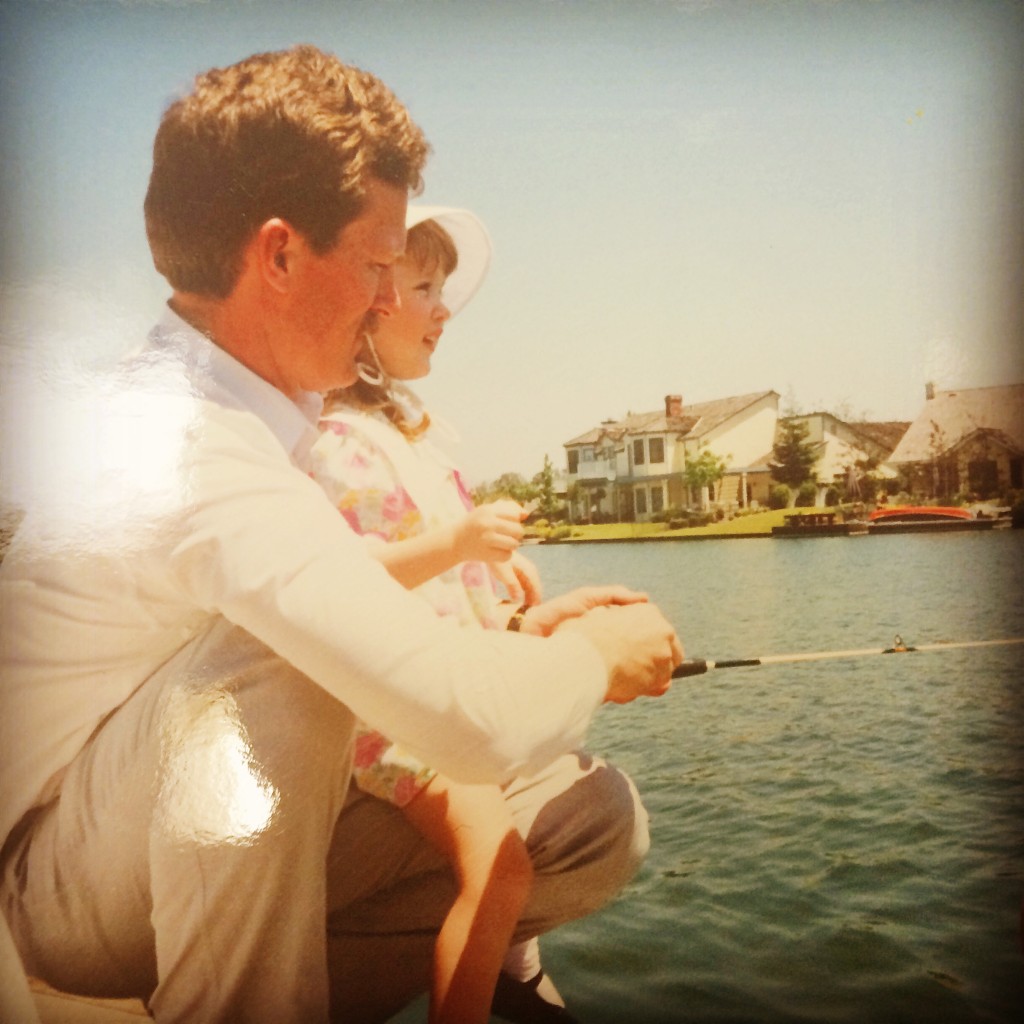 Sometimes, life requires embracing impositions. Like when I blew my tire out a few weeks ago, and in the spirit of exercising my capacities as a strong, independent, capable woman, I strongly, independently, and capably got out my cell and called Dad.
Dad had, like he always is, been up already since about 5:30 that morning, and, after getting home around 5:30 p.m., he had been fixing our sprinkler system. He drove out to a friend's to get a car jack, came over, and helped me get my car tire changed around 8 p.m. And honestly, I hated to impose on him like that. But, he's my dad.
So, as he always does in those moments when something breaks, or it's tax season, or I need a way to stretch out my leg after running, or I want to talk about "this guy," or I want to know his advice, or my sister calls him up to make weird faces on face time, he accepts the impositions of adulting daughters without ever making us feel like we are imposing on his life. In fact, much of my dad's life, at least ever since he realized that questions like are you going to kill Bambi? meant he could no longer go deer hunting until we were out of the house, has been life imposing on him.
It's not just my dad, either. Priests who stay to hear one more confession. Priests who console the you that "it's ok he broke up with you: you're sixteen, trust in God." Friends who go out of their way to walk a friend home so she gets in safe. Who talk you down after watching Criminal Minds too late at night. Who send you books to make adulting better. The boyfriend who sets aside time for his work to read another draft of your grad school applications. Friends and husbands of friends who have loaded and unloaded more boxes than you should have ever dared to ask. Grandfathers who pick you up from school or go to your thesis defense/theater performance/ballet recital/recorder choir concert. Husbands who stay in when you are eight months pregnant and just can't go to the game, even after you insisted that he go. Husbands who move their personal time to 5:00 a.m. so they can play tea party when they get home from work and you can take a shower. Husbands who roll up their sleeves and do the laundry because all four of you are out of underwear, everyone is sick, and you haven't slept since your baby was born four months ago.
Not to say women don't accept impositions (here's to you, Mom, for 9 months of being couch bound to keep me from miscarrying: I can literally never repay that), because women definitely do. But, today, I want to acknowledge the role accepting impositions play in the masculine vocation of fatherhood.
St. Joseph and the vocation of men
Most of us are aware of the apostolic letter Mulieris Dignitatem by St. John Paul II, in which he notes, through reflecting on Mary that all women, whether married or single, are called to motherhood as a result of spousal love: either physical motherhood in having and/or raising children, or spiritual motherhood, through religious life, secular institutes, communities of consecrated persons, and even in non-communal forms.
So it makes sense that, in turning to St. John Paul II's Apostolic Exhortation Redemptoris Custos on St. Joseph, we would be able to more deeply approach the fatherhood he exemplified as the foster-father of Jesus and gain a deeper understanding of masculine vocation of fatherhood as a result of spousal love both in its physical and spiritual dimensions.* In particular, it is worth exploring how St. Joseph particularly reveals the connection of the masculine vocation to fatherhood is particularly connected to an acceptance of impositions.
When he discovers his intended wife Mary is pregnant, Joseph is described, in the Gospel of St. Matthew, as "a just man," "unwilling" to put Mary to shame and as "considering" slowly what to do with this inexplicable circumstance. The imposition of his wife's pregnancy with a child that wasn't his certainly concerns him, and yet, he approaches this imposition on the life he likely had planned on with patience. He considers instead of giving into emotions and hastily reacting until he is sure what is right in this circumstance.
In the time he took to pause and reflect, God provides him with an answer in the form of a further imposition on the life he likely had planned: an angel reveals that his spouse Mary is pregnant by the power of the Holy Spirit and will give birth to a son, whom Joseph will name Jesus "for he will save his people from their sins" (Mt. 1:21). After waking from this dream in which God revealed His will to him, Joseph "did what the angel of the Lord commanded him" (Mt. 1:24) with no hesitation. He accepted the imposition, and allowed that to guide his vocation: he would serve God by being foster-father to God-Incarnate, by protecting and providing for Mary and Jesus.
He took his vocation as father seriously
When it required that he flee with Mary to protect Jesus from Herod, he fled in the dead of night on what Google maps suggests would be a six day walking journey from Jerusalem. He doesn't hesitate to accept the imposition of his vocation: when he is required to act in the best interests of his wife and son, he doesn't hesitate to let go of what he may have wanted to do. Instead, he embraces the impositions of being foster-father to the Son of God, and does what is best for his family.
Though he was not the natural father of Christ, Joseph was his foster-father: he was, as St. John Paul II wrote, quoting Pope Paul VI, called to make
his life a service, a sacrifice to the mystery of the Incarnation and to the redemptive mission connected with it; in having used the legal authority which was his over the Holy Family in order to make a total gift of self, of his life and work; in having turned his human vocation to domestic love into a superhuman oblation of self, an oblation of his heart and all his abilities into love placed at the service of the Messiah growing up in his house.
See, with awe-inspiring reality of the Word's Incarnation, with the redemptive narrative, it is hard to remember that much of Jesus' life prior to His public ministry is hidden from us. Yet, He was a child: he lived a life in Nazareth with Mary and Joseph. Joseph worked to provide for his family; he accepted the imposition of work as a facet of his vocation.
In doing the ordinary, everyday work of his life, likely with Jesus beside him, Joseph shows us how the normal impositions demanded by our state in life are brought into God's plan of redemption. St. Thomas Aquinas, in his Commentary on Matthew, quotes St. John Chrysostom giving one of the coolest parallels between Joseph's work as a carpenter and Christ's ultimate work in redeeming humanity:
Joseph was a wood-worker and he signifies Christ, who restored all things through the wood of the cross in heaven and on the earth.
Joseph's daily work was a daily sign pointing towards the coming salvation Jesus would accomplish for us.
Joseph's silence speaks volumes
We hear about what Joseph did in the Gospels: even when he and Mary find Jesus in the Temple, it is Mary who speaks to Christ. This silence on his part in the Gospels indicates to us the contemplation that infused Joseph's interior life. John Paul II notes that:
The total sacrifice, whereby Joseph surrendered his whole existence to the demands of the Messiah's coming into his home, becomes understandable only in the light of his profound interior life. It was from this interior life that [quoting Paul VI] "very singular commands and consolations came, bringing him also the logic and strength that belong to simple and clear souls, and giving him the power of making great decisions—such as the decision to put his liberty immediately at the disposition of the divine designs, to make over to them also his legitimate human calling, his conjugal happiness, to accept the conditions, the responsibility and the burden of a family, but, through an incomparable virginal love, to renounce that natural conjugal love that is the foundation and nourishment of the family. [Emphasis added].

Joseph didn't make his vocation about himself. As a father, he did what was needed to serve those in his house, to provide for them, to protect them, to go far out of his way for them, to place their good above his own momentary good. In short, he chose to live his life vocationally. And then, before he could see the fruit of that work, he died.
He did not live to see his foster-son die on the Cross, but he also did not see Jesus ascend to the Father in Heaven from this earth. Perhaps that was a mercy God granted: I know it would only be over his dead body that my dad would ever let someone do to me what was done to Christ during the crucifixion. His life was devoted to a plan he would not see fully revealed in this life, yet he trusted, obeyed, did what God asked of him, and died with Jesus and Mary as the last faces he saw on earth. I suspect it's not a stretch to say Joseph never saw his son as an imposition in his life.
Fatherhood as the masculine vocation
All men are called to be fathers, to imitate the fatherhood of God; St. Joseph provides an exemplary model of that imitation. I would love to hear men in particular speak up in the comments, but I will venture to offer a few suggestion as to what this vocation of fatherhood looks like in practice.
If you are a father, remember to make time for your children, whether it's reading Fox in Socks or Madeline for the nine billionth time or taking your adulting kids on a hike (or to dinner or camping or working on taxes together). As much as you can, go to the baseball game (or coach it), help build sets for plays, or teach them to ski race. Make time for them—do not make them feel like an imposition in your life. Teach your kids to pray, always. Pray with your kids. Teach them to be patient and gentle and kind through your own example. Teach them to love God, to love Jesus, to go to adoration with you, to love the Church, to love Mary. Talk to them about their faith, and live your faith as best you can. Practice humility and apologize when you go wrong. Never give up on them. Love them, so that they can know how much more God loves them.
If you aren't a dad in the physical sense, you can still do many of these things. Meet up with your younger (or even older) siblings or cousins—or even get involved in teaching CCD at your parish. Coach sports, teach music, teach painting, whatever it is, work to become a spiritual father for those who maybe haven't had a good father in their lives. Allow your friends to impose on you. Pray for your friends, pray for your students, your athletes, your families. Talk to younger people about your faith, and live a life that models it, even when you fall, by turning to Confession. Forgive people, and give them a chance to try again, just like God does with us in the Sacrament of Confession. Reach out to those who need love and hope, just like God did when He sent His Son, like Joseph did when he accepted the responsibility of caring for God-made-Man.
And pray to St. Joseph. Take him as a model of masculinity, and follow him in his love and devotion to Jesus and to the Blessed Virgin Mary. Ask him to teach you to love the impositions in your life and to serve God through those moments. Ask him to show you how to love God deeply, and how to devote your life more and more to growing in that love. Pray for the men in your own life: priests, dads, brothers, cousins, friends, co-workers, teammates, that they will also better follow this example of St. Joseph in their own vocations.
---
Photo Rights: Marina Olson
*Now, perhaps someone could object here and suggest we look instead to Christ as an exemplar of the masculine vocation, to that I say: by all means! Christ is not just our model, He is the literal cause of our holiness through His redemptive activity which allows us the grace of receiving the Holy Spirit in our souls. However, today the Church celebrates the Feast of Saint Joseph (normally March 19th, but moved this year because it fell on a Sunday), and what's more, of all the men who ever were, are or will be, St. Joseph is the man whom God chose to be the foster-father of His Son.