How serendipitous that Earth Month and National Poetry Month occupy April together.  Here are some selections of eco-poetry I wrote for Earth day.  A pair of haiku, and a longer poem. These were inspired by time I spent at the Wesley Retreat Center in Alexandria, Louisiana.
Haiku 1
If you sit quite still
Turtles emerge one by one
Log-perched and sunning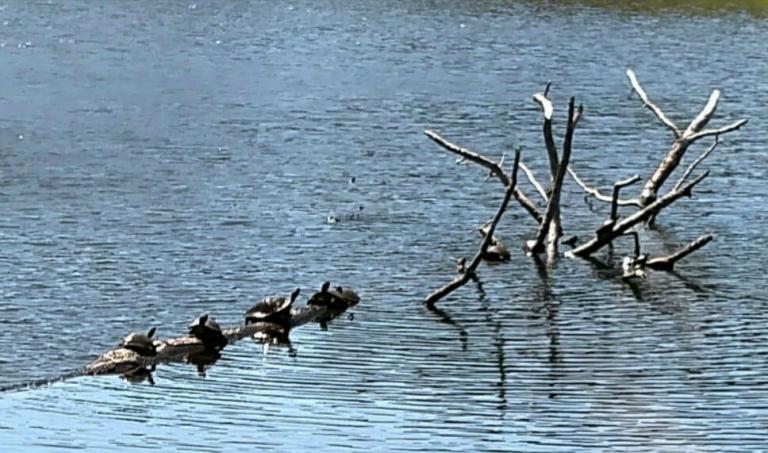 Haiku 2
Turtles with heads raised
Alert, shells shining; I move.
Quiet splash. Bare log.

Recognition
Wind throws cascades of bright shards across the water,
as if she held a clutch of diamonds
and cast them sheening across the surface.
A thousand lights spraying
like skipping stones across the lake.
They glitter in undulating ripples
then wink out
like shooting stars flashing in a night sky.
Here, wind has no need of me.
Light plays on water without caring if I watch.
And yet I do,
As dark-winged swallows dart and dance,
tiny kites without strings.
What am I to them
as they dip and rise
chasing insects on the wing?
And yet.
Here.  I am.
I simply am.
My holy vocation,
to watch and care and wonder and write.
here am i. ami.
---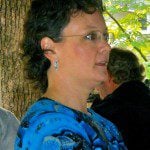 Leah D. Schade is the Assistant Professor of Preaching and Worship at Lexington Theological Seminary (Kentucky) and author of the book Creation-Crisis Preaching: Ecology, Theology, and the Pulpit (Chalice Press, 2015). She is an ordained minister in the Lutheran Church (ELCA).
Twitter: @LeahSchade
Facebook: https://www.facebook.com/LeahDSchade/.
More of Leah's poetry:
Black Raspberries: A Summer Poem
Nature's Last Gold is Green: Autumn Tribute to Frost
315 Today: A Poem about Gun Violence
And here is an exquisite poem by one of my Patheos colleagues, Roger Wolsey, entitled  EarthMamaGaiaGoddess.