Last summer, my son and I participated in a study conducted by researchers at the University of Kentucky entitled "Healthy Trees, Healthy People."  We were trained to become "citizen scientists" learning to assess tree health, identify invasive pests, and increase our appreciation of trees.  All the while, we boosted our physical and emotional health by walking in two Lexington parks. You can read about our wonderful experience here.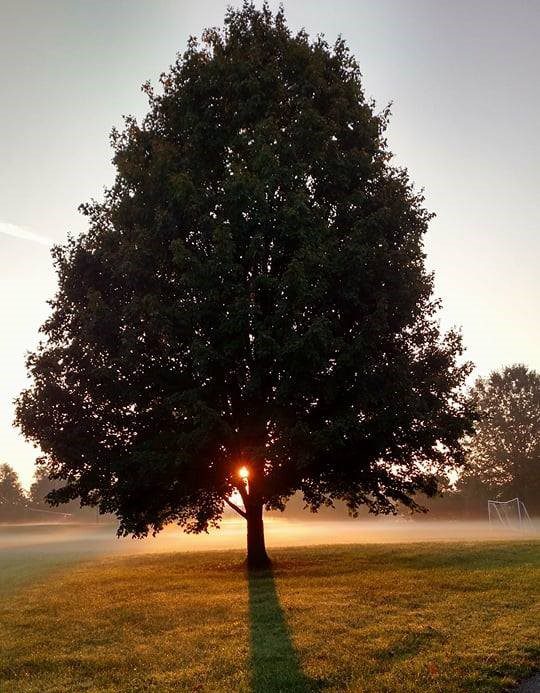 Sharing the gospel of trees
I was so taken with the project, I met with the lead researcher, Lynne Rieske-Kinney, to ask if I could organize a session at my church, Gethsemane Lutheran, and invite people of faith to participate.  Most folks who regularly attend a house of worship are already primed to be helpful and to be engaged in community efforts to better society.  What better group to target for finding participants in this year's study?
I also wanted to add my own informal study to find out if taking part in such a program would also enhance people's connection between their faith and caring for Creation.  I gave each person a pre-study questionnaire to assess the degree to which they connect their faith and their love of nature.  The survey asks if they can name passages from religious teachings or scriptures that specifically talk about nature, trees, or caring for the Earth. And it asked them to indicate whether they believe the teachings of their faith call them to care for the environment.
8-week devotional connecting trees and faith
To aid in helping people connect their faith with their love of trees, I've created an 8-week devotional for participants to use during the study as they're walking in the parks.  I'll be publishing those devotionals each week right here on my blog, so you can participate, too!  Whether you live in Lexington or Lancaster, Lansing or La Grange, you can find places to walk among trees and use these interfaith devotionals to help you connect your faith with nature.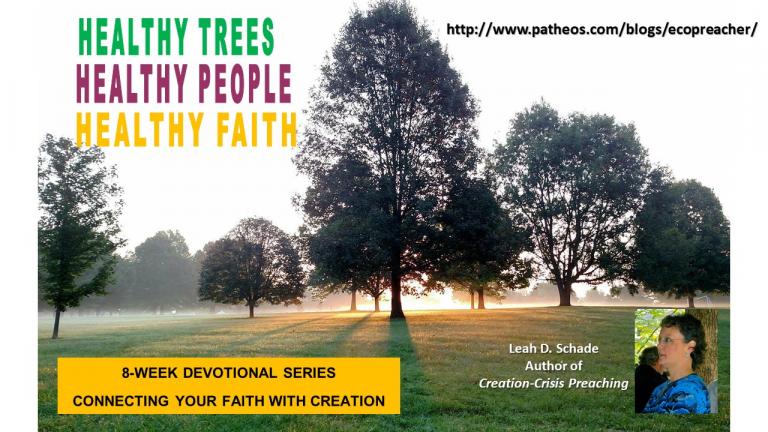 At the end of the study, the participants here in Lexington will take another assessment so I can see if the program made any difference.  My hope is that over these two months, participants will increase their personal health, become engaged "citizen scientists" to improve tree health, and find their faith deepening as well.  They'll also take another mental and physical health assessment with the researchers so that they can track changes in people's well-being.
The gospel of trees is spreading!
When I spread the word about the study, I was hoping for about 10 participants, which is what the researchers typically get in their other orientations.  But we had nearly twice that number!  People I work with, worship with, and fellow environmental activists showed up for the 2-hour session.  As I watched the presentation, I remembered how I felt last year – my mind opening with so much good information about trees.  And now all of these people would get to have that same experience!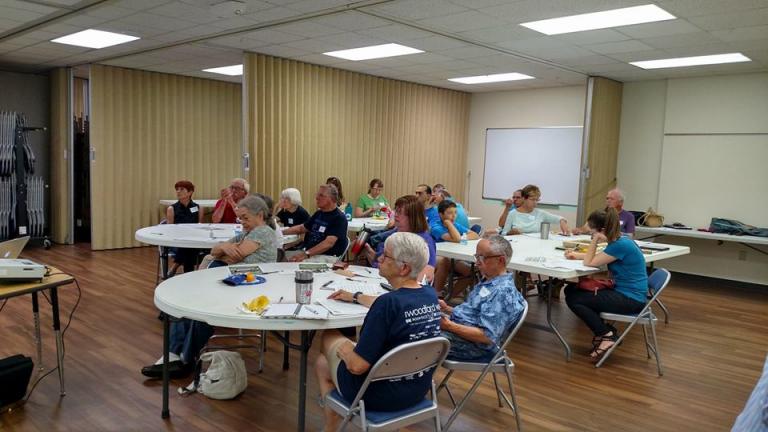 When my son and I went through the session last year, we felt equipped with new knowledge, our eyes suddenly seeing trees in a new way.  We started to learn their names. We learned the difference between a simple and compound leaf.  We discovered the many causes for deteriorating tree health, and why it's important to keep them healthy. We learned how to look for pests such as Gypsy moths, Asian longhorned beetle, Walnut twig beetle, and Spotted lanternfly.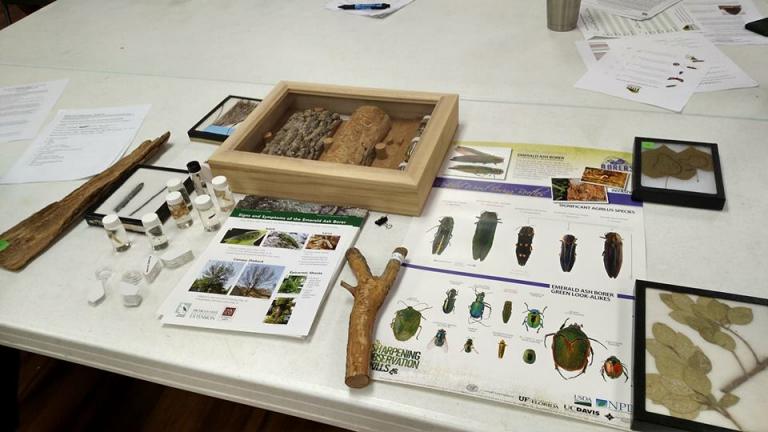 All of this is what I experienced last year – and now here were twenty people experiencing the same process of learning and discovery I had enjoyed!  It felt so good to know that what had been two people – my son and me – was now multiplied into 20 people who were being sent out as "tree-apostles"!
The gospel of trees – trees are "good news"!
In Christianity, we talk about "spreading the gospel," gospel meaning good news in Greek.  Well, trees are good news!  They provide the oxygen we breathe, absorb storm water which mitigates flooding, provide shade which cuts down on energy costs, increase property value, clean the air, and provide homes to insects and animals alike.  Not to mention the sheer beauty of their sturdy root systems, solid trunks, spreading branches, and verdant leaves.  As you'll see in the weeks ahead, nearly all religions and spiritual traditions contain tree symbolism and encourage the faithful to care for trees.
In invite you to walk, pray, bless, and care for trees in your own corner of the world.  Follow me on Twitter and Facebook to get the devotionals each week. (See links below.)  And may you be blessed in sharing the "gospel of trees"!
Healthy Trees, Healthy People, Healthy Faith: Devotional, Wk. 1
---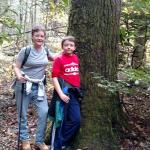 Leah D. Schade is the Assistant Professor of Preaching and Worship at Lexington Theological Seminary (Kentucky) and author of the book Creation-Crisis Preaching: Ecology, Theology, and the Pulpit (Chalice Press, 2015). She is an ordained minister in the Lutheran Church (ELCA).
Twitter: @LeahSchade
Facebook: https://www.facebook.com/LeahDSchade/.
See also:
Healthy Trees, Healthy People: Why Citizen Scientists are Needed as Climate Changes
A Dozen Bible Passages for Preaching a Creation-Care Sermon
Preserving the Holy Remnant: Kentucky Natural Lands Trust
'God Camped Out With Us': Sermon for a Church Camping Retreat