Did Peter ever think about following the same path as Judas – the path to suicide?  Did he, like Judas, feel such guilt and shame about what he had done to Jesus, that he thought to himself, "It would be better if I were dead.  There's no forgiveness for what I've done.  My only choice is to end my life"?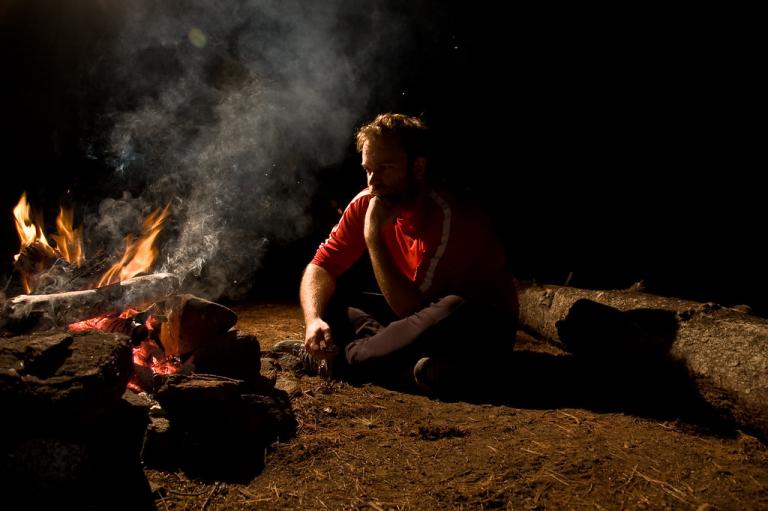 Text:  John 21:12-19
Remember that both men were at the table for the last supper.  Jesus knew that both men would make fatal decisions that would lead to his death.  He knew Judas had sold him out for a bag of coins.  In the Garden of Gethsemane when the mob came for Jesus, it was Judas who led the way and betrayed his rabbi with a kiss.
But Jesus also knew that Peter would deny him, not once, but three times.
At that same table, Jesus warned Peter that before the dawn, before the rooster crowed, three times he would refuse even knowing Jesus.
Marvin McMickle in his book The Making of a Preacher, notes that "what Judas did he did only once, while what Peter did was repeated three times, with each denial becoming increasingly emphatic. . . So whose behavior was more unfaithful:  what Judas did once or what Peter did three times?" (56).
Three times Peter denied knowing Jesus as he waited outside the high priest's house where Jesus was falsely accused of blasphemy.  He sat by the fire in the courtyard, drawing no comfort from the light and heat of the flames.  He shivered from the cold darkness knowing what was going on inside that compound.  His eyes watered from the smoke as it blew into his face.  Then a servant girl pointed at him from across the yard. "Hey, I know you.  You're one of Jesus' followers."
Instinctively, Peter rebuts her. "I don't know him."
If they find out who he is, they might put him on trial as well, maybe even kill him.  So he denies any association with the man inside that house.  But the whispers go through the crowd.  People are looking at him.  They can tell he's from Galilee from his clothes, from the way he talks.  Another person accuses him.  Peter rebuffs him as well.  And then a third person, a third denial, and then . . . the rooster crows.
Dawn may be lightening the sky, but betrayal is darkening Peter's heart.
Just then the door opens, and he sees Jesus being led out in chains.  Their eyes meet.  Jesus' words come back to Peter: "Before the rooster crows, you'll deny me three times."  The memory slices through Peter like the sword he had used earlier that night to defend his rabbi in the Garden of Gethsemane.  This time it wasn't smoke that made his eyes water.  It was his own bitter tears of regret and shame.
"What have I done?"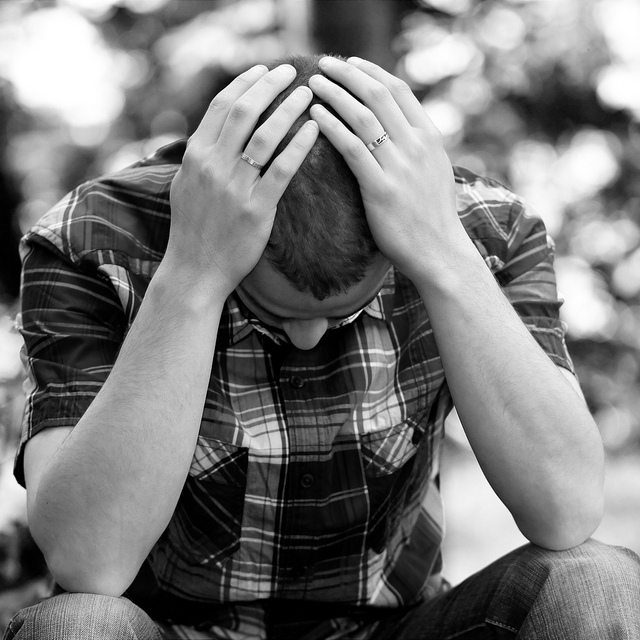 Meanwhile, Judas is also overcome with regret, guilt, and shame.  Whatever the motives of Judas might have been, he quickly realized that he had made a terrible mistake.  He tried to return the blood money he received, but it was too late. "What have I done?"
And so Judas makes another fatal decision, this time to end his own life.  As McMickle explains, "Judas believed he had done something he could not live with.  Worse, he believed he had done something that could not possibly be forgiven, not by God, not by the other disciples, and not by himself" (55-56).
Two men, two paths of failure, two excruciating realizations.  But only one ends in taking his own life.
The stories of Peter and Judas are difficult to wrestle with, especially when we know that suicide is a tragic crisis in our own time.  According to the American Foundation for Suicide Prevention, suicide is the 10th leading cause of death in the United States.  In 2017, 1.4 million people tried to end their own life. 47,000 actually did.
Here in Kentucky, our rate of suicide is higher than the national average.
Two people die every day in our state from suicide.  It's the second leading cause of death for people ages 15-34.
Perhaps you know of someone who has tried to end their own life.  Perhaps you know what it's like to think those thoughts.  "What have I done?"  "It would be better if I were gone."  "I can't take this anymore."  "It hurts too much."  "I'm done."
I want to be very clear about this. If you experience suicidal thoughts or have lost someone to suicide, even these biblical stories or this sermon could be potentially triggering. You can talk with me after the service.  I've also put some information out in the narthex with places you can contact for help.  Or you can contact the Crisis Text Line by texting "START" to 741-741.
The church needs to talk about suicide.
This is not an easy topic to discuss, but as Rachael Keefe asserts in her book, Lifesaving Church, suicide is a subject that the church needs to talk about because it affects so many lives.  Whether they are teens, adults, or senior citizens, men or women, gay or straight, no matter the race or ethnicity, suicide is something that affects God's children.  So we need to address it.  The contrasting stories of Peter and Judas give us a way to open the conversation.
It may be that Peter had the same thoughts as Judas.  He might have had the same thoughts of suicide that Judas did.  As my friend and fellow pastor Mike Scholtes wrote in a blog post:  "Suicide occurs when the suffering someone experiences is greater than their coping mechanisms. Increase the pain, thoughts of suicide also increase. Increase the time spent in pain, suicidal thoughts increase. Increase the coping skills, those thoughts decrease."
What Peter and Judas felt and thought is understandable and normal.
If you have ever had those thoughts or feelings, I want you to hear that you're not alone.  If you know of someone who has had those thoughts and feelings, I want you to hear that sometimes "the level of pain is just too high for anything else to seem reasonable. Coping mechanisms can be hard to acquire, and hard to keep practicing" (Scholtes).
But as McMickle explains, "The difference between Judas and Peter is found in the fact that Peter lived long enough to discover the truth of Jesus' redemptive love.  He lived long enough to learn that while he may have denied Jesus, Jesus was in no way [denying him]" (57).
In fact, Jesus restores Peter three times.
After the crucifixion, after the resurrection, after appearing to the disciples in that upper room, after showing Thomas his hand and side, Jesus shows himself again. This time he appears on the beach of the Sea of Tiberius where Peter and the disciples had spent the night in cold, wet frustration.  No fish.  Nothing to show for all their efforts.
Perhaps this is how they were feeling after all their time with Jesus.  Even after the resurrection, they still didn't know what to do with themselves.  They try to go back to their old lives.  But all they get is empty nets.
And then Jesus shows up on the beach.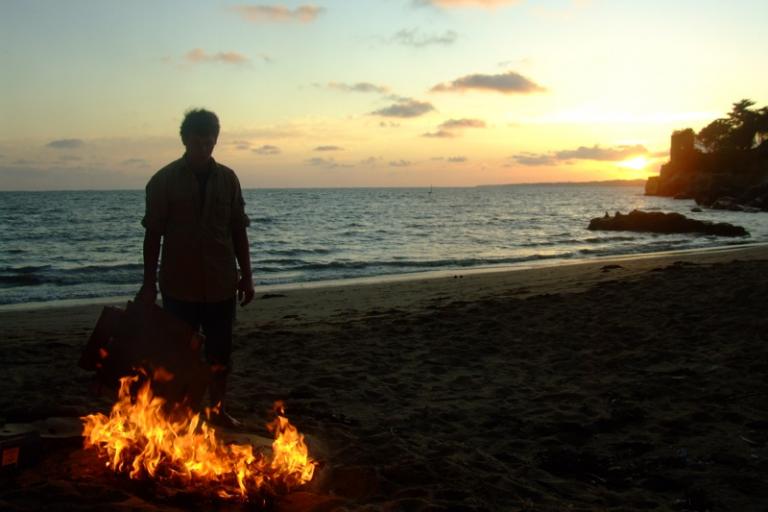 He tells them to cast their nets on the other side of the boat.  Suddenly there's more fish then any one of them can carry.  Peter looks across the water at the man.  Their eyes meet.  This time a different memory: "Follow me, and I will make you fish for people."  Relief washes over Peter as he jumps into the water and wades to shore.
Again, he smells smoke, but this time the fire feels warm and cozy.  The fish are crispy.  The bread is soft and warm.
Yet he wonders what Jesus is thinking, what he will say.  Will he remind him of his denial?  Will he accuse him of betrayal?
No.  Instead, Jesus asks him three times, "Do you love me?"  Each time Peter answers sincerely, "You know that I do."  And each time Jesus gives him the focus, the purpose that he needs for his life going forward.  Feed my lambs.  Tend my sheep.  Feed my sheep.
In other words, God's redemptive love embraces even those of us who have messed up.
Those of us who might think ourselves beyond hope.  Those of us who have thought that maybe ending our lives was the answer.
Instead, Peter discovers that his past behavior is not an obstacle to his future service. This "was the signal to Peter as well as to the other disciples that Peter's weakness and faithlessness in denying Jesus were being set aside so that Peter's future ministry could get underway," McMickle says. "God reserves the right to call into ministry anyone God chooses, including persons whose  . . . past might have disqualified them in the eyes of everyone but God" (57).
And then McMickel asks a question that makes me wonder:  "Is it possible that had Judas not committed suicide, if he had allowed time for God's grace to be directed to him as well as to Peter, then the name of Judas could also have been redeemed?  It seems likely that if Peter could be forgiven and redeemed for what he did three times, what Judas did only once could also have been forgiven" (57-58).
We are imperfect people in an imperfect church loved by a perfect God.
We get it wrong more often than we ever get it right, and yet Jesus does not give up on us.  Jesus's ministry with Peter gives us a model for how we can be with people who are hurting, who feel they have reached the end, who contemplate suicide.
What does Jesus do?  First of all, he shows up.  He's there for Peter.  We, too, can show up for those wrestling with physical, mental, and emotional pain that causes them to consider ending their lives.  We can be there for them.
And Jesus doesn't shame Peter.  He doesn't remind him of his guilt.  He does something very simple, yet very profound.  He comes to us in our brokenness, builds a little fire on the beach, and cooks up breakfast after we've spent a long cold night out on the darkened sea.
As my friend Mike says, if you really want to help someone who is struggling with suicidal thoughts, don't make them feel guilty or selfish for thoughts that they can't control.
Be there for them.
"If you can offer them a new coping mechanism, maybe that would help. Offer to take them to therapy (if they're not already going). Offer to help them research medications. Maybe this would help, and maybe it wouldn't. But being there will help. It may not prevent their death, but you would give them a moment when they feel seen and loved. And that's probably more important than anything else."
Jesus sees us and loves us.
He knows everything we've done.  He knew it all along.  Yet he entrusts us with the mission of the church anyway.  He trusts us with the sheep, the lambs, the vulnerable ones who need a shepherd.
Jesus says:  "I know you can do this.  Your past does not disqualify you from the future that awaits you.  Don't give up on yourself. And don't give up on me before I've had a chance to show you what is possible.  Let me make you breakfast.  And then, how about let's go feed the sheep?"
Suicide Prevention Resources:
National Suicide Prevention Hotline: Call 1-800-273-8255.  Available 24 hours everyday
Also available by chat online: https://suicidepreventionlifeline.org/chat/
Sources:
Lifesaving Church: Faith Communities and Suicide Prevention by Rachael A. Keefe.  Chalice Press, 2018.
The Making of a Preacher: 5 Essentials for Ministers Today by Marvin McMickle.  Judson Press, 2018.
And check out the blog of Michael Scholtes:  https://thescholtes.com/
---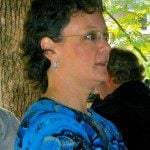 Leah D. Schade is the Assistant Professor of Preaching and Worship at Lexington Theological Seminary in Kentucky.  She is the author of Preaching in the Purple Zone: Ministry in the Red-Blue Divide (Rowman & Littlefield, 2019) and Creation-Crisis Preaching: Ecology, Theology, and the Pulpit (Chalice Press, 2015).
Twitter: @LeahSchade
Facebook: https://www.facebook.com/LeahDSchade/
Read also:
The Proximity of Hope: An Easter Sermon
Receiving the Right Yoke: A Sermon on Burdens and Stress