Book Review: The Making of a Preacher: 5 Essentials for Ministers Today. Marvin A. McMickle. Valley Forge, PA: Judson Press, 2018. 160 pages.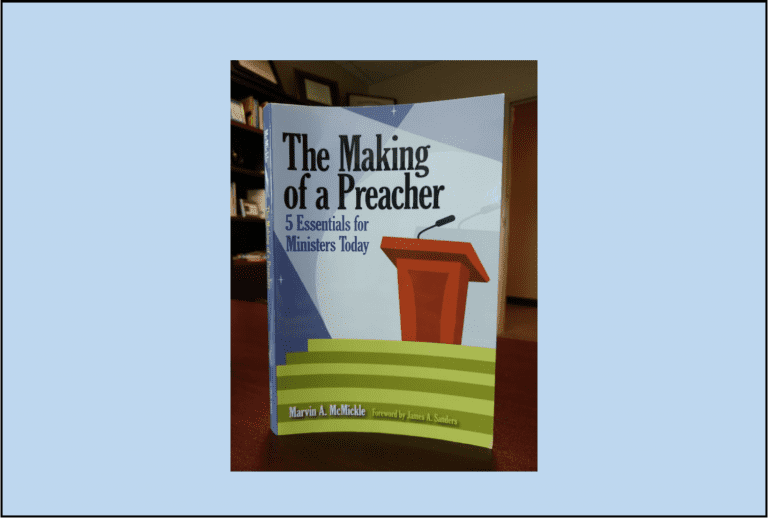 As one of the elder statesmen of homiletics, Marvin A. McMickle has gifted preachers with a volume that will serve both early-career ministers as well as those further along their paths of ministry. Weaving insightful exegesis with contemporary application, The Making of a Preacher has the tone of a dear and respected teacher-pastor sitting down with you to share what he has learned from his thirty-five years as a minister and a decade serving as president of Colgate Rochester Crozer Divinity School. The result is a volume that is ideal for both the seminarian as well as the long-serving minister in need of refreshment and encouragement in their call.
The premise of McMickle's book is that "preachers are not born; they are made" (19).
He makes a convincing case that while one may have natural talents or come from an illustrious preaching lineage, preachers must be formed and shaped by education, trial and error, and intentional development of their skills. The Making of a Preacher looks to the biblical figure of Moses to distill the five keys for an effective preaching ministry: hearing the call, confessing (or testing) your character; claiming your content; knowing your content; and facing the consequences.
There are five pairs of chapters devoted to each of these essentials.
The first chapter in each pair begins with a general discussion, followed by scriptural illustrations of the principle, and then practical advice for applying the insights in one's ministry. For example, in his chapter "The Call to Ministry," he begins by describing what it means to be called, how to discern if one has been called, and how to understand the phenomenon of "clergy burn-out." He then explores the nuances of Moses' call: why God called him, why he answered, and what he was being called from and to. The chapter concludes with dispelling the myth that there is an age limit on when a person can receive – and answer – the call to preach.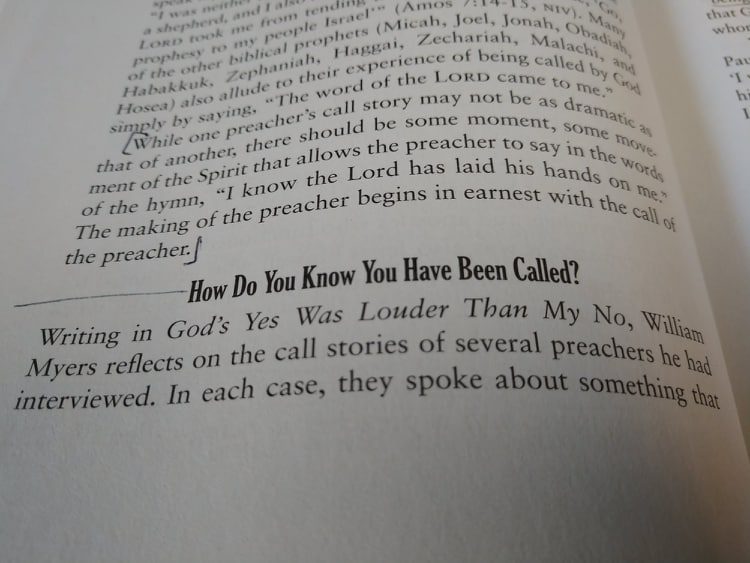 The second chapter in each pair offers a more personal perspective, illustrating how McMickle has come to understand the principle in his own life and ministry. What is particularly disarming and instructive are the stories he shares about his own struggles, mistakes, and missteps which ultimately served to teach him valuable lessons. This will be reassuring for ministers who have made their own blunders and miscalculations, as well as suffering from their own imperfections. McMickle's effort to overcome a speech impediment in his youth, for example, finds resonance in Moses' own protest against God's call to preach due to his being "slow of speech and slow of tongue" (Exodus 4:10).
McMickle's exegesis is not limited to Moses' story.
Chapter 3, "A Question of Character," contains a fascinating compare-and-contrast between the figures of Peter and Judas describing the difference between the two disciples who both failed Jesus in their own way. He also draws from the book of Acts to illustrate what it means to preach in context, as well as several Old Testament prophets to describe the experience of having one's prophetic preaching ignored. One disappointment in the book, however, is the lack of a biblical references index. McMickle included such a wealth of scriptural nuggets, it would have been helpful to include an index to aid in preaching and Bible study.
While McMickle's stories from his own ministry are compelling, he also draws wise words from one of his mentors, James A. Sanders (who also wrote the book's foreword), alongside examples from Frederick Douglass, Martin Luther King, Jr., James Baldwin, and Barack Obama, to name a few of his influences. In fact, McMickle draws on Obama's second inaugural address in 2013 to urge preachers to speak to three of the primary human rights movements of our time: Seneca Falls (women's rights), Selma (rights for people of color), and Stonewall (rights for LGBTQ persons). Later in Chapter Six, he adds a fourth: Standing Rock (environmental rights).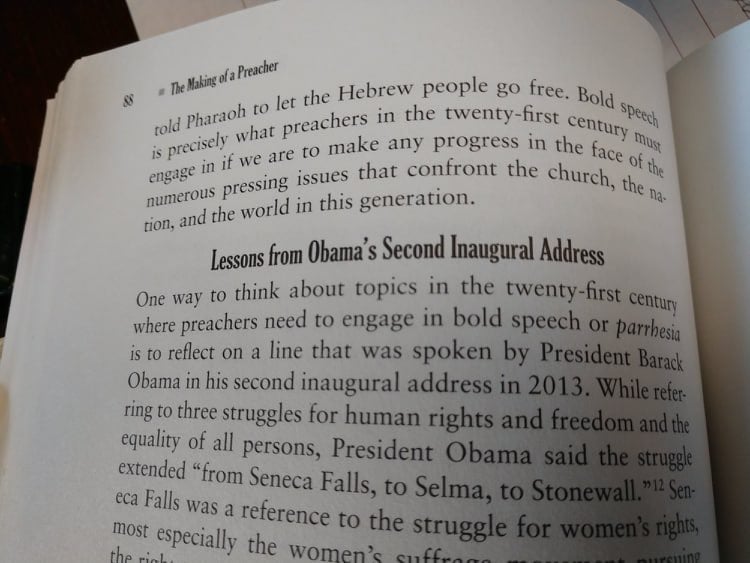 McMickle's reflection on LGBTQ rights was especially instructive because of his willingness to admit his own earlier prejudices that were eventually transformed through a process of "soul searching, Bible study, long hours of conversation, and finally developing close friendships with persons in the LGBT community" (98).
Whatever the human rights struggle, he urges preachers to follow the example of Moses to "be attentive to and outspoken concerning any of the forms of oppression faced by people all over the world" (116). Echoing Cleophus LaRue, he advises preachers to include social justice issues in their preaching rotation while also paying attention to topics of personal piety, care of the soul, and maintaining the church itself. McMickle urges preachers to engage in parrhesia, meaning "bold speech," in order to get outside our comfort zones and bring a message that is life-giving, freeing, and relevant in today's postmodern context.
As a preacher who has stretched my own ministry beyond the church walls to extend to public protests, government offices, and God's Creation, I was particularly appreciative of the final two chapters of The Making of a Preacher in which McMickle speaks frankly about the push-back preachers can expect when addressing issues of public concern. McMickle himself does not hold back from critiquing the atrocities committed by Trump and his administration, and includes contemporary examples of prophetic acts such as football player Colin Kaepernick's nonviolent protests by kneeling during the National Anthem, and clergy speaking out against the rising forces of white supremacy and hate crimes.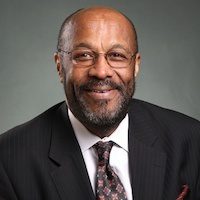 While he acknowledges the possible negative consequences that a preacher may face when answering God's call, McMickle also reminds us of God's promise to Moses:
"I will be with you" (Exodus 3:12).
Through our faithful congregations, our supportive pastoral colleagues, and the simultaneous comfort and challenge of Scripture, God's abiding presence engenders "confidence that inspires courage" (191).
The Making of a Preacher is available from Judson Press: https://www.judsonpress.com/Products/J267/the-making-of-a-preacher.aspx
---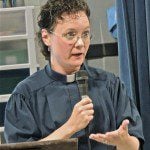 Leah D. Schade is the Assistant Professor of Preaching and Worship at Lexington Theological Seminary in Kentucky and author of the book Creation-Crisis Preaching: Ecology, Theology, and the Pulpit (Chalice Press, 2015).
Twitter: @LeahSchade
Facebook: https://www.facebook.com/LeahDSchade/
Read more of Leah's book reviews:
Book Review: Preaching the Women of the Old Testament
Harnessing "The Butterfly Effect": A Joint Book Review