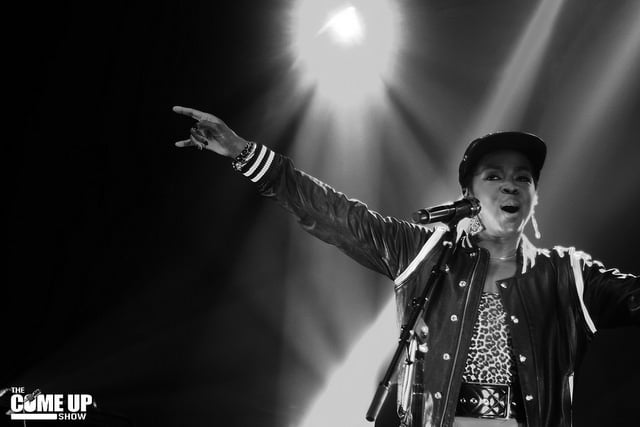 Around late August last year, I was scrolling through my news feed when I saw a few of my theologian friends had shared a very interesting article on Ms Lauryn Hill – or as I knew her from hearsay when I was in high school, Lauryn Hill. Titled 'Nearly 20 Years Ago, Lauryn Hill Made an Album So Perfect It Nearly Ruined Her Life,' the piece details how The Miseducation of Lauryn Hill is so flawlessly done as an honest set of songs that the wild success of the album spawned a series of catastrophes that precipitated Hill withdrawing for the most part from the public eye until recently (although what exactly 'withdrawal' means for an artist who has kept playing and producing during her period of withdrawal is of course up for some debate). My theologian friends mused that it was now their adolescent children's turn to discover Hill's genius, that the music was just as fresh as it was when the Miseducation came out in 1997.
I write this on this day that the Latin Church celebrates the Feast of the Virgin of Guadalupe because it was because my theologian friends shared that article that I started really getting to know Ms Lauryn Hill's work. This was around the time that I also started participating in earnest at the local Eastern Catholic temple in Richmond. Because of this, my subjective experiences of Eastern Catholicism and The Miseducation of Lauryn Hill are all jumbled up together like good stir fry, and because of this, I have taken to referring to Ms Lauryn Hill as the greatest theologian of our generation. I am not saying this to be cheeky, and I am also not claiming Hill for Eastern Catholicism, even though it is so tempting given the Internet rumors that she was baptized Ethiopian Orthodox and has this whole connection with Rastafarian practice (cue the hyperdox trolls). What I am saying is that my practice of Eastern Catholicism would not be possible without reference to Hill.
I might need to give some background about why this is possibly important only to me and therefore to no one else, especially my fellow Eastern Catholic sisters and brothers (which, again, is why it would be preposterous for me to claim to 'represent' Eastern Catholicism on Patheos Catholic – I most certainly do not!). I am supposed to have been part of the generation that came of age when the Miseducation was first released. However, the only real meaningful encounter that I had with Hill's work was in a limo with a bunch of other high school seniors coming home from senior ball. Some music came on through the radio, and I remarked to my senior ball date that the music sounded like gospel. She told me that it was Lauryn Hill. She may as well have been speaking Greek.
My musical ignorance cannot be explained based on my racialized community ('you see, I was one of those Asian Americans who thought that being the "model minority" was a good thing') or my class background ('I grew up in the suburbs') or my gender ('I am a straight Asian man') or my religion ('I was attending a non-denominational Bible church'). This is because Hill's popularity at the time transcended all of those categories such that everyone except for me was into The Miseducation – at church, at school, in the cities, in the suburbs, and especially among Asian Americans trying to use education for upward social mobility if they felt that they needed to climb the ladder or to maintain their class status if their highly-educated, tech entrepreneur parents felt like they had already made it. I also grew up in the Bay Area, and my dad was ordained in the black church in Oakland. There is no excuse for me not to have taken Hill as my muse, and yet I did not. That I hung with homeschooled kids who listened to Mahler and took BART out to San Francisco to get the choir seats behind the San Francisco Symphony to hear Michael Tilson Thomas conduct Mahler live does not make for any excuse; the truth is, my homeschooled friends all grew up, moved out, and probably discovered Hill way before me – and I went to school with people for whom Hill was the soundtrack of their lives. That we were listening to Mahler, of course, means that you cannot describe us as elitist; Mahler is a cacophony of folk music whose sheer primal power defies the respectability of the bourgeois class. But I should also have been listening to Hill; after all, every ghetto, every city, and suburban place I've been make me recall my days in the New Jerusalem. If only…
All that is to say that perhaps I should be classed as a late-blooming adultlescent who discovered The Miseducation at the same time that my theologian friends' actual adolescent children started listening to it. Because of this, I try to listen to this album once a day as part of my prayer life (and also to make up for lost time), and I am starting to do the same to the follow-up acoustic album MTV Unplugged 2.0. I can also be found late in the night immersed in the new album Nina Revisited, on which Hill has six tracks covering some of Nina Simone's classics. I do not think any of this makes me qualified to write on Ms Lauryn Hill; what it means is that I continue to struggle with her stuff even as I have been immersed in it.
My first encounter with The Miseducation of Lauryn Hill was like being yanked in head-first into reality. I almost spit out my coffee when the classroom roll-call receded and Hill announces: It's funny how money change a situation. I had done a little bit of homework because I read that article on the Fugees, and I surmised that she was talking about her former bandmates, especially her ex-lover Wyclef Jean, who as a matter I had actually heard because a) his music is all over one of my favourite movies, Love Actually, and b) he has a dubious connection to Sun Ho, a Singaporean megachurch pastor's wife who got their whole megachurch in trouble and its top brass jailed for using money set aside for evangelism to fund her not-so-hot cross-over musical career in Los Angeles (I even blogged about this as Chinglican). You might win some, but you really lost one; when it's all done. You just lost one, it's so silly how come. When it's all done did you really gain from. What you done done, it's so silly how come. You just lost one. Fade back into the classroom. The teacher writes on the board: L. O. V. E. How many people know any songs about love?
School. Money. Love. It could all be so simple. But you'd rather make it hard.
There are two real worlds in The Miseducation of Lauryn Hill. There is the real world of the music industry, which is not closed in on itself but is run by the same capital, institutional conformity, and erotic lusts for authoritarian power and bodily possession as any other contemporary sector with its requisite institutions. But there is another world that doesn't map well onto this first one: Look at your career they said. Lauryn baby use your head. But instead I chose to use my heart.
Now the joy of my world is in Zion: that is the parallel world. I did not know on first listen that Hill had named her first son – the child who inspired the conception of the whole album – 'Zion,' and I think that's partly intentional, though not in the nefarious 'Mr. Intentional' way she denounces on a later album (one where everything is strategic). In an anthem that the New Pro-Life Movement should probably adopt (because the old one doesn't seem to have), 'To Zion' describes a world where the person from womb to tomb takes centre stage, instead of capital, strategy, institution, and all of their requisite lusts. It takes a journey to get to the joy of this new world, which is why we are marchin marchin marchin marchin to Zion Zion marchin marchin.
For me, what makes Ms Lauryn Hill the greatest theologian of our generation is that she asks the question of what it means to speak of G-d, the self, and the world when these two worlds are constantly getting in each other's way. Girls you know you better watch out. Some guys, some guys are only about that thing, that thing, that thing. Or: hip hop started out in the heart. Or: When it hurts so bad, why's it feel so good? Or: Beware the false motives of others, beware of those who pretend to be brothers. What does it mean to speak of G-d when you know that you want to build a world centered around the person while dominated by the lustful flow of capital, where everything is everything? This:

My world it moves so fast today
The past it seems so far away
And I squeeze it so tight, I can't breathe
And every time I try to be
What someone has thought of me
So caught up, I wasn't able to achieve
But deep in my heart the answer it was in me
And I made up my mind to find my own destiny
I look at my environment
And wonder where the fire went
What happened to everything we used to be
I hear so many cry for help
Searching outside of themselves
Now I know His strength is within me
And deep in my heart the answer it was in me
And I made up my mind to find my own destiny
And deep in my heart the answer it was in me
And I made up my mind to find my own destiny
I remember sitting in my chair stunned and speechless after the first time I heard this album. Then, I pushed play again.
Ms Lauryn Hill is the greatest theologian of our generation because she is trying to articulate in the terms of finding and knowing G-d what it means to be set free from the colonization of the mind; it is no wonder that she can be found narrating the English documentary Concerning Violence by reading excerpts from Frantz Fanon's Wretched of the Earth. It seems like everyone except for me has known this for quite some time. I messaged one of my former students with this discovery, and she simply quipped, Everything is everything. A friend of mine told me that he used Hill's later song 'War in the Mind' to teach philosophy and decolonization. A Pentecostal friend of mine publicly commented: 'You just heard about this now?' Guilty.
I bring all this up on this Latin feast of the Virgin of Guadalupe, because do not such themes recall Holy John Paul II's words at Guadalupe in 1979?
The Pope—who comes from a country in which your images, especially one, that of Jasna Gora, are also a sign of your presence in the nation's life and its hazardous history—is particularly sensitive to this sign of your presence here, in the life of the People of God in Mexico, in its history, a history which has also been not easy, and at times even dramatic. But you are also equally present in the life of the many other peoples of Latin America, presiding over and guiding not only their past, whether remote or recent, but also the present moment, with its uncertainties and shadows. The Pope perceives in the depths of his heart the special bonds that link you with this people and this people with you. This people, that gives you the affectionate name of La Morenita. This people, and indirectly the whole of this vast continent, lives its spiritual unity thanks to the fact that you are its Mother. A Mother who, through her love, creates, preserves and increases closeness between her children.
What is the sign of the Theotokos of Guadalupe, the Latin devotion for which even Eastern Catholics and Orthodox sometimes express reverence despite our quips about the Latin Church? For Holy John Paul II, it is what the Theotokos has always done, whether in Mexico or in Jasna Gora in Poland – and before that, for that matter, in Constantinople: the Most Holy Theotokos walks among her people as La Morenita. As the story at Constantinople goes, the Theotokos comes among her people, takes off her protecting veil and casts it over the people in protection.
Am I saying that Ms Lauryn Hill is a Marian figure? No. I'm saying instead that she is among us as the flawed one, the struggling one, the one who is late to all of her shows because she has to align her energies and thought that she could defy the state by not paying federal taxes. She is the one that hasn't figured out how to navigate the parallel worlds where capital colonizes the person through the desiring-institutions of modern industrial complexes. She is not La Morenita; she is the one on whom La Morenita gazes, just as she gazed with love on Holy Juan Diego. The greatness of Ms Lauryn Hill's theology is not in her immaculateness; it is in her journey to Zion, the New Jerusalem, the one Holy Paul the Apostle calls 'our mother' in the letter to the Galatians. Her son, our mother, the ones on whom La Morenita gazes: like The Miseducation of Lauryn Hill, the ancient Nahuatl story of the Lady of Guadalupe is our story, undoing below the surface the legitimacy of the powers that colonize and oppress us. It's freedom, said it's freedom time now.
Is this not what we do at every liturgy? Especially for us Eastern Catholics in the Kyivan tradition, our worship is beneath the gaze of the Oranta, the Great All-Holy with hands upraised in prayer, and before the icon of Holy Sophia which Metropolitan Andrei (Sheptytsky) instructed to be at every altar. As our Patriarch Sviatoslav reminded us when he consecrated St Elias Brampton, the saying is that as long as the Oranta stands in Kyiv with hands lifted up – indeed, like Moses before the Amalekites – the city will not fall. As long as the tilma brings conversion and the Theotokos of Częstochowa guards Jasna Gora, the world to which Ms Lauryn Hill is journeying will also never be swallowed up by the No-Gods of capital, as the Protestant theologian Karl Barth called them. Before such holiness, we who are sinners mystically represent the cherubim and sing the thrice-holy hymn of praise to the life-giving Trinity and lay aside all cares of life.
My thoughts are as fragmented as Ms Lauryn Hill's. I do not pretend to have captured it all. The connections I have hinted at between The Miseducation and my practice of Eastern Catholicism have not been made. I have failed to say anything about my own formation through womanist theology. There is much to struggle through, and this one post has been but an attempt to clear my throat again.
Most Holy Theotokos, save us. Or: to leave the last words to Ms Lauryn Hill…