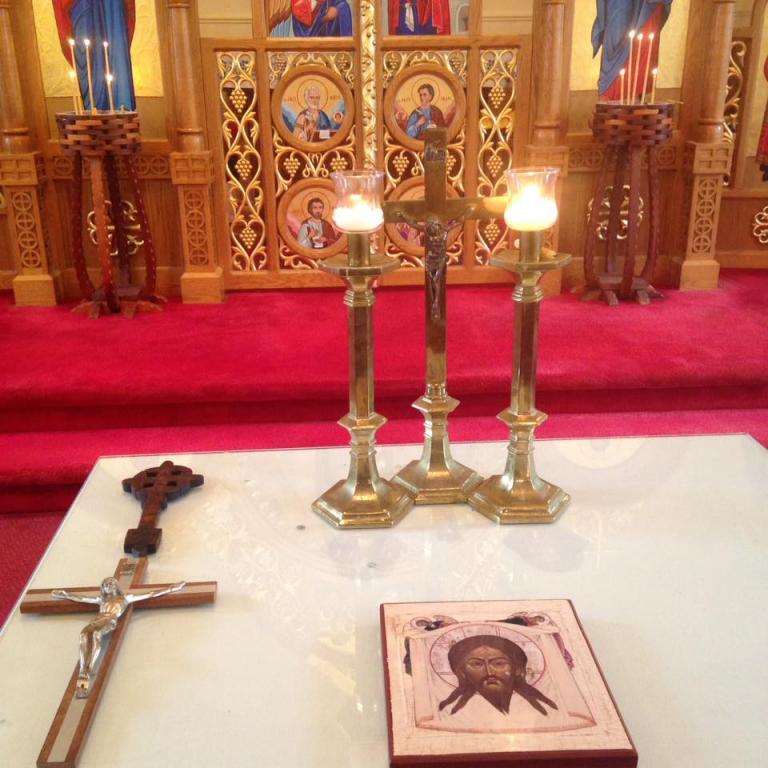 I stopped home in Richmond for Liturgy. It is Canadian Thanksgiving weekend, and my dear friends were getting married. As is the case, a great number of my friends are what we might call secular, and I have attended a number of secular weddings, like this one. There is a beauty to them that I will reflect upon in another post. Certainly, in response to one of my Orthodox commentators who tells me that the legitimacy of the marriage depends on the Mystery of Crowning, I think the truth is much messier than such juridical strictures would allow. After all, we are Orthodox. Obsessions with the legal is more properly the purview of our sister church in the West. In fact, there is a case to be made that Latin consolidation around the juridical power of the Bishop of Rome and the laws around the Eucharist and its constitutive power in Western society in the tenth century was what kicked off the secularzation ball in the first place. Critics of this thesis will reference the problems of lay investiture, and I do think that that is a problem in church-state relations, even now. But there is also something to be said about my scepticism of ecclesial secularization that led me down the winding road to Eastern Catholicism where I now work out my salvation with fear and trembling.
As I was at Liturgy, I had a number of reflections on why this is home – and it is not because it is the so-called Chinese mission of the Greek-Catholic Church of Kyiv. Its status as home is spiritual. It is a temple named for the Holy Dormition, the spiritual reality revealed in the Most Holy Theotokos that what appears as bodily death is birth into new life. Its icons are painted by the son-in-law of the Holy New-Hieromartyr Omelyan Kovch. Its pastor calls us to prayer that spills into action for social justice in the spirit of the martyrs of El Salvador, Rutilio Grande, Archbishop Oscar Romero, and Ignacio Ellacuria and his companions. On its tetrapod is the face of Christ, further revealed in the wood of an Ethiopian cross and the crucifix from St Francis Chapel on the Street from the Mong Kok occupation of the Hong Kong Umbrella Movement. Here, the readings are done in both English and Chinese, the language of my heart. I went to the airport immediately after service, but I hear that my sisters and brothers are enjoying in the hall provisions that they brought today – clam chowder, bacon jam, instant noodles and dumplings.
Truly, I reflect, is this a vibrant parish that is a place to encounter the living Christ, and I shall have to reflect on it, perhaps in relation to the secular that I reference above in my everyday life. Secularity and its discontents, after all, is a big part of what I study. It might help to have a blog that reflects on what that has to do with my everyday life, especially with the liturgical orientation toward life that we are given in our beloved Kyivan Church. We say to each other, Christ is among us, and we respond, He is and will be. If that is the case, then the sæculum has a theological dimension, and this has long been my argument, since I wrote my piece on grounded theologies years ago in Progress in Human Geography. It is, I reflected as I prayed at my home today, time to get back to that work, to revisit it and to see what I was trying to say so that I can say more. In this way, going to liturgy in Richmond prepared me to return to Chicago for scholarly work. I am grateful.