David Russell Mosley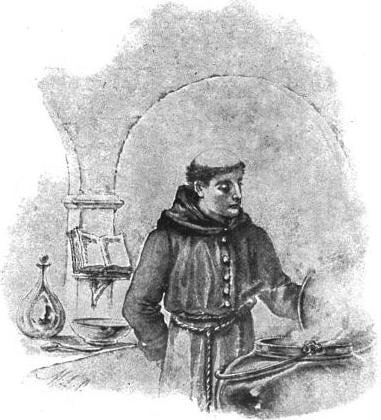 Ordinary Time
17 August 2016
The Edge of Elfland
Hudson, New Hampshire
Dear Readers,
I've been trying to write you all morning. Each time I sat here and would two or three paragraphs written before deciding I was not happy with what I was writing. I began to get rather melancholic. So I stopped trying to write. I played a bit with my kids, but even there I was becoming short-tempered, so I turned to my domestic duties. I hadn't done the dishes from breakfast yet, so I turned on the water and began the washing up.
As I did so, my turned to many things and I began to pray. Suddenly, a bawdy, and quite funny joke a friend had made on Facebook came to mind and I finally got it and I began to laugh. It was as though a darkness had been lifted and I was suddenly much happier. I continued to do the dishes and I was reminded of Brother Lawrence. I have to admit that I've developed something of an aversion to the good brother. It isn't that I hate him or think him wrong. He simply represents to me a tendency in some to look at him as the greatest spiritual writer from the Middle Ages. This is wrong of me, but it means I hadn't read or really thought of him for years. Still, today I thought of him as I washed the dishes, so I tracked down Practising the Presence of God and started looking for the sections I remembered on Lawrence in the kitchen.
This passage particularly stood out to me:
And it was observed, that in the greatest hurry of business in the kitchen, he still preserved his recollection and heavenly-mindedness. He was never hasty nor loitering, but did each thing in its season, with an even uninterrupted composure and tranquillity of spirit. "The time of business," said he, "does not with me differ from the time of prayer; and in the noise and clutter of my kitchen, while several persons are at the same time calling for different things, I possess GOD in as great tranquillity as if I were upon my knees at the Blessed Sacrament."
For Brother Lawrence, it didn't matter what he was doing, he was capable of filling his mind with heavenly things. It seems almost as if for the good monk, it wasn't ora et labora but ora est labora, not prayer and work, but prayer is work (or work is prayer). Now, I am no Brother Lawrence. My mind is not perpetually filled with the things of God. But today, while I was cleaning the dishes, I was able to see a little more clearly. I was a little happier, I was able to deal with my children a little better. I was finally able to write.
So God bless, Brother Lawrence. Pray for me, dear brother, that I may find the peace and tranquility of mind that you did.
Sincerely,
David