Ordinary Time
21 February 2019
The Edge of Elfland
Manchester, New Hampshire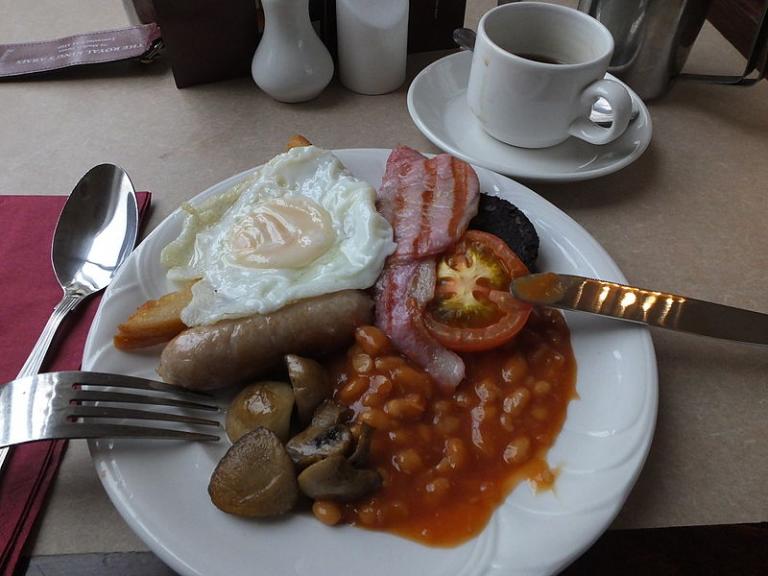 Dearest Readers,
Lately, I've been seeing theologian, Dr. John Milbank (mentioned many times in previous letters) singing the praises of a Full English Breakfast. Seeing his tweets on this divine subject, I thought I would add my own words.
For the uninitiated, a Full English Breakfast––something now chiefly relegated to holiday spots and the occasional pub––consists of the following: eggs (nearly always 2) cooked to order (but fried is best), 2 rashers of bacon (UK cut bacon, not American or streaky bacon), 1-2 bangers (sausages), fried mushrooms, beans, 2 pieces of toast, a cooked tomato, and black pudding (a kind of blood sausage). All of this served with tea or coffee or even beer is, in my opinion, the ideal breakfast. I should add that there are other, regional variations on this breakfast. I don't know them all, but I believe the Full Scottish Breakfast can or must include haggis.
There is something about the indulgence, the overabundance of this breakfast that simply speaks to me. And yet, for all its gratuity, there is a simplicity to it. It could all, nearly, be cooked in one pan. If not together, it could all be cooked in one pan one thing after another. I think it may well be the perfect meal.
Perhaps the only problem with it is its commercialization. So often when one can actually get it, it is pale reflection of an otherwise ideal breakfast. The sausages and bacon in particular suffer from the mass production. Having had proper, locally sourced sausages and bacon in the UK, I can firmly announce their superiority to, at the very least, anything we generally produce here. No Johnsonville sausage can stand up to a proper British banger.
I can still a memorable time eating a Full English. I was at Durham University for a conference celebrating the work of Andrew Louth. The first morning at breakfast I had missed the hot breakfast line entirely and saw only the cold, continental breakfast. When I sat down, who should join me but John Milbank himself. He proceeded to encourage me to eat a more substantial breakfast so as to safeguard myself against the "cold" weather (I believe it was in the low 60's Fahrenheit). He also, as he is doing now, sang the praises of the Full English, while lamenting how it has fallen out of common practice to eat at home. The next day at breakfast, I discovered the hot breakfast line and had a decent enough (for a university cafeteria) Full English.
Food is one of those wonderful things about being human. We do not eat simply to survive, we can, in our greatest moments, create beautiful dishes which nourish not only our bodies but our souls as well. This, of course, is why it is such a travesty that so many in our world go hungry. And just as we should not stop building beautiful churches in order to feed the poor, but do both, so too must we continue to create beautiful, even beautifully simple dishes such as the Full English. We just must remember our Lord's injunction to invite those who cannot pay us back to our tables.
I look with joy as the plate is brought out.
The steam rises like incense offered up
To the god who waits, who does not doubt
The faithfulness of his subjects. The cup
Is filled to brim with coffee, tea, or beer.
What joy, what hope, what delight is there; the eggs,
The rashers, sausages, mushrooms, beans–what cheer!
For black pudding and toast, tomato, not dregs
But essential components, a symphony
Of homey English cooking. O joyful
Noise, o melodic polyphony
That is known as English Breakfast. "Full
English, please," as I settle in my chair,
Waiting for the food that man would dare.
Sincerely,
David Russell Mosley