David Russell Mosley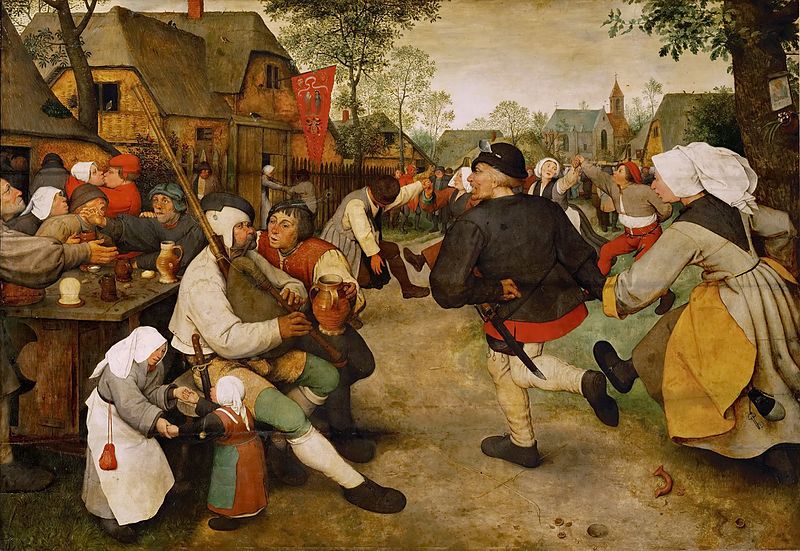 Ordinary Time
19 August 2016
The Edge of Elfland
Hudson, New Hampshire
Dear Readers,
As I did a little background reading before my last letter on beauty, I decided it would be good to re-read Pope St. John Paul II's Letter to Artists. This was only my second reading, my first coming just a months prior as I prepared a paper proposal for an upcoming conference. There are many things from this letter about which I could, and likely will, write. But today, in conjunction with the author David Jones, there is one section to which I would like to pay special attention.
The Pope has just begun the letter by associating the artist with God, one which is actually quite similar to Tolkien's position in On Fairy-stories. In Tolkien's text, he calls artists subcreators because what we make is made with materials provided to us whereas God creates ex nihilo. The Pope turns to the Polish language where he compares the Creator, stwórca, to the craftsman twórca, note the subtle difference. However, Pope St. John Paul II wants to be clear that while the artist has a special connection to beauty and creativity, the relationship is not exclusive to artists. He writes:
2. Not all are called to be artists in the specific sense of the term. Yet, as Genesis has it, all men and women are entrusted with the task of crafting their own life: in a certain sense, they are to make of it a work of art, a masterpiece.

It is important to recognize the distinction, but also the connection, between these two aspects of human activity. The distinction is clear. It is one thing for human beings to be the authors of their own acts, with responsibility for their moral value; it is another to be an artist, able, that is, to respond to the demands of art and faithfully to accept art's specific dictates.(2) This is what makes the artist capable of producing objects, but it says nothing as yet of his moral character. We are speaking not of moulding oneself, of forming one's own personality, but simply of actualizing one's productive capacities, giving aesthetic form to ideas conceived in the mind.
I will, in another letter, consider the artist's side, but here I want to focus on the first part. We are all, the Pope tells us, artists in a general sense. We are the twórca of our own lives. My PhD supervisor, Simon Oliver, likes to talk about the hyperangelic human capacity for creating potential future members of the kingdom of God through reproduction, so even something as ultimately common (as in common to all people in general, though not always to all individuals) as sex and procreation are acts of artistic creativity. This brings me to David Jones.
Jones was a twentieth century Roman Catholic poet and artist. In his excellent essay "Art and Sacrament," Jones argues for the sacramentality of human art. "the art of man," he writes, "is essentially a sign–making or "sacramental" activity." Jones gives a curious example for this, a cake baked for Susan. Jones imagines a woman (or girl) named Susan for whom a birthday cake is made. He writes:
For leaving aside the art of cooking and the supererogatory art of icing, in so far as the cake is "made for Susan's birthday" it is "made over" in some sense. By every possible test it belongs to Ars [Art]. It belonged to Ars, or rather it was pre-ordained to Ars, from the first movement of the cook's mind to make something that should be significant of Susan's birth.
Jones' essay is certain more about the artist in the special sense than the general, but this passage in particular, and others highlighting cricket bowling, argue that even the special sense of being artist is, or ought to be, broad in its definition so as to encompass a large swath of human creativity. For Jones intransitiveness and gratuity are key for something to belong to Ars; everything from bread-baking to cricket as Alison Milbank once said to me.
What this means is twofold, I think. First, it means that when Pope St. John Paul II told us that, "all men and women are entrusted with the task of crafting their own life: in a certain sense, they are to make of it a work of art, a masterpiece," we can remember that this applies to the everyday making of things, particularly as it participates in some kind of intransitive and gratuitous nature: bread baked for breakfast, a cricket bowl, sex, child bearing, birthday cakes. These acts make you an artist, these are acts of beauty. Second, we are reminded by the Pope that our very lives themselves, in general, are works of art, or ought to be. So by living well, by seeking the Good and the True, we participate in the Beautiful. This is at the heart of so many of my recent letters: Finding Joy in the Kitchen with the Help of Brother Lawrence, The Scene from Harry Potter and the Half-Blood Prince that always Makes Me Cry, Anglophilia: Bake Off, Wallace and Gromit, Shaun the Sheep, River Cottage, and the Local Church, Overcoming Evil with the Common and the Ordinary: Reflections on Harry Potter and G.K. Chesterton, and The Christian Festival of Lammas: Alison Milbank, Bread, and the Church Year. The Common is Art and thus is Beautiful. So I am surrounded by Beauty everyday, if only I open my eyes to see it. That, I think, is one of the key things the artist in the special sense can help us see, but I will have to save that for another letter.
Until then I remain
Sincerely yours,
David
Image Credit: Artist Pieter Brueghel the Elder (1526/1530–1569)
Title The Peasant Dance
Date circa 1568
Source/Photographer
1. The Yorck Project: 10.000 Meisterwerke der Malerei. DVD-ROM, 2002. ISBN 3936122202. Distributed by DIRECTMEDIA Publishing GmbH.
2. GalleriX
(PD 100, 23)