David Russell Mosley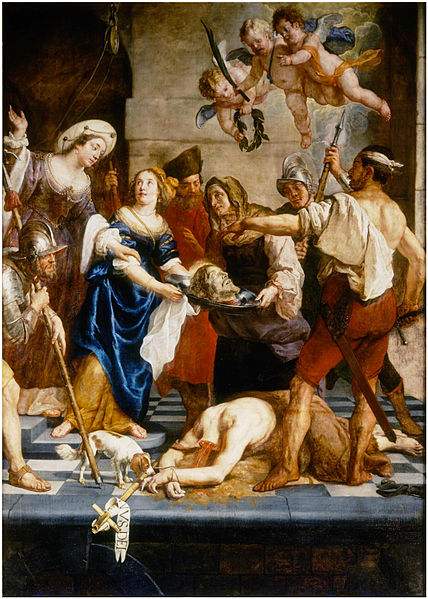 Ordinary Time
The Beheading of St. John the Baptist
The Edge of Elfland
Hudson, New Hampshire
Dear Readers,
As some of my letters have indicated, I've been feeling spiritually destitute of late. So, thanks to the help of some friends, I finally met with a spiritual director. He's helping me to pray amidst what is still a new life to me of being a stay-at-home/work-from-home father of twins. Rather than try and reengage all the longer practices I used to do, my spiritual director has advised me to read the opening prayer, reading, and closing prayer (to which I have also added the intercessions) of one office during the day. I have chosen the morning office, Lauds.
I could chronicle for you how this has been going, but I won't for now. One week is far too short a time to see any real patterns emerging. However, this is precisely what got me into momentary trouble this morning. For the past week as I meditated on the readings and then sat in silence listening for Christ's answer, I often found that somehow the passage connected to things with which I am struggling, or things about which I had recently been writing. So, this morning I was confronted with Isaiah 49:1-2.
The Lord called me before I was born,

while I was in my mother's womb he named me.

He made my mouth like a sharp sword,

in the shadow of his hand he hid me;

he made me a polished arrow,

in his quiver he hid me away.
I sat there pondering this passage. First thinking about what it means to be weapon used by God, but one hidden, which led me to think about plowshares and pruning hooks. I focused on verse 2, but in the back of mind it was all about verse 1. The Lord called me before I was born. This past week the passages have so often been about things directly in my life that I assumed this was as well. I was thinking far too much of myself, although I couldn't, in my defense, discover what this passage was secretly trying to tell me about my destiny. Then I read the intercessions.
I had forgotten that today we commemorate the martyrdom of John the Baptist. I smiled when I read John's name the first time. This passage isn't about me; it's about him. And as he would remind me, it's not about him but about Christ. Pride had swelled in my heart as God was trying to teach me about other aspects of my life that I just assumed every passage I met would work on me in the same way. In a sense, I suppose this one still has. It has reminded me to be humble.
Pride and humility, I feel like this pairing of vice and virtue have occupied me lately, intellectually when it comes to humility, and practically when it comes to pride. I have thought much about both, but have, I think, been more guilty of pride than possessed of humility. Pride, you see, is, at its core, an attempt to put yourself in God's place, to deify yourself. This is why its only match can be God himself. Only recognizing that you are not God, and that you cannot make yourself God can cure you of pride. Sadly, I was in need of this lesson today. The passage today pointed away from me to John the Baptist and he points me away from himself and to Jesus Christ, our Lord, our God.
Sincerely,
David