David Russell Mosley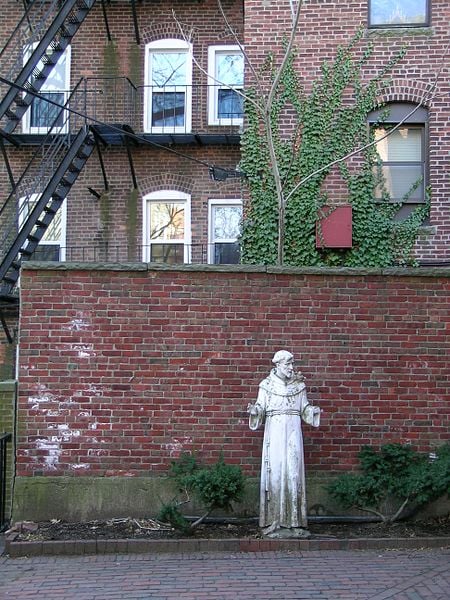 Ordinary Time
St. Francis
The Edge of Elfland
Hudson, New Hampshire
Dear Readers,
Today is the feast of St. Francis. He's one of those saints that draws everyone's attention, Christian and non-Christian alike. His love for animals, for the world itself, his beautiful poem, Canticle of Brother Sun, his rejection of riches these draw us in. But when we get so drawn in we something rather terrifying. He actually believes this stuff. He didn't just reject riches but all property. He's the man who walked away from his father, in front of a court of law, in naught but a hair shirt (a shirt, usually made of goat hair, with the hairy side turned inward in order to constantly irritate the skin). He's the man who went to the Sultan of Egypt during the fifth Crusade to try and convert him. He is the man who experienced the stigmata. Yes, he also loved animals, and I want to tell you a story about that, but it is always necessary to remember that these saints, especially the popular ones like St. Francis became saints not because they were simply lovable, but because of their intense, unhindered, love of Christ. Looking at them is to look at Christ, which is terrifying, awe inspiring, and should always leave us changed.
Now, I want to tell you about the time I met St. Francis. I was a freshman in college on what my college called a Week of E trip (the E stood for evangelism). I was in Boston. My evangelism, local missions trip was actually to Portland, ME but all the groups that came out to "godless" New England spent a day in Boston for tourism, I mean missio-tourism, I mean missions (I kid, mostly). We had been given some to spend how we saw fit and I wanted to do nothing more than wander about the Boston Common.
I love the Boston Common. You can still see the city all around you, and yet you have the expansive greens of the grass and the trees and the pond. When I was there, in March I think, Winter had not yet left and so rather than green everything was brown and grey. I wandered around musing, about what I can no longer say. I stopped, however, when I saw an old gentleman. He was well-dressed, though simply so, from what I could see. He wore a long, black overcoat, a scarf, black gloves, and a black hat with lined ear flaps turned up. He was not what I expected when I thought of St. Francis. He pulled a bag out of his pocket. It was full of peanuts. He walked up to a nearby tree and held up a peanut. Suddenly, I saw a squirrel perk up. He looked at the old man and the old man looked back and smiled. He gestured downward with the peanut and the squirrel followed his hand, running down the tree and taking the legume from his hand. He proceeded to do this again and again for countless squirrels. I knew then that I had seen St. Francis.
You might try to tell me that I did not meet St. Francis that day. That instead I saw the consequences of so invading animal habitats and conditioning them to receive food from humans and not to forage for it themselves. But I know what I saw, I know how it effected me. I know I saw St. Francis that day because he made me think of Christ. I know I saw St. Francis because he drew no attention to himself, but pointed away from himself to something greater. I was changed by this experience, and so I know I saw St. Francis.
It would be easy to end the story there. It's nice and warm and comfortable. But the truth is, being a saint is often anything but nice and warm and comfortable. And make no mistake, we are called to be saints. I will never forget this moment because it so often convicts me that if a man could find it in his heart to so care for the squirrels, why can I not find it in mine to care for those men and women who beg at the various road intersections throughout Hudson and Nashua? After all, if the squirrels are our brothers and sisters, how much more so the poor man, the drug-addicted woman, the drunk, the objectionable, the marginalized, the oppressed, the invisible? I am not a saint, I am not Christ and that is unacceptable. That is St. Francis' message to me today. Perhaps it is the same to you as well.
Sincerely,
David