David Russell Mosley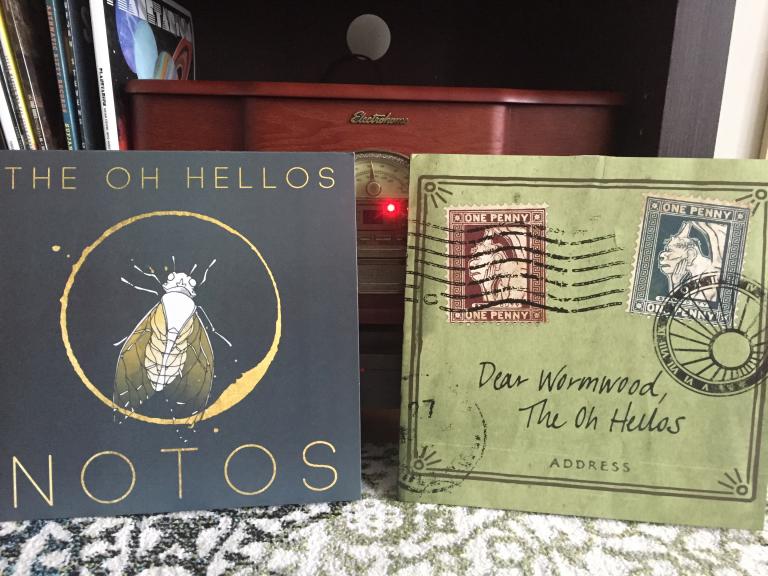 Eastertide
6 May 2018
The Edge of Elfland
Manchester, New Hampshire
Dearest Readers,
In the past 6 months I have been introduced to three new musical artists/composers I thought I would share with you. Each of them stands out as something unique. None of them is easily pigeon-holed. And I like this. Not because I'm a hipster who only likes music no one else has ever heard of; if that were the case I wouldn't be sharing them with you now. Rather, I like groups or composers that defy genre in some way. It seems to me that when this happens, it makes us think about our categories and our methods of categorization. But that is a subject for another day.
The first group I want to mention are The Oh Hellos. This band was introduced to me by a coworker and good friend. The Oh Hellos are fronted by a brother and sister duo, Maggie and Tyler Heath. The Heaths are from Texas and got their band name from a trip to Ireland when a drunken man stumbled out of a pub, approached their mother and said, "Oh, hello!" Their style is folk-ish. I say that because they are not a folk band in the way, say Bob Dylan is, or even in the way bands like Mumford and Sons or Flogging Molly are. Their music has many inspirations, Dear Wormwood, the first album I heard, is influenced by the writings of C.S. Lewis. Their two most recent EPs Notos and Euros named after 2 of the 4 winds of Greco-Roman mythology seek to explore where our ideas come from.
Here is one of my favorite songs from Notos, "New River."
The second group I want to mention isn't a group at all, but a composer: Arvo Pärt. Pärt is Estonian, Orthodox, and a composer whose music must in some way reflect the music of the spheres if not the music of the Ainur, which is the music of creation. Pärt is perhaps most famous for his invention and use of the compositional style he called, tintinnabuli. In an interview with Bjork, they discuss how Pärt's music make space for the listener, as if it were a dialogue between the music and the audience. Bjork likens it to the relationship between Pinocchio (the audience) and Jiminy Cricket (the music). The music is there to console, to warn, to upbraid the audience.
Here is the first piece of Pärt's music I ever listened to "Magnificat."
The final group is one I only just discovered yesterday: Darlingside. A quartet based out of Cambridge, MA, their style is perhaps the hardest to define. They, not unlike The Oh Hellos, do not have a single lead singer. Rather, they often sing together in unison or in tight, four part, harmonies. Their music appears to be influenced by dystopian novels, and yet is sung in such a way that often betrays or hides the darkness or melancholy in their music. While the band is made up of four musicians, none of them plays the drums, nor do they use a drum kit. Rather, they rely on guitars, violins, cellos, banjos, mandolins, and a harmonium to make their music.
Here is their song "White Horses" from their album, Birds Say.
Sincerely,

David