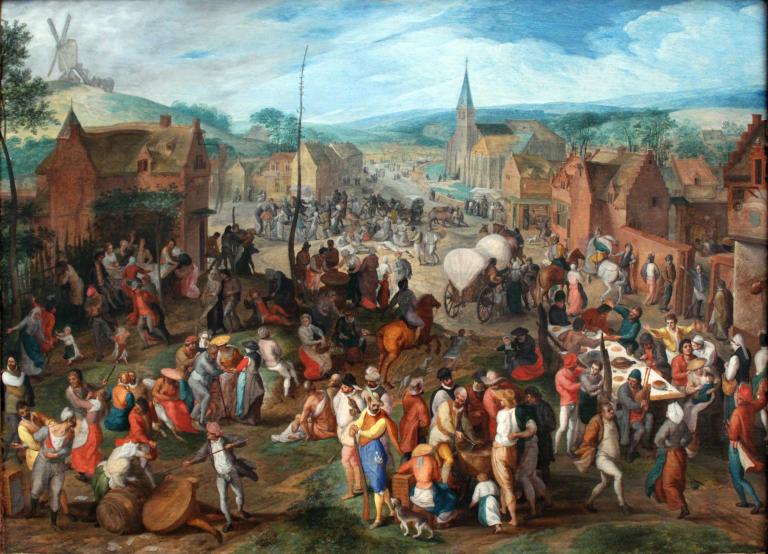 Ordinary Time
31 July 2018
The Edge of Elfland
Concord, New Hampshire
Dearest Readers,
When I first started writing these letters, long before becoming Catholic was even on the horizon, I saw that Church universal, at least in the UK (where I was then living and this was called Letters from Nottingham) and the US had a geography problem. With the rise of the car and the interstate highway (or motorways in the UK) people no longer needed to attend their local churches. This problem was exacerbated in Protestant circles especially if an individual or family was tied to a certain denomination that was not locally present. And thus while you have some local churches which are truly local (made up entirely of local residents) they are often, though by no means always, small and dying. The big churches, the mega-churches, would have people driving an hour or more every week in order to go to church at the big church, the special church. In England I saw the possibility for another way, one that lay forgotten, the way of the parish.
When I lived in England we eventually started attending at an Anglican Church. I even began the process of ordination––which I ultimately had to stop. But we did not attend our parish church. Still, the church we did attend was only a 10 minute bus ride away. But I couldn't help but think something was lost in the process. We were not as connected to Beeston, the town in which we lived, as we could have been had we attended the parish church. And I think, especially as churches––the Catholic Church in particular––focus more on mission and evangelism that this sense of the parish, of the local needs to be reclaimed. I am not pooh-poohing those who chose to drive outside their parish. After all, some parishes are truly awful and need to be avoided, especially by those who have experienced trauma, particularly trauma at the hands of the Church. But for those of us who are in that position, some dedication to our local parish churches may be precisely what is needed.
The parish church of the Middle Ages was by no means perfect. There are those who think a simple return to medieval times (the period, not the campy horse show), a simple return to Christendom will make all the difference. Michael Martin has taken this on particularly well over at The Center for Sophiological Studies. We cannot return, we cannot go back. What we can do is make the good aspects of the past, especially those that have been forgotten and left on the wayside, present again. After all, as Catholics, we see the past made present again weekly if not daily in the Eucharist, ever ancient, ever new. So there were aspects of the medieval parish I would see return. I will beat this drum until I see change, but I would love to see a return to Lammas and Plough Sunday as integral aspects of the liturgical calendar because it reconnects the liturgical to the agricultural. I would see the parish life to be so vibrant as to be almost, at least for whatever segment of your parish (because remember that the parish is a geographic marker as much as it a spiritual one) is Catholic, that it could be identified with the broader community life. But the key is not to separate out those who belong and those who do not.
In some Protestant churches in which I have been involved, they would often have large gatherings. Some had fall festivals with face painting, others did big summer celebrations. The purpose of these was evangelization, so much so that as a member of the congregation I often felt as if the party wasn't actually for me it was for "them." This is the wrong attitude for it creates an us vs. them mentality, but instead of prioritizing us as is usual, it prioritizes the other. In some ways, of course, this is good. After all, as Catholics we know that there is a preferential treatment for the poor. This is a pillar of the gospel. And truth be told, I think Catholics often, rather unintentionally, do precisely the opposite. When we have celebrations they are often
only
for "us" and not particularly for "them." We need a marriage of the two. One that seeks to evangelize not simply by getting as many people to come to your program, for after all the party as evangelization
is
a program, but to be a coming together of the parish and the Parish (if you'll allow this capitalization for emphasis).
So as I said, I think we have a geography problem, one that came about with the car and the motorway and one that has spread through globalization. And these things are not entirely evil. The car and the motorway have made it possible for some to get to Mass when before it would have been difficult if not impossible. They have also opened up communication and globalization has done this even more. We have been reminded the the Northern Hemisphere is not the only one (though I think the North American Church––excepting Mexico––could learn this lesson a little better) and this is good. But as the Church continues to grow globally it must also continue to grow locally. Our local communities need to see the Church as a place of beauty, of community, of justice, of joy. We must become small again so we can continue to grow.
Sincerely,
David