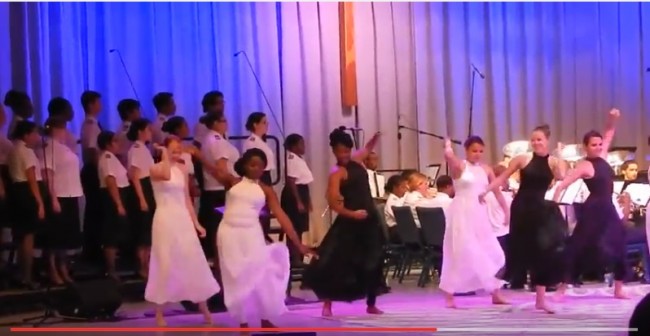 I say to you that many will come from the east and the west, and will take their places at the feast with Abraham, Isaac and Jacob in the kingdom of heaven.

Matthew 8: 11
Today is the last day of the three day observance that includes All Saints' Eve (Hallow'een), All Saints' Day, and All Souls' Day. For the work that I do in my day time job (hah!) at the IRD, this commemoration helps to lighten the burden of remembering the suffering and death experienced by our brothers and sisters in Christ around the world. (Yes, I know that the burden of "remembering" their suffering is nothing compared to the actual suffering — but some Christians don't even want to go that far, they still have their heads in the sand.) These faithful brothers and sisters will have a place of honor at the great banquet of Christ and His bride, the Church.
Of course during these three days I thought about hymns like "For all the Saints " and the never-ending "I Sing a Song of the Saints of God," (tune is a bit too chipper for the lyrics, I think) on All Saints' Day, but mostly I thought about the amazing "The Greater Tide" by Attalus, the subject of one of my first Patheos blog posts, and one other song. Ironic that this other song that means the most to me in this liturgical time of remembrance comes from The Salvation Army, not exactly known for its liturgical adherence!
The song, based in part on Jesus' words of promise in Matthew 8: 11, and written by two former Salvation Army Generals, John Gowans and John Larsson, is part of one of the Generals' many musicals, The Blood of the Lamb. Dramatizing the Vachel Lindsay poem "General William Booth Enters into Heaven," the musical recounts the throng that accompanies The Salvation Army's founder into Heaven. These redeemed ones are also members of the faithful departed, guests at Heaven's feast. And as the song says, "None shall ask what they have been, provided that their robes are clean". . .But to know what they have been and where they have come from is one more reason to rejoice in Christ's power to save.
So here is my favorite song for Allsaintstide, "They Shall Come From The East." And if you aren't too vehemently opposed to liturgical dance, (trust me, this is nothing like the scary dance of middle-aged liberal Catholics with giant papier mache Jesus puppets — if you know what I mean!) you can watch this video of a performance of the song with Salvation Army band, singers, dancers, tamborines (timbrelists), and the flags of the nations. If you hear me sobbing in the background, just ignore!
They shall come from the east,
they shall come from the west,
And sit down in the Kingdom of God;
Both the rich and the poor,
the despised, the distressed,
They'll sit down in the Kingdom of God.
And none will ask what they have been
Provided that their robes are clean;
They shall come from the east,
they shall come from the west,
And sit down in the Kingdom of God.

2.
They shall come from the east,
they shall come from the west,
And sit down in the Kingdom of God;
To be met by their Father and welcomed and blessed,
And sit down in the Kingdom of God.
The black, the white, the dark, the fair,
Your color will not matter there;
They shall come from the east,
they shall come from the west,
And sit down in the Kingdom of God.

3.
They shall come from the east,
they shall come from the west,
And sit down in the Kingdom of God;
Out of great tribulation to triumph and rest
They'll sit down in the Kingdom of God.
From every tribe and every race,
All men as brothers shall embrace;
They shall come from the east,
they shall come from the west.
And sit down in the Kingdom of God.
John Gowans