A day behind in the newspaper, yesterday I opened the Sunday New York Times to this full page ad from the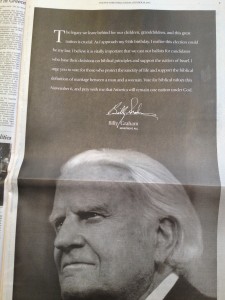 Billy Graham Evangelistic Association imploring the American people to vote "biblical principles" next week.  The full text portion of the ad reads:
The legacy we leave behind for children, grandchildren, and this great nation is crucial.  As I approach my 94th birthday, I realize this election could be my last. I believe it is vitally important that we cast our ballots for candidates who base their decisions on biblical principles and support the nation of Israel.  I urge you to vote for those who protect the sanctity of life and support the biblical definition of marriage between a man and a woman.  Vote for biblical values this November 6, and pray with me that American will remain one nation under God.
This ad follows my sister calling me from Colorado (we like our swing states in my family) to say she'd seen a church marquee that read "Vote Biblical Values" and wondered out loud if that meant they too were voting for President Obama.
I agree whole heartedly with Mr. Graham and the congregation in Colorado that I have a responsibility to vote biblical principles next week; that the legacy we leave behind for our children and grandchildren matters.  And so, I offer my support, volunteer hours, even a little money, and above all else my vote, to the candidate I believe comes closer to standing for biblical values– President Barack Obama.
Mr. Graham and others have tried to turn biblical values into marriage equality and abortion.  But I am reminded yet again of the biblical principles that command we care for the orphan and the widow.  I look to the biblical principles that require fair lending practices and genuine care for creation.  The biblical principles that talk about equality, peace, forgiveness, setting aside our judgment, and love.  I will continue to be guided by the more than 2,000 references in the Bible that talk of our obligation to do justice and God's preferential love for the poor.
I am voting biblical principles on November 6th.  I am voting for President Obama because he protects the sanctity of life, not just while it's in the womb, but with health care, education, and a social safety net that insures no one gets left behind and that women will continue to have access to family planning and if need be, safe and legal abortions.  I am voting for President Obama because he supports not just one hetero-normative model for families, but rather stands by families in their beautiful diversity and believes who we love should never stand between us and our civil rights. I am voting for President Obama because he understands care for the environment entrusted to us is not the butt of a joke, but our solemn responsibility.  I am voting for President Obama because Jesus simply was not kidding when he demanded we feed the hungry, clothe the naked, visit the imprisoned, heal the sick, and care for the least of these in our midst.
Content Director's Note: This post is a part of our Election Month at Patheos feature. Patheos was designed to present the world's most compelling conversations on life's most important questions. Please join the Facebook following for our new News and Politics Channel — and check back throughout the month for more commentary on Election 2012. Please use hashtag #PatheosElection on Twitter.