There is no question that the President's performance in the debate was disappointing, mostly because it's clear he'd actually been coached and prepared to come in looking professorial and focused on facts instead of values.   The lack of compassion and empathy Romney has shown throughout the campaign, perhaps best summarized by his recent 47% comments, are why Obama is still well ahead in the swing states, and Obama should have focused on the different values and vision of each campaign.  And it's hard to win a debate on facts when the other side "isn't going to be governed by the fact checkers" (to quote Romney's pollster).   
The initial focus and coverage on the debate has thus far understandably focused mostly on style.  Romney has always been good when he is working from a script, and he won all the style points last night.  But it's interesting looking at the instant polls and ones that have come out this morning that despite the better performance, numbers aren't moving much.  Part of the reason is surely that most voters have made up their minds already.  But another factor, and one that I think will play out more in the coming week as the media and others reflect more on the debates and what this first one meant, is that Romney didn't address his biggest flaws…and in fact, he actually reinforced them. 
Exhibit A:  The Big Bird issue.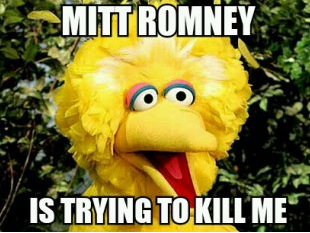 I totally understood what Romney was trying to do with the PBS thing.  He wanted to show he was tough by saying he'd cut the debate moderator's program.  But he also wanted to show he wasn't heartless–that he was one of us and understood kids–by saying he loved Big Bird.  But the fact that he made that statement at the same time that he said he planned to cut all funding to PBS and the programs that allow Big Bird to exist communicated the complete opposite.  It showed that in fact he didn't really love Big Bird.  And far from demonstrating his human side, it showed Americans he doesn't understand us.
It's like a dad that tells his kid he understands why he brought the injured puppy home and that the dad too had a loyal dog he loved when he was young…but then says the family can't afford to care for it and takes the puppy out back and shoots it.  If you really do love something, you don't destroy it.  If Romney really thinks Big Bird is great and if Big Bird really did touch his heart, how could he so callously talk about the need to destroy the institutions that created Big Bird? 
There is a reason that the internet is abuzz with Big Bird stuff.  There is a reason that in the 90 minutes of mindless numbers, that this is the point people remember and that has captured emotions.  And it matters because Romney's biggest liability is that he can't relate.  Voters don't trust him or believe he will care about them.  Voters don't want a heartless CEO who can fire a father with a kid in the hospital before Christmas because it adds slightly to the bottom line.  They want someone who understands their problems and will put them first. 
Romney's already called millions of hard-working American parents "victims" who will never take personal responsibility for their lives.  Now in an effort to show he was human, he's smiled as he's said he'd end Big Bird.  This and his admitting he'd turn Medicare into a voucher program are going to get more attention with time.  And as the numbers fade and people remember Obama wasn't a good debater but Romney wants to kill Big Bird and childrens' programs, the emotions that drive political decisions will continue tipping against Romney. 
And if you're not already, follow: @FiredBigBird Hillarious and insightful.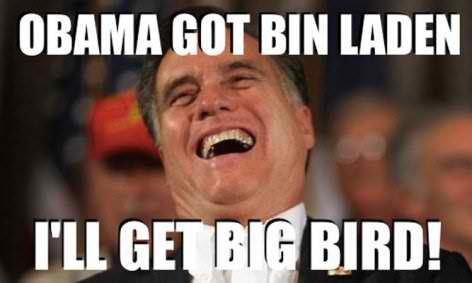 @SappEric