The June 26, 2015 SCOTUS decision on same-sex marriage didn't settle the issue. Last month, NYT's Laurie Goodstein wrote a profile on Matthew Vines, a young, gay Christian writer and activist who works to elucidate an alternative understanding of the LGBTQ community to Christian conservatives (primarily Evangelicals). After coming to terms with his own sexuality, Vines left Harvard in 2010 to study what the Bible says about same-sex relationships and how modern Christians could offer a message of inclusion.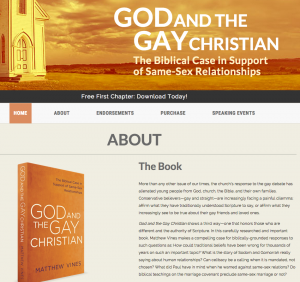 Vines completed his book God and the Gay Christian, combining scriptural exegesis and an analysis of contemporary sexuality to show how orthodox Christianity can support committed same-sex relationships. Youthfully enthusiastic — with a wisdom that is immediately apparent — Vines represents a new strain of Evangelical thought, one anxious to speak with Christians of all stripes on how same-sex relationships and the LGBTQ community practice their faith.
When Vines began his advocacy, he was almost uniformly dismissed, and he faced considerable hostility from many prominent right-wing religious figures. An early review of GGC charged that Vines does not possess a "high view of the Bible," and R. Albert Mohler Jr.—President of the Southeastern Baptist Theological Seminary—claimed that the young writer's work threatened the validity of Scripture.
(Don't miss the NYT Piece, "Debating Bible Verses on Homosexuality," where Vines offers his scripture interpretations contrasted with evangelical author Caleb Kaltenbach.)
Over time, however, Vines' message has picked up steam, acquiring allies as more people realize the significance of his agenda. His recent appearance at Biola University attests to this fact. Holding private conversations at the university with an ideologically diverse group of scholars—many of whom categorically oppose his work—Vines touted the quintessential concept of GGC: Christians can affirm same-sex relationships and the full authority of the Bible. Like all his interactions, Vines' primary goal at Biola was not necessarily to win endorsements for his campaign, but to intently dialogue with Christians on how the Church can understand and respond to the LGBTQ community.
Interestingly, Vines' strategy seems to be working. Indeed, his meeting at Biola suggests that even if Christians disapprove of same-sex partnerships, they are increasingly inclined to converse about the topic. This is a step in the right direction, and this relatively newfound willingness signals a change in more traditionalist wings of Christianity. Instead of unequivocally condemning gays and lesbians, Evangelicals are progressively mindful of how they could minister to and worship with gay Christians.
As progressives, many of us have long sympathized with our gay brothers and sisters in Christ, and have lobbied for their acceptance in our faith communities. On occasion, however, we employ malicious rhetoric in advocating for these persons, alienating those who may disagree with us but still hold meaningful perspectives that emerge only from respectful interchange. Repelling conversation partners impedes the work of people like Vines, leaving many Evangelicals reluctant to even discuss this unparalleled social issue.
Thus, like conservatives, progressives must recognize that our world is changing, and that the Supreme Court's landmark decision on same-sex marriage will fundamentally reorient the way many Americans live their lives. Today's religious progressives therefore have a tremendous opportunity to draw conservatives into conversation. A constructive exchange on this subject is more available now than at any other time in our history.
One way to begin having these crucial conversations is to take a page directly out of Vines' own book. Since the beginning of his campaign (or perhaps ministry), the writer has focused much of his attention on holding small, intimate conferences with varying groups of Christians, identifying "silent sympathizers" for his cause and demonstrating the cogency of his arguments. Such silent sympathizers undoubtedly permeate our various congregations, and initiating a dialogue with them could be the first step in wider acceptance of gays and lesbians within religious institutions.
Similarly to Vines, then, faith progressives would do well to locate the silent sympathizers around us, as discussing this topic with them is likely to have a profound effect. While our deliberations may not produce immediate accord, we ought to realize that having the conversation at all is itself something of a victory. Because now more than ever, conservative Christians are willing to listen to what people like Vines have to say.
Jacob Marthaller is a graduate student in Religious Studies at the University of Virginia and Coordinator of the Religion and Film Project for the Virginia Center for the Study of Religion. His research interests lie primarily at the confluence of politics and theology.