As Pope Francis' trip to the Philippines last January revealed, where Francis goes people pay close attention. Americans should expect no less enthusiasm from his journey here this week to Washington D.C., New York City and Philadelphia.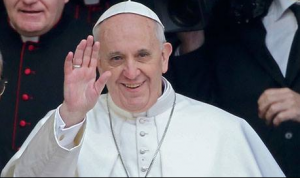 Though not expressly political, it would be naïve to disregard the obvious ramifications of this trip. Since his ordination in 2013, Pope Francis has been a catalyst on a number of important political matters, throwing his hat in the ring on issues pertaining to income inequality and the persecution of religious minorities. In addition, the environment will undoubtedly feature in Francis' talking points during his time here, as his 2015 encyclical Laudato Si stressed the "grave implications" of man-made climate change. To be sure, this U.S. tour is noteworthy beyond the fact that Francis will be the first Pope to address a joint session of Congress, and the repercussions of this occasion are likely to be felt throughout American politics .
While the above issues are no doubt of momentous significance, another subject is gaining prominence today, one that simultaneously tugs at our heartstrings and confounds policy experts. I'm speaking of course about the Syrian refugee crisis and the dilemma of how to best support migrants. Far from a new phenomenon, recent events in the media have forced us to take notice of those fleeing civil war, Bashar al-Assad, and ISIS, with citizens throughout the world now asking themselves (and their compatriots) what can and should be done. At present, Americans are deliberating on how to best provide aid to asylum seekers, and with Europe reaching a tipping point, it is clear we must act quickly.
Being who he is, it is difficult to imagine Pope Francis not discussing this crucial problem during his stay on American soil. In many ways, he's already taken up the issue, most notably in calling on every parish in Europe to host a refugee family, urging his fellow clergy to "express the Gospel in concrete terms." What's more, the White House has already confirmed that President Obama and Pope Francis will discuss the refugee situation in their historic meeting at 1600 Pennsylvania Ave on September 23, and just this weekend, reports showed the U.S. will expand its intake to 15,000 families.
Indeed, it is crucial that Francis elevate our awareness of this refugee crisis. While the U.S. has offered their assistance thus far, it is accurate to say our efforts up to this point have not been sufficient. Compared to Germany and several other EU countries, the U.S. has admitted only a fraction of total migrants, and while just a few days ago President Obama committed to granting asylum to thousands of families, it remains evident that there are countless others in need of support. Perhaps more than any other figure alive today, this Holy Father has both the ability and the moral authority to shift this debate, to show us the necessity of providing relief to the truly underprivileged. Heeding what the Pope says would be a tremendous achievement for each and every American, serving as a victory for Catholic and non-Catholic alike.
Frankly, we ought to be more attentive to those who have been displaced from their homes on a mass scale; not just those individuals from Syria, but also those from Darfur, Myanmar, and many other nations. Both politically and morally, Francis has the opportunity to change the way we perceive those who flee their homeland in hopes of a better life.
Regardless of how and when he broaches the subject, we would do well to follow Francis' example in paying closer attention to the Syrian refugee crisis. Time and again, this pontiff has challenged our understanding of world affairs, encouraging us both individually, as a nation, and a universal person of this planet to reconsider what it is we stand for. In a year set aside to highlight Mercy, this Pope has implored all of us to take an active part in offering compassion to one another. Expect the papal visit later this month to be rife with rhetoric of this kind, as this Pope is nothing if not an advocate of those in need.
Jacob Marthaller is a graduate student in Religious Studies at the University of Virginia and Coordinator of the Religion and Film Project for the Virginia Center for the Study of Religion. His research interests lie primarily at the confluence of politics and theology.