(Reposted with Permission from the Author)
The mass shooting at Umpqua Community College has once again shed light on gun violence in America. Yet despite the focus being on mass shootings, it should be noted gun violence comes in a variety of tragic forms, such as suicides and homicides. When Pope Francis visited the United States, he mainly focused on the poor, sick and marginalized throughout society. Doing the same when it comes to gun violence may finally heal deep wounds within the United States.
The situation surrounding gun violence in the United States can partly be attributed to the materialistic culture deeply ingrained in modern society.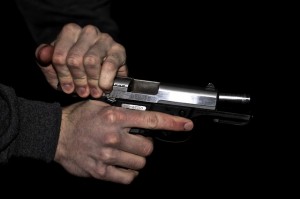 This obsession over material things can best be reflected in the number of firearms owned by civilians in the United States. The Bureau of Alcohol, Tobacco, Firearms and Explosives reported in 2013 there were an estimated 357 million civilian firearms in the United States, compared to just 317 million civilians. Furthermore, the United States has by far the highest ratio of guns owned by a private citizen than any other country.
Additionally, in his address to Congress, Pope Francis pointed out the United States is the world leader in selling weapons. All too often, these weapons find their way into the hands of drug dealers and terrorists.
On the issue of mental health, presidential candidates on both sides of the political spectrum have been claiming gun violence (mass shootings in particular) can be attributed to mental health. However, when asked what exactly they'll do to address the supposed link, no straight answer is given by most. In fact, one presidential candidates' home state was given a D minus when it came to mental health care.
The media and elected officials tend to focus heavily on mass shootings. So much so that the issue of gun violence gets turned into a political circus. It should be noted mass shootings are classified as such when four or more people are killed in a shooting. Since 1982, almost 600 Americans have died in mass shootings.
In 2013, Pew Research used data from the Centers for Disease Control and Prevention to report that six out of ten gun deaths in 2010 were suicides, and that since the data was collected in 1981, gun suicides have outnumbered gun homicides. The total American deaths by gun suicide for just 2010 alone was a staggering 19,392.
That's 53 deaths by gun suicide a day. To put that in greater perspective, it takes less than two weeks for gun suicides to surpass total mass shooting deaths since 1982.
Despite all this, media and elected officials largely pay lip service or simply ignore the connection between gun violence, suicides and poor mental health services.
To be clear, not all cases of gun violence can be attributed to poor mental health services or the widespread availability of weapons. All too often the depressed, long term economic conditions of a community breeds the kind of gun related homicides seen on an all too regular basis. A report relased last year discovered 8 out of 10 states with high levels of gun violence were also above the national poverty rate. 
Nor can racial injustice be ignored. In fact, during his trip to the United States, Pope Francis repeatedly mentioned Dr. Martin Luther King Jr. and his dream of full and equal rights for all citizens. While in New York City, Pope Francis visited the predominately African American and Latino school, Our Lady Queen of Angels in Harlem, calling it his 'most important stop of his trip.' Injustice, racial or otherwise, has created a cultural norm in which it's deemed acceptable to marginalize and persecute a segment of society.
The inability by the media, elected officials and society at large to connect the dots on how these issues are interconnected is having devastating real life consequences. For those attempting to tackle the complex issue of gun violence, the protection and promotion of life should be of paramount consideration. If, like Pope Francis, we truly want to uplift the poor, sick and marginalized, then an attempt must be made to get beyond these difficult times and recognize the structural causes of the pain and suffering so many of our fellow citizens experience.
Then, and only then, will we end the cycle of gun violence and start saving lives.
Stephen Seufert is the State Director of Keystone Catholics, a new social justice advocacy organization in Pennsylvania dedicated to promoting the common good.