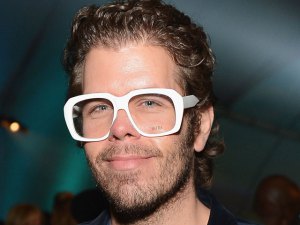 Blogger Perez Hilton made his name from writing a mega-snarky celebrity blog where he gave out mean nicknames, made fun of peoples' looks, and even drew penis pictures on celebrity photos. But now he's embarking on a new life as a single dad and media mogul. The LA Times has a profile of Hilton (real name: Mario Lavandeira Jr.) that refers to his newly spiritual side:
"I wanted this to be my sacred space," said the single gay dad, who asked his designers for "spiritual-meets-Miami." Raised Catholic, he will forgo a traditional christening and instead host a blessing ceremony for the baby: "I'll have everybody write down little positive thoughts and intentions and well wishes and keep them all in a box of good energy in his room."
His atrium-like entry offers a clue to his evolution. His last home was dominated by Hilton portraits sent by admirers. Here, a visitor is greeted by large white busts of Buddha, Jesus and Mary, Ganesh and Shiva floating against a dark wall with palm tree silhouettes.
Maybe Hilton's just covering all his bases, religion-wise? Hilton says that making an "It Gets Better" video helped inspire him to change his life and work. He has branched out from the original Perez site, launching sites like Perezitos (about kids) and CocoPerez (about fashion and style). Will his new religious path take him away from celebrity gossip? We'll have to wait and see.