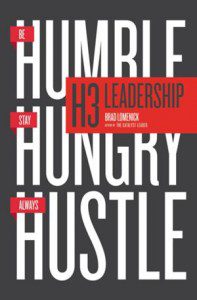 I've read a lot of leadership books. And by a lot, I mean, a LOT. I have shelves full of John C. Maxwell books which I've read and re-read, but Brad Lomenick's new book H3Leadership still managed to surprise me with its poignant authenticity and hands-on expertise.
A common complaint many people have about leaders who write books is that there feels like a disconnect between the words on the page and real life. What you read in the book sounds great, but applying it to reality is a bit trickier.
And that's why I LOVE Brad's new book H3Leadership.
A follow-up to his first book The Catalyst Leader, [See my review here.] H3Leadership derives its name from Brad's mantra of the three essentials for successful leadership: Be Hungry. Stay Humble. Always Hustle.
Those who worked alongside Lomenick for the decade in which he led the Catalyst organization will recognize the slogan. But this book unpacks those forward-leaning phrases and turns them into actionable habits anyone can develop.
In that regard, Lomenick's latest book is more life-focused than leadership-focused with the focus on learning to lead yourself before you can lead others well.
Authenticity Matters
What makes this book unique is Lomenick's candid revelations about his failures while leading Catalyst. The backdrop for the book is the story of how he came to the decision to step away from the organization that had defined him for so long. He reveals the 3-month sabbatical process God used to reset his thinking and priorities. And he shares the insights gleaned from the process.
It's not often leaders pull back the curtain for such an authentic revelation, because it would have been just as easy to stay quiet and pretend perfection.
I happened to get to know Brad a couple years prior to his decision to step away from Catalyst and found him to always be generous and supportive. Yet, as he describes it, few people knew he was running on fumes, depleted, and neglecting the things that matter most.
When I spoke to him shortly after he returned from his sabbatical, I sensed a freshness and zeal in his calling, something he captures well in the pages of H3 Leadership.
It's All about the Habits
John Maxwell has always excelled at breaking down complex leadership and life lessons into actionable steps. Brad Lomenick continues in this vein by presenting the insights he learned from his season of transition in the form of life habits – 20 of them, in fact.
Best of all, Lomenick offers bullet points to put the habits in place right away. He surrounds each habit with examples from his own story and the stories of others, then tops each one off with wisdom from a few of the many thought leaders he has engaged while at Catalyst.
So in that sense, H3Leadership isn't all about Brad Lomenick. It features the wisdom of scores of other leaders from all walks of life.
And that, I suspect, is exactly how Brad – the refreshed and refocused Brad – would want it.
A Sample of the Habits
I happened to start reading H3Leadership just as I was headed off to a retreat of my own. It wasn't a sabbatical for me, just a few days in silence to reconnect with God and reset my priorities.
I had been running on fumes myself for a few months while completing my next book with co-author Erick Erickson. So I was in the frame of mind to get my habits back on track.
Many of the habits resonated with me, including the Habit of Faith, the Habit of Curiosity, the Habit of Bravery, and the Habit of Partnership. But the one that connected with me the most was the Habit of Margin.
"Stopping to slow down allowed me to get my smile back," says Lomenick. In this chapter, he reveals why reacquiring margin allowed him to do just that. And I know there are a lot of people who read this who have forgotten what it is like to have time to smile.
Lomenick offers three components of margin and explains each:
He offers ten practical steps to take to protect margin in life:
Start by Recording.
Sketch a Schedule
Prioritize for Productivity.
Include Interruptions
Have Fun and Enjoy the Process
Remember to Rest
Commit to the Three "F's"
Make Sleep a Priority
Remember: Fresh Vision Is a Result of a Fresh Mind
Don't Eat Your Extra.
This chapter alone would be worth the price of the book for those who feel overloaded.
I could say lots of nice things about H3Leadership. Check out the cover to see what respected leaders have already said about it. But I'll sum up my thoughts here:
If you sense your life and leadership are feeling worn out, you need this book.
If you feel overwhelmed by what's on your plate, you need this book.
If you want a framework of habits around which you can live a story worth telling, read this book.
Click here to grab a copy of Brad's book now.
If you need to get your faith habits realigned, I humbly suggest you toss in a copy of my latest book A Story Worth Telling: Your Field Guide to Living an Authentic Life.
Brad's generous thoughts on my book:
People who live a story worth telling start with authentic faith. Want your life to resonate? Want to become a catalyst for lasting change? Wish you had the courage to pursue your true calling and God-given dreams? Read this book!Re-start your story today.
Q & A with Brad Lomenick about H3 Leadership
My Interview with Brad Lomenick on Life Calling