When I proposed a few day ago that ISIS needed the Gospel and a good bombing, several critics pushed back by playing the Jesus card. They declared us as sinners to be analogous to ISIS jihadists, and compared Jesus to the innocent victims of their attacks.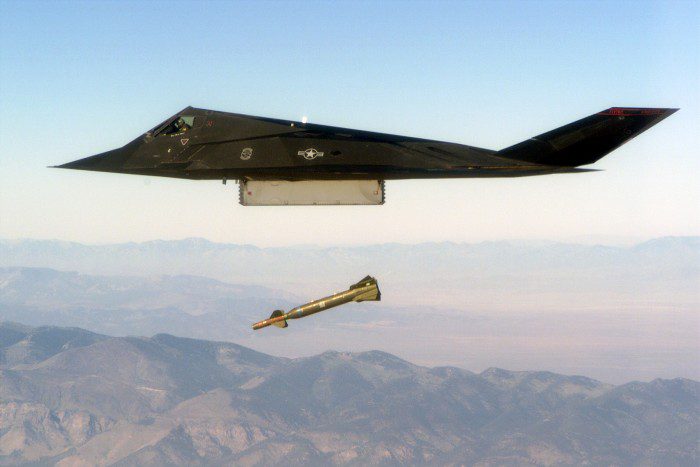 A few Facebook comments, for example:
Comment 1: This is so away from Jesus I don't even know where to start. Good thing Jesus didn't take this approach when we put him on the cross. Comment 2: Did Jesus keep the legions of angels at bay in the Garden of Gethsemane so that his "followers" could advocate unleashing the modern version 2000 years later?
The analogy behind these complaints is essentially this: We are like the terrorists. Jesus is like the victims of terrorist violence — dead Parisians, dead Russians, dead Americans, etc. And since Jesus didn't blow up those who crucified him or let legions of angels go all seraphim on us, our political leaders should not blow up ISIS. Or something.
Two Glaring Problems
I have two big problems with this analogy: First, I am not Jesus. And neither are our political leaders. Far from it. Jesus came to earth for the express purpose of sacrificing Himself to provide a means of restoring us to God, "the Just Judge of all men." He permitted Himself to be killed for our salvation because He was God. He knew exactly what good it would do because he had planned it from all eternity. But the second issue is the bigger one, frankly, that has to do with how shallow our evangelical theology pool has become. Someone is missing from the analogy. God the Father, the Just Judge of all men. He was the one standing in the place of authority at the crucifixion. Our national rulers act with authority ordained by Him as they enforce the law and protect people charged to their care. God the Father did not stand idly by when sinners killed Jesus. He did not engage in self-loathing as the Left demands our leaders do. He presented us with the same option I proposed that we give these jihadists — change your ways or face the consequences. To put it bluntly, repent or die. Be reconciled through the cross and empty tomb or face your own destruction.
Dismissing a Defective Portrayal of Jesus
We need to dump this portrayal of Jesus as an effeminate wuss who would never raise finger to protect the innocent and to crush the evil doer. Scripture paints a vastly different picture of God that is both gentle and forgiving AND just and full of righteous wrath. From the first few chapters of the book of Psalms alone:
Psalm 2
Why do the nations rage, And the people plot a vain thing? 2 The kings of the earth set themselves, And the rulers take counsel together, Against the Lord and against His Anointed, saying, 3 "Let us break Their bonds in pieces And cast away Their cords from us."
4 He who sits in the heavens shall laugh; The Lord shall hold them in derision. 5 Then He shall speak to them in His wrath, And distress them in His deep displeasure: 6 "Yet I have set My King On My holy hill of Zion."
7 "I will declare the decree: The Lord has said to Me, 'You are My Son, Today I have begotten You. 8 Ask of Me, and I will give You The nations for Your inheritance, And the ends of the earth for Your possession. 9 You shall break them with a rod of iron; You shall dash them to pieces like a potter's vessel.'"
10 Now therefore, be wise, O kings; Be instructed, you judges of the earth. 11 Serve the Lord with fear, And rejoice with trembling. 12 Kiss the Son, lest He be angry, And you perish in the way, When His wrath is kindled but a little. Blessed are all those who put their trust in Him.
Psalm 3:7
Arise, O Lord; Save me, O my God! For You have struck all my enemies on the cheekbone; You have broken the teeth of the ungodly.
Psalm 5:4-6
For You are not a God who takes pleasure in wickedness, Nor shall evil dwell with You. 5 The boastful shall not stand in Your sight; You hate all workers of iniquity. 6 You shall destroy those who speak falsehood; The Lord abhors the bloodthirsty and deceitful man.
Psalm 7:11-16
God is a just judge, And God is angry with the wicked every day. 12 If he does not turn back, He will sharpen His sword; He bends His bow and makes it ready. 13 He also prepares for Himself instruments of death; He makes His arrows into fiery shafts.
14 Behold, the wicked brings forth iniquity; Yes, he conceives trouble and brings forth falsehood. 15 He made a pit and dug it out, And has fallen into the ditch which he made. 16 His trouble shall return upon his own head, And his violent dealing shall come down on his own crown.
Psalm 9:5-8
You have rebuked the nations, You have destroyed the wicked; You have blotted out their name forever and ever.
6 O enemy, destructions are finished forever! And you have destroyed cities; Even their memory has perished. 7 But the Lord shall endure forever; He has prepared His throne for judgment. 8 He shall judge the world in righteousness, And He shall administer judgment for the peoples in uprightness.
Psalm 10:12-15
Arise, O Lord! O God, lift up Your hand! Do not forget the humble. 13 Why do the wicked renounce God? He has said in his heart, "You will not require an account."
14 But You have seen, for You observe trouble and grief, To repay it by Your hand. The helpless commits himself to You; You are the helper of the fatherless. 15 Break the arm of the wicked and the evil man; Seek out his wickedness until You find none.
Psalm 11:4-6
The Lord is in His holy temple, The Lord's throne is in heaven; His eyes behold, His eyelids test the sons of men. 5 The Lord tests the righteous, But the wicked and the one who loves violence His soul hates. 6 Upon the wicked He will rain coals; Fire and brimstone and a burning wind Shall be the portion of their cup.
Don't get me wrong. God IS love.
Jesus loves the little children. Make no mistake about it.
But you don't want to mess with Him.