The city of Atlanta is supposed to be the buckle of the Bible belt. But when their fire chief published a book in which he quoted Scripture, he was fired for doing so.
Kelvin Cochran was made to care.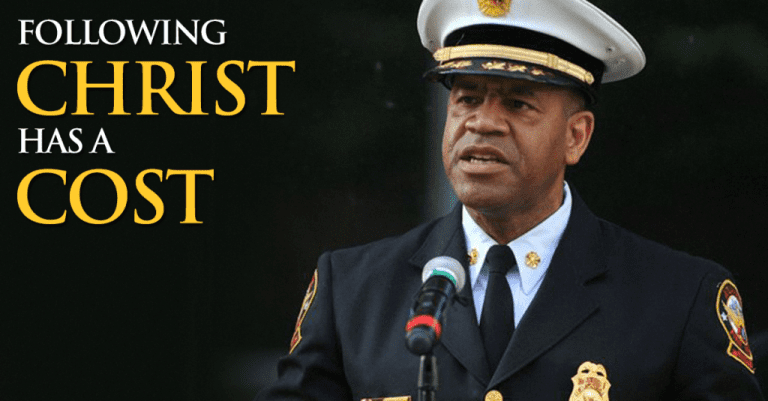 I've had the privilege of interviewing Chief Cochran about his ordeal for the upcoming book I co-authored with Erick Erickson entitled You Will Be Made to Care.
In fact, I will feature the interview in one of the first episodes of the You Will Be Made to Care podcasts launching in January. [Subscribe via email here to know when it launches.]
The Chief is a class act, through and through. For the crime of quoting Scripture, he was fired from his job in January of 2015.
The historic Christian position, which views all sex outside of marriage as sinful, did not comply with Mayor Reed's opinions nor those of the compassionate bullies of the secular Left.
The city is now trying to hide behind employment rules, as if employees cannot express their faith in written form. Such restrictions would have been unconstitutional if they had existed, but they didn't. And Reed's own investigation found no violations of policy.
The Chief sued to get his job back.
Just last week, the judge dismissed the attempt by the city of Atlanta to have the case thrown out. His attorney David Cortman (ADF) said:
The city was looking to say there's no validity to this case—we were just in firing him, and the court doesn't even have to let the case go forward—and the court rightly rejected that and said no, there's enough evidence here to move forward.
You can discover more of the back story here and here.
I have read Cochran's book. It contains nothing you wouldn't find in any study Bible in America.
But America is not as free as she used to be. Scripture hasn't changed, but America's tolerance for truth has.
There is a war being waged on our faith, family, and freedom to believe.
At least in this one legal battle, freedom can claim a victory as the case keeps moving forward.
And that is encouraging.