At social functions, especially during business networking opportunities, we have been conditioned to ask, "What do you do?"  In many ways it speaks to our personal ethics and sense of self in a competitive world.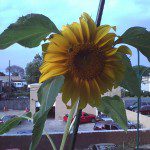 Too often we're defined, because we allow it, by societal definitions of success including wealth and education.  We're quick to tell someone about our job as a lawyer or store manager or professional writer.  Success, however, is relative.  It's also manifested in our car, clothes or jewelry sometimes to make a certain fashion statement.
Now and then I give myself a reality check about what I hang in my office.  Is the art and opera memorabilia displayed to make an impression, or are they primarily displayed to give me joy and comfort in an unjust world that increasingly puzzles and confuses me as I get older.
I confess, however, I'm always looking to make a new convert to opera.  I sometimes point out there is nothing highbrow about it.  The super rich to the working poor can and should enjoy art and culture.
At least for me, art and culture provides a much needed spiritual balm, a needed renewal, or sometimes an awakening or revelation to another truth or perspective.  Yet, I do take time to pause and reflect to make sure what I display or collect is done for those reasons and for the sake of joy, not a fake sense of self.
I've developed a habit of giving some things away when a visitor to my home or office takes a strong interest in something.  I've realized we're only caretakers for everything in our possession.  At times it is apparent that someone may get even more joy out of something than I will, hence it's time to pass it on.  It's one less thing to worry about should I move, it will bring someone else pleasure and perhaps spark for them a new cultural appreciation, and later on I've spared the person stuck with dismantling my modest estate from finding homes for the items collected.
Education, job title and how we project ourselves in general like what's displayed on our walls don't necessarily offer a 
genuine sense of self
.  Sense of self is tied to personal ethics and secular, spiritual wellness.
What if the next time someone asks what you do, your response is a bit unconventional.  Unless your work is a vocation, such as social worker, child welfare advocate, or executive at a non-profit helping to make the world better as just a few examples, start with what you do to make a difference.
You might be a successful entrepreneur, clearly a significant accomplishment, but suppose you first mentioned your passion as a Rotarian.  Imagine the expression on the other person's face when you start talking about the positive difference you and the organization makes in the world.
What do you do?  "I'm a literacy volunteer," or "I visit with county jail residents every week," or "I volunteer at CASA," or "I serve meals at a soup kitchen twice a month and do meals on wheels twice a month," or, "I visit shut-ins."
If more people defined what they did by the difference they're trying to make, it could put less emphasis on work, wealth and social status and on nurturing your personhood and by example the personhood of others.  In more fully understanding who we are, belonging to and interconnected with the majesty of the cosmos, perhaps we can build a better community based on our humanity, not social or employment status which can lead to a lost perspective.
Paul Jesep is an attorney, Corporate Chaplain and author of "Lost Sense of Self & the Ethics Crisis: Learn to Live and Work Ethically".