Whether speaking in pulpits, lobbying lawmakers, organizing rallies, or discussing the issue in the media to elevate awareness, Christian activists must expand the definition of economic justice to include usury and credit scores.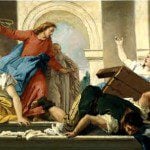 How is squeezing more money from someone with a compromised credit score stemming from illness, divorce, unemployment, identity theft, or one of life's other misfortunes just?
Usury and credit scores are a civil rights crisis undermining the family and human dignity. The US economy isn't working for people. People are working for a failed economy. Sadly, ignorance, conditioning, and complacency have enabled an economic system to take on a life of its own.
Credit scores are an arbitrary number assigned to every American by corporations. They have a direct impact on the interest rate a person pays for car loans, car insurance, and credit cards. It also impacts housing and whether a person gets a job. Student loan debt also influence credit scores.
Usury and credit scores have a profound impact on millions of people, especially the poor and middle class. The lower the credit score, the higher the interest rates for either basic necessities or the means to better yourself. A recent survey by Consumer Reports, indicated credit history in some states can have a greater impact on auto insurance than a drunk driving conviction.
Research shows financial stress directly influences suicide, divorce, depression, and an overall decline in physical health. These pressures are caused or aggravated by usury and VantageScore and Fair Isaac Credit Organization (FICO), corporations using a computer generated number to determine a person's financial risk based on information provided by credit reporting agencies.
Credit scores enable a company to prolong a revenue source by justifying high interest rates. Not surprisingly, the greater the interest rate the longer it takes to pay off a loan. In America today, as one example, an eighteen percent or higher credit card rate is legal. Some card companies even charge near eighty percent.
A potential landlord may use a credit score to deny an apartment to someone, though the applicant with sterling references from past rental companies always paid on time and left units in very good condition. According to the National Consumer Law Center, an applicant who pays to have a mandatory credit check is not entitled to see it. If the applicant is denied housing or is charged more due to a low score he or she must go directly to the credit agency to get a free copy.
Sixty percent of prospective employers questioned, according to the Society of Human Resources Management, used credit scores. Yet studies show there is no correlation between low scores and a person's ability, honesty, or work ethic.
For a stark contrast think about the sterling credit scores of Wall Street bankers whose unethical and unscrupulous marketing and business practices contributed to one of the worse recessions in the nation's history. The behavior of senior executives in the financial services sector caused foreclosures and widespread unemployment. The credit scores for millions of Americans dropped.
Maintaining a good credit score is a game. Paying all your bills on time doesn't necessarily give you a high or higher score. Nor will making timely payments to a collection agency help. Closing a credit card account can negatively impact your score. In addition, if a bank issuing a credit card fails to verify the identity of an individual who steals your name and reputation, it's your fault and your score plummets.
There must be renewed interest given to Christian ethics, defined as how we put faith into action.
Christian activists need to push Congress to cap and better regulate interest rates across the board, limit the use of and how credit scores are calculated (assuming they should be used at all), and better educate ordinary people that they must speak up about how they are financially victimized and not feel shame about it.
Paul P. Jesep is a Christian Sophiologist believing Holy Sophia (Divine Wisdom) is the Holy Spirit. He is an attorney, corporate chaplain, Eastern Orthodox priest, and author of several books including "Credit Card Usury and the Christian Failure to Stop It".